MEGALITHOMANIA GLASTONBURY CONFERENCE 2020
POSTPONED UNTIL 2021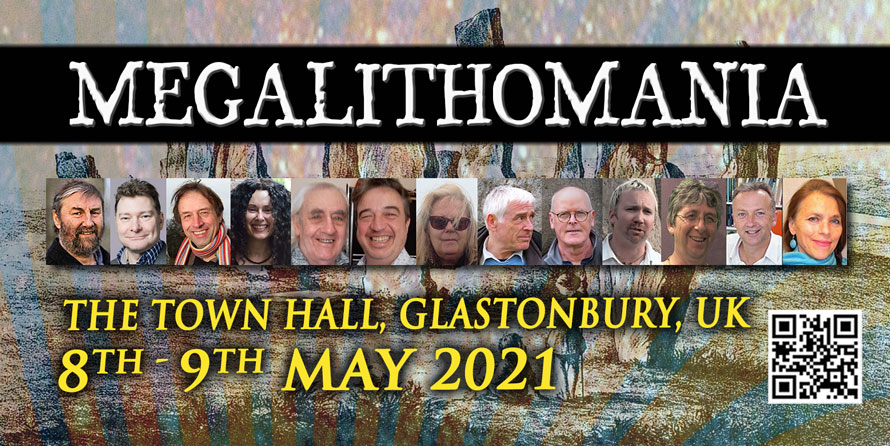 2020 has been a strange year with a few things to report on. Firstly, and after much discussion with the team, the Town Hall of Glastonbury and the speakers, we have had to postpone Megalithomania until May 8th - 9th 2021 due to the coronavirus outbreak. A majority of the 2020 speakers have agreed to come back and speak then, and the tours will remain exactly the same. For those who have already booked tickets for the 2020 event, these tickets (for both conference and day tours) will remain valid for the 2021 Conference and you will therefore be booked well in advance and no further action from you is required.
We have taken a big financial hit with this as we've paid for many services, advertising and promotion already that we cannot get back (and will have to do so again for 2021). It would also be worth talking to your B&B or Hotel about transferring those dates to the 2021 dates, as no doubt they are struggling also and supporting local businesses, events and individuals in these times is essential.
As a bonus, we have a 90% off deal on all our conference downloads until 13th May. Basically you only pay about 20p - 40p per lecture (or less!). Use this discount code 'SAVE90' at the final checkout. Browse those videos here: www.megalithomania.co.uk/dvd.html and you can download them to your computer (not ipads or smartphones though). Also, below is a link to our Youtube channel that has most of the previous conferences to view for free, that you can watch at your leisure whilst we all spend more and more time indoors! www.youtube.com/MegalithomaniaUK
WHAT WERE THE ANCIENTS UP TO ?
Megalithomania returns on May 8th-9th 2021 at the Town Hall, Glastonbury. We are a two-day event, with tours on the Friday, Monday, Tuesday and Wednesday.
NOTE: Schedule to be confirmed

9.30am: Registration
10:00 am: Michael Bott & Rupert Soskin
11.00 am: BREAK
11.15 am: Caroline Wise
12.15 pm: BREAK
12:30 pm: Howard Crowhurst
1.30 pm: LUNCH
2.45 pm: Gail Higgingbottom pt.1
3.45 pm: BREAK
4.00 pm: Alan Wilson & Ross Broadstock
5.00 pm: BREAK
5.30 pm: Dr Martin Sweatman
6.45 pm: END


NOTE: Schedule to be confirmed

10:00 am: Peter Knight
11.00 am: BREAK
11.15 am: Gail Higgingbottom pt.2
12.15 pm: BREAK
12:30 pm: Lecture TBC
1.30 pm: LUNCH
2.45 pm: John Michell Memorial Lecture - Hugh Newman
Introduced by Christine Rhone
3.45 pm: BREAK
4.00 pm: Prof. Mike Parker Pearson
5.15pm: BREAK
5.45 pm: Speakers Forum hosted by John Martineau
6.30 pm: END
Pre-Conference and Post-Conference Tours:

Meet at the Town Hall / Abbey Car Park (Dunstans Car Park) for all tours (Next to the Town Hall).

Friday 7th May - 3pm - 6.00pm - £25
Burrow Mump and Compton Dundon Yew Tree and Earthworks

Monday 10th May - 9.30am - 6.00pm - £45
Exploring Dartmoor with Peter Knight, visiting Hound Tour, Merrivale Megaliths and Stone Avenues, plus the Maximajor Stone.

Tuesday 11th May: - 9.30am - 6.00pm - £45
Exploring Exmoor visiting Tarr Steps Megalithic Bridge, Withypool Stone Circles and the Caractacus Stone.

Wednesday 12th - 10am - 5pm - £45
Ancient Avalon Walking Tour
Explore Glastonbury Tor, The Egg-Stone, Chalice Well, The Red & White Springs, The Holy Thorn, Wearyill Hill & more, hosted by Shaun Kirwan.
(Includes entrance tickets to Chalice Well and The Abbey)
If you have an enquiry please email us at info@megalithomania.co.uk - Info: 01458 746101

IMPORTANT: If for any reason you cannot make it to the conference after purchasing a ticket, please be aware we cannot offer refunds, but we will give you full access to the post-conference videos to watch from the comfort of your own home, at no extra charge.

PLEASE NOTE: The organisers reserve the right to change the programme, speakers, venue and schedule at any time.
GLASTONBURY UK CONFERENCE INFO
The Conference main event takes place in The Town Hall - which is in the centre of Glastonbury. See map Above. Parking is next door in the Abbey Car Park

Check out 'The Town Hall' venue here
Local Hotels & B&B's here

BY TRAIN: The nearest stations to Glastonbury are Castle Cary (30 mins drive), Taunton, Bristol (55 mins drive) and Bath. Connections to Glastonbury by Buses from all stations are available. Enquiries:
National Rail (Trains to Bristol) 08457 48 49 50
First ( Buses from Bristol) 0870 6082608

BY AIR: The nearest local airports are Bristol and Exeter. Buses to Glastonbury available from both city centres.
From London Heathrow and Gatwick, trains/buses to Reading connect with trains to Bristol, Bath, Castle Cary.
coaches from both airports to Bristol connecting to Glastonbury. Enquiries: National Express or call 08705 808080

BY ROAD: Glastonbury is on A39 and A361 in Somerset. From London, take the M3 on to the A303. Stay on A303 past Wincanton and Sparkford to Podimore roundabout. Take A372 Langport Road to B3151 intersection. Turn right onto B3151 sign posted to Somerton and Street. Follow signs to Glastonbury from Somerton (journey takes 2 - 3 hours depending on traffic).

BY BUS: From Bristol, Bath, Taunton, Bridgwater and Wells local First buses come to Glastonbury.
High Speed Coaches arrive daily from London (operators: Bakers Dolphin, National Express). Enquiries: First 0870 6082608
National Express 08705 808080