MEGALITHOMANIA GLASTONBURY CONFERENCE 2020
POSTPONED UNTIL 2021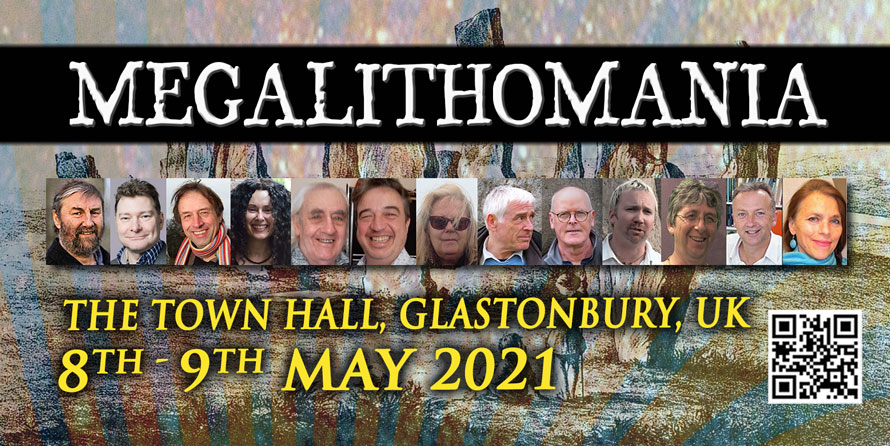 Prof. MIKE PARKER PEARSON
The New Archaeology of Stonehenge and the Bluestones of Wales



Recent scientific advances in archaeology are having a considerable impact on our understanding of who built Stonehenge and why. This talk will examine the evidence from ancient DNA, isotopic analysis, geological identifications and other methods that have revolutionised our knowledge of the British Neolithic and of the builders of Stonehenge, from moving the bluestones from Wales to building the great complex of timber monuments at nearby Durrington Walls.

Mike Parker Pearson is Professor of British Later Prehistory at UCL's Institute of Archaeology in London. He is also a Fellow of the British Academy and was voted Archaeologist of the Year in 2010 for his research on Stonehenge. He has worked on excavations in many parts of the world, from Madagascar to the Middle East and from North America to Easter Island.



Dr. MARTIN SWEATMAN
Prehistory Decoded: Gobekli Tepe and the Origins of the Zodiac



It is now clear that a prehistoric code was used across much of western Eurasia, and possibly beyond, for several tens of thousands of years to write dates using precession of the equinoxes. What were, until now, thought to be depictions of animals, are instead very likely symbols representing star constellations, essentially the same constellations we continue to use today in the West. Here I provide examples of this code involving some of the worlds most famous prehistoric artworks, from the very earliest Palaeolithic cave art (38,000 BC) through Gobekli Tepe (11,000 BC) to Pictish Symbols (500 AD). The code appears to be used in many cases to date and describe cosmic impact events, and I will highlight connections between the astronomy and the associated art, religion and megalithic architecture.

Martin Sweatman is a scientist at the University of Edinburgh and a Fellow of the Royal Society of Chemistry. His research, which involves statistical analysis of the motion of atoms and molecules to understand the properties of matter, has helped him to solve one of the greatest puzzles on Earth - the meaning of ancient artworks stretching back over 40,000 years.



HOWARD CROWHURST
Megalithic Geometry in Carnac and Beyond



Howard Crowhurst was born in North Wales. He has been living in Brittany since 1986 and has become one of the leading experts on the megaithic monuments of the Carnac area. From 1990 to 2004, he was vice president of the Association Archéologique Kergal and as such he took part in the french TV documentary, Carnac. In 2006, he launched the Summer Solstice in Plouharnel event with the Plouharnel Tourist Office. He founded the ACEM-Association for the Knowledge and Study of Megaliths, whose aim (amongst other things) is to create a 3D computer model of the Carnac megalithic complex. He appeared at Megalithomania in 2009 and 2011 when he introduced his incredible research on geometry and metrology to the world.

Dr. GAIL HIGGINBOTTOM
Lecture 1: Simple Scottish standing stones: the world begins here, the world ends here



My talk presents a review of my on-going study of free-standing Bronze Age megalithic monuments across areas of western Scotland, both on islands and the mainland. The original project was designed to unearth the locational choices of their builders, the reasons behind these choices and what these reveal about the belief systems of these societies. I will illustrate how, through the construction of stone, water, the land, the cremated dead and specific astronomical phenomena, the builders of monuments mirrored their cosmological ideologies and created dramatic visual events in time at particular periods during the solar and lunar years. These visual events were played out using spectacular shows based on light and darkness, and which, by manipulating these, the builders demonstrated that, whilst the Moon was chosen as the object towards which the majority of standing stones were aligned, the significance of the Sun was clearly shown to be the connection to life, and its lack, to death. Thus we shall see, for the creators of the standing stone monuments of western Scotland, that these sites embody the fundamental knowledge of existence.



Lecture 2: Similar but different: landscapes of the early megaliths


This second talk looks at similar and very different kinds of megaliths and the research is located both in Scotland and further south, in Wales. Here we shall explore together two sets of research done on Neolithic sites, one on the first stone circles of Scotland & England and the other on tombs of Wales. For this work, like that of the standing stones, we shall be relying heavily on the use of digital visualization techniques, which allow us to see and analyse the kinds of landscapes the builders chose for their sites, and the extent to which astronomy played a role in their design. It can be shown from the out-set that the stone circles in Scotland at least, were created with a strong connection to astronomical phenomena from their inception more than 2000 years prior to the last standing stones. The landscapes surrounding the Neolithic tombs were literally viewed differently and the role of the Sun, as they lit up the tombs inside and out, may have been incorporated within a related but different cosmological sub-system.

I am a landscape archaeologist, cultural heritage manager and theorist whose current areas of archaeological research involve monuments, geographical and cultural landscapes, depositional behaviour and belief systems. Whilst I have acted as an international cultural heritage adviser on indigenous to historic cultural places, the existing geographical coverage of my specialist research is Europe and the study of ancient and prehistoric cultures. Major scientific investigations include the application and development of databases, geographical information systems (GIS) as well as the co-development and application of statistics. Methodological enhancement activities revolve around digital archaeology and the theoretical considerations and actual applications of these. These include the use of 3D landscape software (in-house development), use of drones and photogrammetry, and the use of tablets in the field loaded with specialist data and software to enable field observations of the night and day sky and landscape together as seen by past peoples. My research program also incorporates working with ideas about materiality and human experience and thus my research program has a connection to many of the philosophical traditions currently used in cultural and ecological anthropology today.



ALAN WILSON & ROSS BROADSTOCK
The Origins of Britain, and the Egyptian/Welsh Connection


Details coming soon. Please note that Alan will not be at the conference in person. We are filming an interview/lecture with him to screen at the event.


CAROLINE WISE
Finding the Deer Goddess of the Ancient World


Caroline will be speaking about the quest to find 'Elen of the Ways', an elusive figure who is associated with deer and the ancient tracks of the land. In Britain, her story is conflated with that of St Elen of Wales, Elen Luyddog, whose mythic story is told in the Mabinogion. But her tracks and her ways take us much further afield. Who is Elen? Where does she come from, and where can we find her?

Caroline Wise has contributed to several books on goddesses, is the author of Finding Elen, the Quest for Elen of the Ways, and co-editor, with John Matthews, of The Secret Lore of London. She was involved in Earth Mysteries from the late 70s, taking part as a volunteer in the Dragon Project, which investigated the reality behind the claims of strange phenomena at ancient sacred sites in Britain and Ireland. She was associated with the Ley Hunter magazine in the 1980s, and was a founder member of ASSAP in 1982. In 1981 she met Andrew Collins at the home of the counter-cultural 'Sage of Notting Hill', John Michell, and fell into the intriguing world of Psychic Questing – following dreams and intuition to uncover enigmas in the landscape. A former owner of Atlantis Book- shop, she also worked for the spiritualist newspaper, Psychic News.



MICHAEL BOTT & RUPERT SOSKIN
Ten Time Our Minds Were Blown in the Last Year

Michael and Robert produced the documentary 'Standing With Sones' and presented their film at Megalithomania in 2008. They are now known as 'The Prehistory Guys' and host a popular podcast and Youtube channel. They will give us their top ten amazing archaeological discoveries from around the world over the last twelve months. From Astonishing artefacts to breathtaking burials, Southern Britain to Siberia, the past is unlocking its secrets faster than ever before.

Rupert's university education was in Design, Photography and Natural History. His work has been copiously printed in books, magazine and wildlife publications. His love of the outdoors led him to train and qualify as an expedition leader and diver. Rupert has travelled extensively, lecturing and leading groups including expeditions to visit the Kogi Indians in the jungles of Northern Colombia. His life long interest in the natural world, has led him to further his research into archaeology, anthropology and evolutionary psychology. Filming 'Standing with Stones' and the subsequent The Prehistory Guys project has been a culmination of this work but he has also fulfilled his ambition to be a writer with the publication of the accompanying book by Thames & Hudson. For more information visit www.rupertsoskin.com

Michael was born on the Isle of Man in 1954. He is a professional actor, and among his many credits he was a member of the Royal Shakespeare Company and worked at the Royal National Theatre for several years. Around the end of the 90's he moved into video production and film making, developing ideas for television and freelancing as a corporate video producer. As a television producer his work includes "Henry Lincoln's guide to Renne Le Chateau" and "The Man Behind The DaVinci Code" for Channel 5 and Discovery. His fascination for megalithic sites stems from early childhood when he was first taken to the Rollright Stones in Oxfordshire. His 'magnum opus' has turned out to be the subject of this site: 'Standing with Stones'. and the Prehistory Guys project.



PETER KNIGHT & SUE WALLACE
Albion Dreamtime: Connecting to the Sacred Land

Pete and Sue are authors and sacred sites guides, and return to Megalithomania to give an inspiring presentation (which includes video and live drumming) based on their latest book, Albion Dreamtime: Re-enchanting the Isle of Dragons. They will explore the ancient origins of Britain's hunter-gatherer visitors and settlers (from Neanderthals to homo sapiens) and how these people had a deep, shamanic connection to natural sacred places such as caves and rock formations displaying simulacra. Pete and Sue tell of their questing to such places, and suggest how a profound, symbiotic connection with Nature today may be the way forward in these times of climate change. They will also lead Monday's Dartmoor tour, and you can meet them at their stand over this weekend.

Pete and Sue live near Avebury, Wiltshire, and facilitate Stone Seeker Tours. They lead shamanic and mindfulness tours and workshops across Southern England and Wales. Between them they have published 12 books about megalithic sites, ley lines, and ancient wisdom. Through their books, talks and tours Peter and Sue help people to dowse the earth energies, meditate at megalithic sites and in caves, as well as feel the awesome power of the acoustic properties of Neolithic chambers and caves using sacred shamanic drumming. Through their work, they explain what was in the hearts and minds of the people who built the ancient sites and how they were symbiotically connected to the landscape both physically and spiritually. Their belief is that by better understanding ancient wisdom, we can reconnect with our landscapes and Planet Earth in a more meaningful and fulfilling way. They have appeared on both TV and radio, and will also be available for book-signing at their stall over the weekend, and will lead the Megalithomania minibus tour to Dartmoor on Monday.

HUGH NEWMAN
The John Michell Memorial Lecture, introduced by Christine Rhone

Hugh will share how John Michell influenced him and his work, and how Joh was the inspiration for the founding of the Megalithomania conference, looking at his work on alignments, earth mysteries and how he influenced a generation, and continues to do so today.

Hugh Newman is an author, conference organiser, world explorer, tour host, and Megalithomaniac. As well as organising the Megalithomania conferences, he organises the Origins Conference in London with Andrew Collins every November. He has spoken at events in the UK, Malta, France, Peru, Egypt, Bosnia and North America. He has appeared on BBC TV, Sky Channel 200, Bosnian TV and the History Channel in the last five seasons of 'Ancient Aliens', and 'Search for the Lost Giants'. He is author of Earth Grids (Wooden Books 2008), Stone Circles (Wooden Books 2017) and co-author of 'Giants On Record' with Jim Vieira (Avalon Rising 2015) and Megalith: Studies in Stone (2018) and has published numerous articles.



THE JOHN MICHELL MEMORIAL LECTURE
Hosted by Christine Rhone


Every year, Megalithomania welcomes Christine Rhone to introduce the John Michell Memorial Lecture. Previous speakers have included John Martineau, John Neal, Christine Rhone and Steve Marshall. Christine also organises a bi-annual event in London celebrationg the work of the great visionary.

NOTE: Schedule to be confirmed

9.30am: Registration
10:00 am: Michael Bott & Rupert Soskin
11.00 am: BREAK
11.15 am: Caroline Wise
12.15 pm: BREAK
12:30 pm: Howard Crowhurst
1.30 pm: LUNCH
2.45 pm: Gail Higgingbottom pt.1
3.45 pm: BREAK
4.00 pm: Alan Wilson & Ross Broadstock
5.00 pm: BREAK
5.30 pm: Dr Martin Sweatman
6.45 pm: END


NOTE: Schedule to be confirmed

10:00 am: Peter Knight
11.00 am: BREAK
11.15 am: Gail Higgingbottom pt.2
12.15 pm: BREAK
12:30 pm: Lecture TBC
1.30 pm: LUNCH
2.45 pm: John Michell Memorial Lecture - Hugh Newman
Introduced by Christine Rhone
3.45 pm: BREAK
4.00 pm: Prof. Mike Parker Pearson
5.15pm: BREAK
5.45 pm: Speakers Forum hosted by John Martineau
6.30 pm: END
Pre-Conference and Post-Conference Tours:

Meet at the Town Hall / Abbey Car Park (Dunstans Car Park) for all tours (Next to the Town Hall).

Friday 7th May -3pm - 6.00pm - £25
Burrow Mump and Compton Dundon Yew Tree and Earthworks

Monday 10th May - 9.30am - 6.00pm - £45
Exploring Dartmoor with Peter Knight, visiting Hound Tour, Merrivale Megaliths and Stone Avenues, plus the Maximajor Stone.

Tuesday 11th May: - 9.30am - 6.00pm - £45
Exploring Exmoor visiting Tarr Steps Megalithic Bridge, Withypool Stone Circles and the Caractacus Stone.

Wednesday 12th - 10am - 5pm - £45
Ancient Avalon Walking Tour
Explore Glastonbury Tor, The Egg-Stone, Chalice Well, The Red & White Springs, The Holy Thorn, Wearyill Hill & more, hosted by Shaun Kirwan.
(Includes entrance tickets to Chalice Well and The Abbey)
CLICK HERE TO DOWNLOAD THE TALKS OR BUY DVDS
---