PREVIOUS MEGALITHOMANIA CONFERENCE SPEAKERS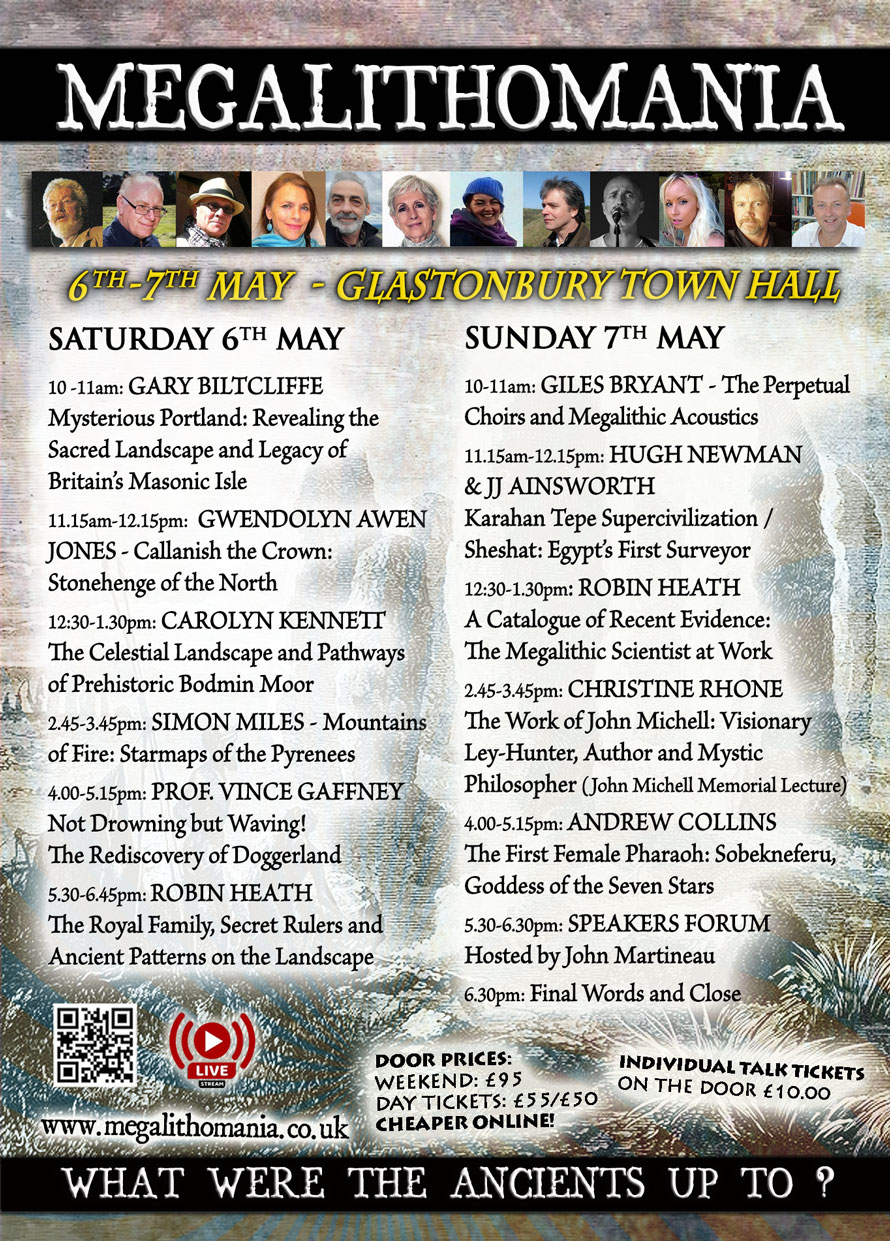 ROBIN HEATH
Lecture 1: Wonderful Things: The Royal Family, Secret Rulers and Ancient Patterns on the Landscape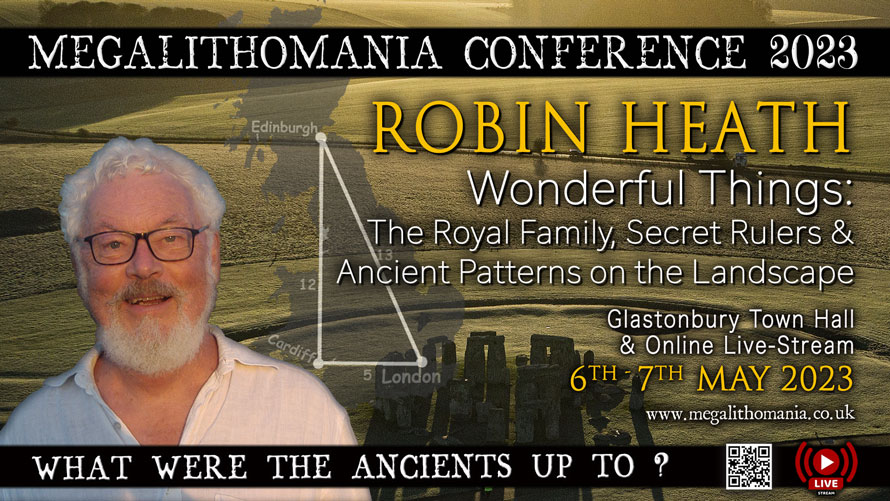 Media coverage following the recent passing of HM Queen Elizabeth II exposed a long forgotten link between the various Royal Palaces and Castles and their prehistoric counterparts, those remarkable megalithic structures that pepper this Sceptred Isle. This illustrated presentation reveals the geometrical and metrological links showing that our Royal monuments are well connected to their more ancient relatives, a cultural link that spans a period of at least 5000 years. This connection is not to be found in any of our history books or within the educational curriculums, and the talk looks at how and why this absence has come about. Significant aspects of the design of our National Temple, Stonehenge, are shown incorporated within more modern 'power constructions', derivatives which form a sacred landscape geometry that represents a national symbol of Neolithic cosmology, or, if you prefer, the existence of a megalithic science. It doesn't get much better than that!
Lecture 2: A Catalogue of Recent Evidence: The Megalithic Scientist at Work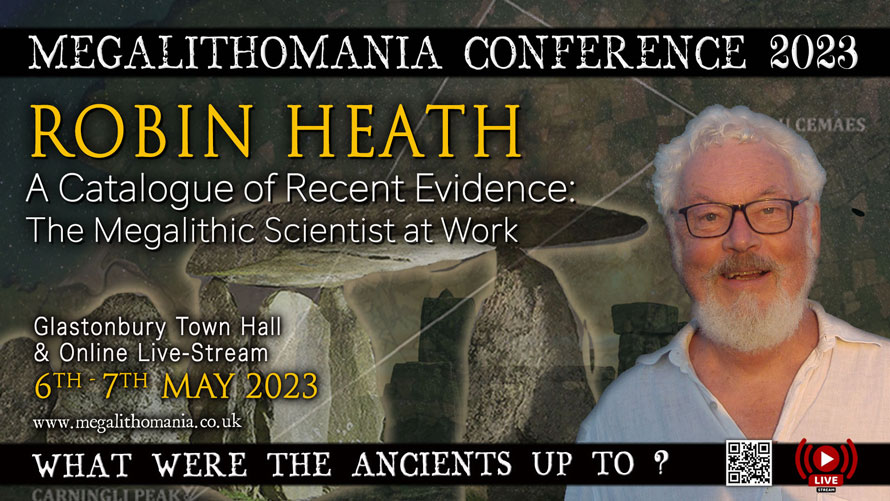 One can clearly trace the route map of the rediscovery of megalithic science back to only a handful of individuals, a lineage that runs from the scientist/chroniclers, John Aubrey and William Stukely and then via Flinders Petrie and his accurate survey of Stonehenge in the 1980s to Sir Norman Lockyer's and his astronomical method for dating Stonehenge and the massive opus The Dawn of Civilisation. More recently we have the benefit of a half-century of research undertaken by professor Alexander Thom, an outstanding engineer, subsequently picked up by an outstanding cosmologist, Sir Prof Fred Hoyle, then the metrological researches of prof Livio Stecchini, and the remarkable work of Dr Euan MacKie, both archaeologists who were hounded for their support for the existence of megalithic science. Cast safely well outside of the scientific and archaeological barriers there are a whole bundle of individuals who come under the general category of megalithomaniacs , and which must include the work of John Michell and John Neal, whose rewriting of the ancient metrological system has yet to be fully appreciated. And within this category there are dozens of less well-known researchers, including Robin himself. The result of all this ? There has been a tsunami of new evidence to identify and support a Stone Age working cosmology that is accurate, elegant and based on disciplines that continue to underpin our modern world. In this illustrated lecture Robin looks through his own research over the past 37 years, presenting the best examples of megalithic science, each site providing an easily verifiable confirmation of a unified cosmology based on Astronomy, Geometry and Metrology. Or your money back!
For over thirty years Robin Heath has researched evidence for a prehistoric science embedded within the surviving megalithic monuments in Britain, Ireland and France. A leading UK field researcher on Megalithic monuments, Robin is an independent researcher and a seasoned presenter. He has written and published nine books, co-authoring a further two, one with John Michell. Robin's books reveal verifiable evidence that a high cultural technology was built into the astronomical, geometrical and metrological qualities of many ancient monuments. But the subject of megalithic science is much more than this, for it also affirms the hermetic adage of 'As above, so below', and reveals a comprehensive prehistoric cosmology. With a background in engineering, Robin graduated with a BSc Hons in Electronics and Engineering Science from UCNW Bangor in 1970. He initially worked as a Research & Development engineer in semiconductor design, microliths, then technical marketing took him around many countries in the Far East. Eventually, after two children came along, Robin became a lecturer in Mathematics and Electronics, and in 1990 he left this profession as Head of Technology in a College of Further Education to explore the megaliths of Brittany for two years. Robin lives in coastal West Wales, where he and his wife Tricia keep an organic small-holding. www.robinheath.info


PROF. VINCE GAFFNEY
Not Drowning but Waving! The Rediscovery of Doggerland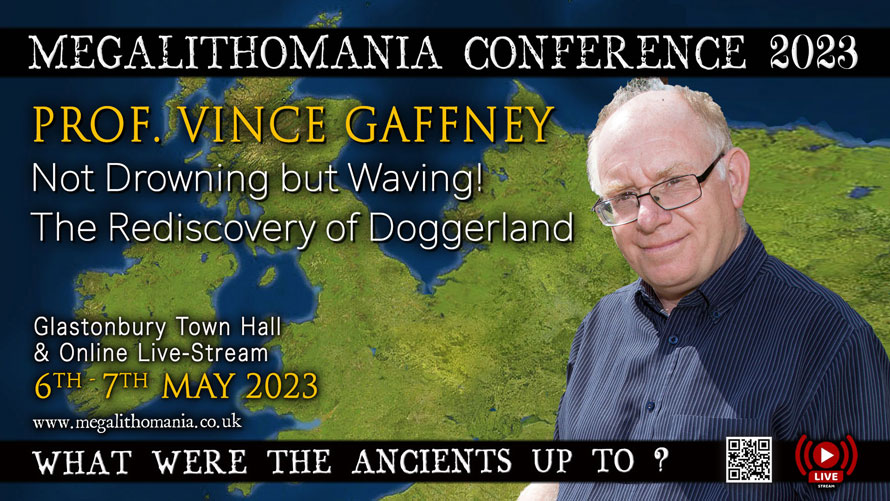 Lands beneath the sea are the stuff of legends. However, global warming at the end of the last Ice Age led to the inundation of vast landscapes that had once been home to thousands of people. These lost lands also hold a unique and, until recently, a largely unexplored record of settlement and colonisation linked to climate change over millennia. Amongst the most significant of these areas is known as Doggerland. Occupying much of the North Sea basin between continental Europe and Britain, Doggerland would have been a heartland of human occupation and central to the process of re-settlement and colonisation of north western Europe during the Mesolithic and the Neolithic. The difficulties of undertaking archaeological research in such an extreme environment are formidable, but over the last decade there has been a revolution in our knowledge of these lands. Marine development, linked to data provided by marine development, including the large windfarms now being constructed as part of the UK's green energy programme, has provided access to massive remote sensing data sets, and these have provided a key to direct exploration of these previously inaccessible archaeological landscapes. The lecture will provide an overview recent research and consider why these landscapes are so important and what their future may be.
Professor Vincent Gaffney originated in Newcastle upon Tyne and undertook his undergraduate and postgraduate studies at the University of Reading. He is now Anniversary Chair in Landscape Archaeology at the University of Bradford. He has worked extensively across Europe, North Africa and America but, for nearly two decades, he has been involved in large interdisciplinary studies related to Doggerland, the prehistoric landscape associated with the southern North Sea. He was Principal Investigator of the ERC Advanced Grantproject, "Europe's Lost Frontiers" and currently leads the AHRC "Taken at the Flood" project. Together, these projects have involved the mapping of prehistoric landscapes across c. 180,000 km2 of the North Sea. More recently he has been involved in Historic England "Unpath'd Waters" project – which aims to provide access to the UK's marine data collections. Aside from this, Vince led the UK team within the Ludwig Boltzmann Institute "Stonehenge Hidden Landscapes" Project and recently undertook survey of the massive pit alignment associated with the Durrington Walls henge. Other projects have included the analysis of the Mesolithic pits at Warren Field, agent-based modelling of the battle of Manzikert (1071) in Anatolia, analysis of the Roman town at Wroxeter, survey of Diocletian's Mausoleum and study of the landscapes of the Central Dalmatian islands (Croatia), survey at Cyrene (Libya), and historic landscape characterisation at Fort Hood (Texas). Further Information on Europe's Lost Frontiers at https://lostfrontiers.teamapp.com


ANDREW COLLINS
The First Female Pharaoh: Sobekneferu, Goddess of the Seven Stars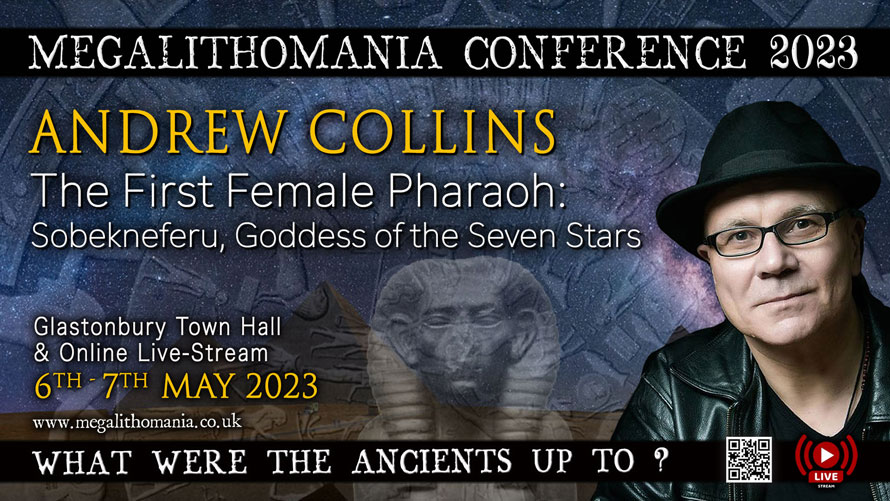 There is a good chance the world would not be the same today had it not been for the brief reign of the first woman to rise to become the king of both Upper and Lower Egypt. She singlehandedly kept alive the country's aspirations passing on the torch of Egyptian sovereignty to those who would eventually rise up and banish the country of its opposers - the Hyksos warlords - beginning Egypt's greatest period of affluence and achievement - the New Kingdom. But who was this great woman of history. Her name was Sobekneferu and for nearly 3800 years her story has been suppressed - her achievements fragmented and stolen by others, and her legacy forgotten. Andrew Collins brings alive this lost female pharaoh painting her picture for the first time in new book The First Female Pharaoh: Sobekneferu, Goddess of the Seven Stars. He shows also how Egyptologists of the nineteenth century started to speculate on her place in Egyptian history causing her to be chosen as the inspiration for the antagonist in Bram Stoker's Egyptian novel The Jewel of Seven Stars - a book that became the blue print for every horror film where an Egyptian royal woman rises from the dead to wreak havoc in the modern world. Sobekneferu would also appear to have been the builder - or at least the restorer - of megalithic architecture. Her mark is on the mysterious Qasr el-Sagha megalithic temple in the northern Fayum that displays architecture matching that of Giza's Pyramid Age and also the pre-Incan architecture of Peru and Easter island. Andew reveals Sobekneferu's story for the first time publicly at Megalithomania 2023.

Andrew Collins is one of the world's most renowned authorities on the world of Gobekli Tepe, being the first ancient mysteries writer to feature it in book form within his 2006 book The Cygnus Mystery. He has gained a strong reputation for reporting the facts correctly and in a manner accessible to a general audience. Andrew is also a lead proponent of the concept of a lost civilization and has a massive following on social media and on YouTube, where he regularly posts videos on the latest discoveries in the ancient mysteries subject. His website is www.andrewcollins.com
CHRISTINE RHONE
The Work of John Michell: Visionary Ley-Hunter, Author and Mystic Philosopher
The John Michell Memorial Lecture 2023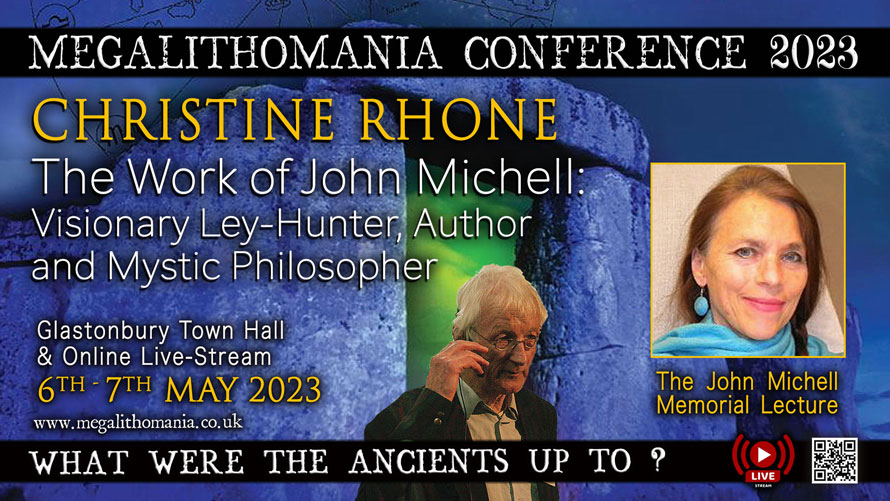 Christine, who has co-authored several books with John Michell, takes us on a journey throgh his remarkable life and work and how it influenced generations of alternative thinkers.

Christine Rhone is an artist and writer with a special interest in landscape symbolism. The translator of several important works, including Jacques Le Goff's Saint Francis of Assisi, Antoine Faivre's Theosophy, Imagination, Tradition, and Jean Richer's Sacred Geography of the Ancient Greeks, she lives in London.
GILES BRYANT
The Perpetual Choirs and Megalithic Acoustics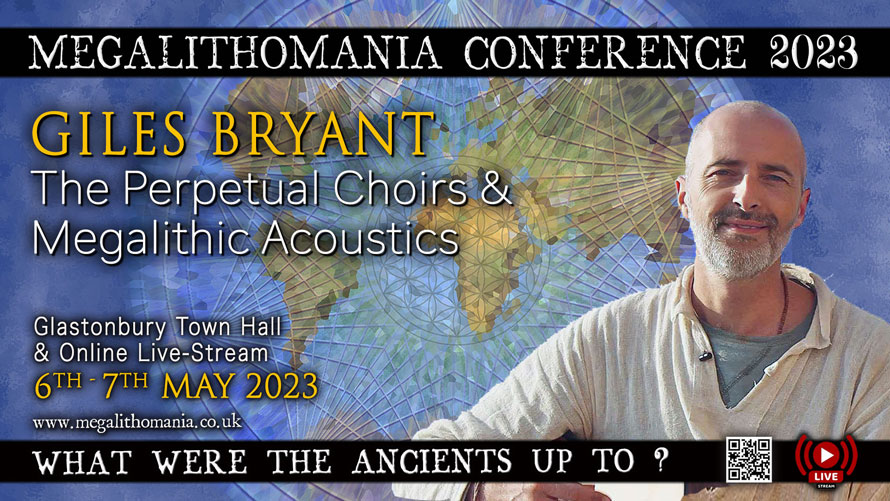 A journey into the ancient practices of sacred sound, and the connection between consciousness, music, energy lines, megaliths and global wellbeing. Giles will share stories, songs and insights into the perpetual choirs, and what he learned from his time with John Michell, Hamish Miller & Colin Bloy at sacred sites.
Giles Bryant is founder of World Healing Project, which he has run for 17 years promoting wellbeing initiatives around the world. For many years he has promoted the ancient practice of perpetual choirs, producing albums and giving concerts of sacred music around the world. His latest album, One World was an eight year project recording around the world. Giles is the author of Sacred Sites Sacred Songs, and collaborated on Sensing The Earth. He lives near the St Michael Line in Suffolk. www.gilesbryant.com

CAROLYN KENNETT
The Celestial Landscape and Pathways of Prehistoric Bodmin Moor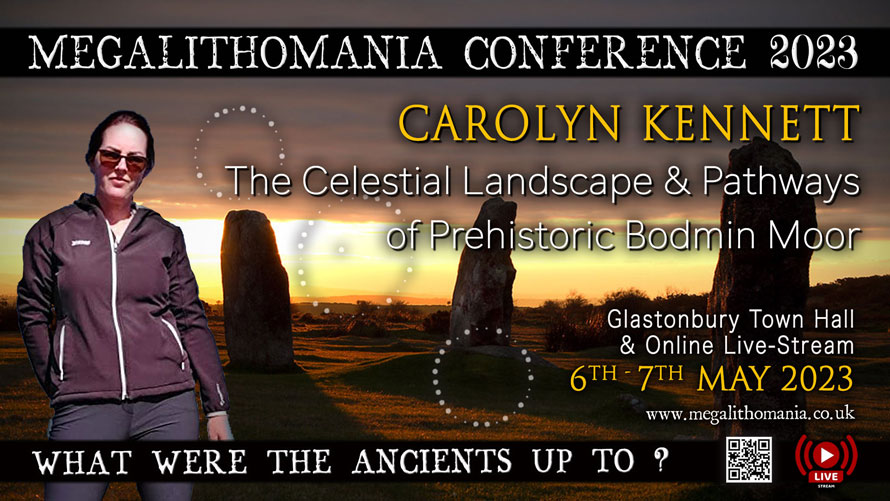 Bodmin Moor in Cornwall is a rich prehistoric landscape. During the talk we will visit a number of distinct ritual landscapes found on the moor and delve into their connectivity with the skyscape. These locations contain stone rows, circles, burial mounds and living spaces. Alongside the solar and lunar cycle the talk will explore connectivity to other astronomical features such as the Milky Way, before discussing more phenomological ideas. It will consider how distinct locations may work astronomically with neighbouring sites, before focusing on the possibilities of long distance astronomically linked pathways across the moor taking into account sightlines to significant hills and tors.
Carolyn Kennett is a is a writer, researcher and astronomer who lives in Cornwall. She researches ancient communities and how they made connections to their skyscapes. She is a Fellow of the Royal Astronomical Society, and her books include Sites of Prehistoric Bodmin Moor (2022), Uranus and Neptune (2022), Celestial Stone Circles of West Cornwall (2018) and Neptune: From Grand Discovery to World Revealed (2021). She is a communicator of all things astronomical and runs her own walking tours and outreach business Archaeoastronomy Cornwall, while being a director of Mayes Creative, who deliver arts, science and heritage projects throughout Cornwall. https://archaeoastronomycornwall.com
SIMON MILES
Mountains of Fire: Starmaps of the Pyrenees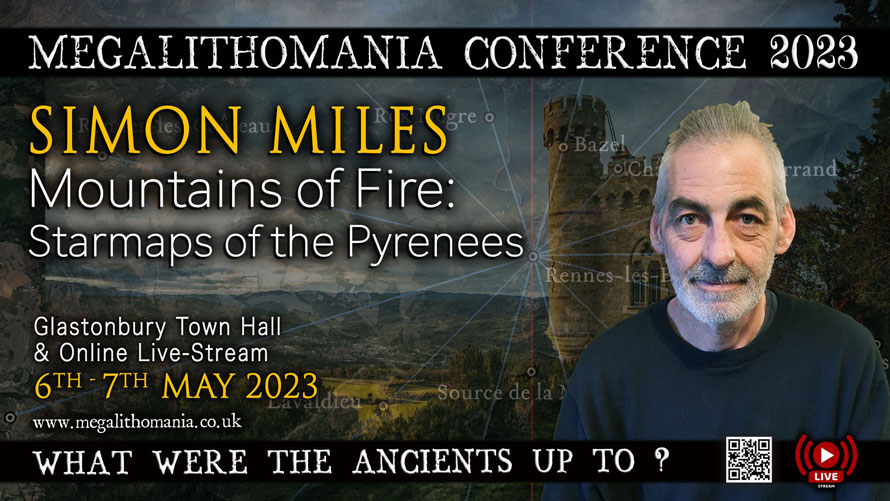 There is a mystery hidden in the layout of certain Templar châteaux, churches and peaks in the foothills of the Pyrenees in the south of France. Simon Miles began an investigation into claims of alignments in the area in the late 1990s. In this talk, he presents his results, including the discovery of multiple examples of meridians marked in mountain peaks, a collection of large-scale Pythagorean triangles and an extraordinary landscape zodiac laid out around a village with a fascinating history. Taken together, these fragments are the traces of a vast astronomical instrument embedded in the landscape of the Pyrenees mountains, aligned to major compass angles, the winter solstice sunrise and major stars, in similar manner to related ancient sites all over the world.

Simon Miles is an author, researcher and speaker. He has been investigating the sacred geography of southern France for more than two decades, including five years living in the Languedoc. His first book, The Map and the Manuscript: Journeys in the Mysteries of the Two Rennes, was published by Ignotum Press in 2022. Originally from Australia, he now lives near Manchester. His website is www.simonmmiles.com
GWENDOLYN AWEN JONES
Callanish the Crown: Stonehenge of the North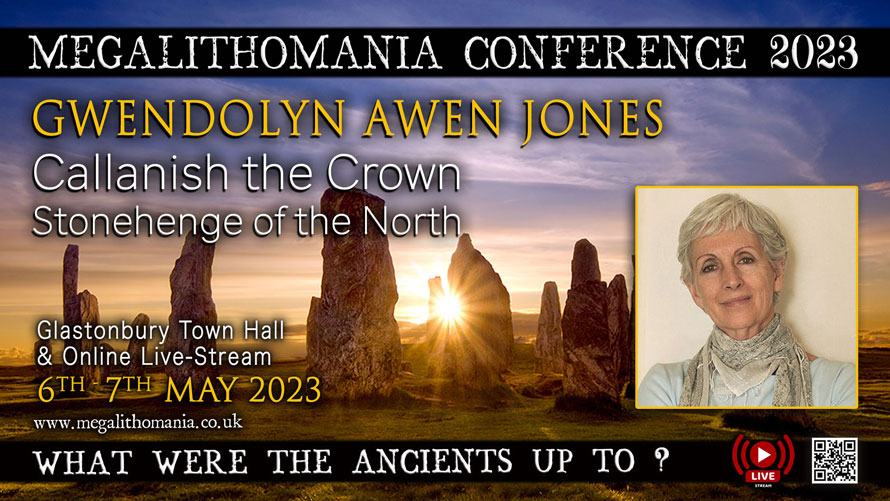 For millennia the Callanish stone circle on the Isle of Lewis in the Outer Hebrides was protected by deep layers of peat with only the tallest stones protruding above the ground. Accumulating over centuries the gradually encroaching peat pre-served this ancient place keeping it safe. In the 1800's the thick peat was cut away to reveal the true magnifcence of the stones. Callanish stone circle with its cross formation of outlying stones is the most intact of all the stone circles in Britain. It is considered be the real Crown of Britain. This talk will cover the history, astro-archeology, spiritual mysteries and magical qualities of this powerful site.
Gwendolyn Awen Jones is an award-winning author known for her books on healing and spirituality. She was born in England with a natural gift of spiritual sight that allows her to see the subtle energies beyond the normal physical world. She trained as an artist and photographer and has traveled widely to research and record the sacred knowledge encoded in ancient places. Gwendolyn lectures around the world. She is able to see all levels of the human energy field, and helps clients resolve the problems that are causing disease by working with the light from the Source to heal them. She may also work with physical locations to clear negative energies so balance can be restored to the land. Gwendolyn currently works in the USA as a medical intuitive, healer and spiritual teacher. www.callanishthecrown.com


HUGH NEWMAN & JJ AINSWORTH
Karahan Tepe Supercivilization / Sheshat: Egypt's First Surveyor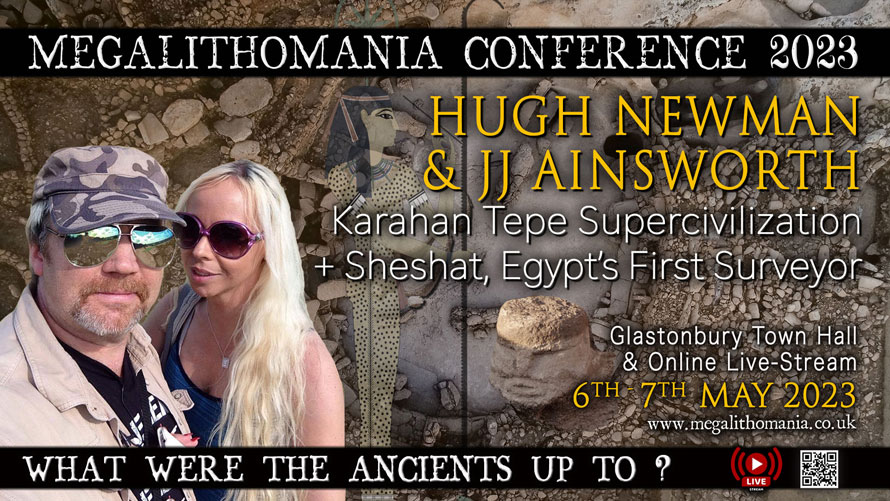 Hugh shares brand new research from southeast Anatolia, looking at the 11,400 year old Karahan Tepe and other sites under excavation suggesting it was the first ever 'Supercivilization' long before the Sumerians and the Egyptians. JJ presents her research on Thoth's consort, Sheshat, who traditionally may have been the original designer and surveyor of early pyramid sites in ancient Egypt, plus how her influence spread to other cultures.


Hugh Newman is an explorer, megalithomaniac and author of Earth Grids: The Secret Pattern of Gaia's Sacred Sites (2008), Stone Circles (2017) and co-author of Giants on Record (2015), Megalith: Studies in Stone (2018), Geomancy (2021) and The Giants of Stonehenge and Ancient Britain (2021). He has been a regular guest on History Channel's Ancient Aliens and featured in Search for the Lost Giants. As well as organising the Megalithomania conferences and tours. He lives very close to Stonehenge. Jj Ainsworth is a researcher and explorer based in the US, who is an expert on ancient symbolism and connections between sites worldwide. She has featured on numerous radio shows, has published articles on www.ancient-origins.net, and presented for the first time at Megalithomania in Glastonbury in May 2018.

GARY BILTCLIFFE
Mysterious Portland: Revealing the Sacred Landscape and Legacy of Britain's Masonic Isle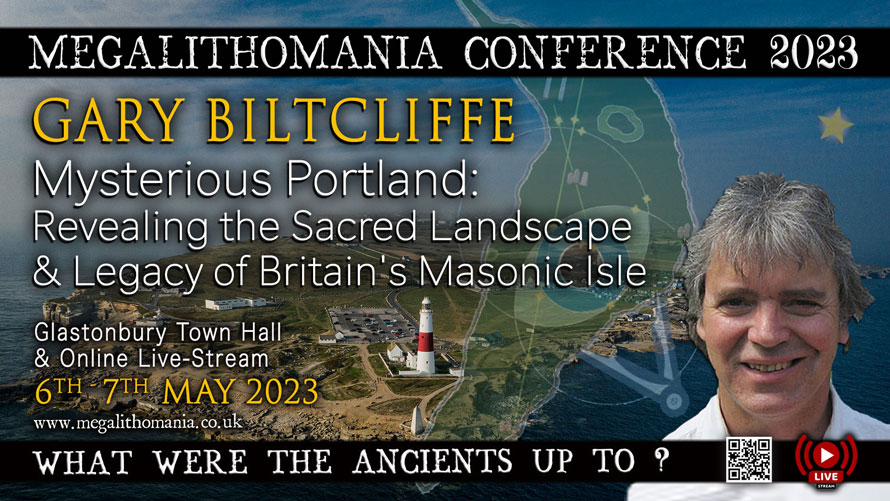 The Isle of Portland in Dorset was known as the Gibraltar of Wessex, a giant wedge of layered limestones and flint famous for supplying stone for rebuilding London after the Great Fire. However, it is also a liminal place of supernatural occurrences, which has blended into the very fabric of the island with impossible sacred geometry between its churches and chapels and landscape contours. Gary will explain the mysteries in context with the latest research of intelligent energies and that the unique situation and fabric of the island is the cause of many of its mysteries and why the megalithic peoples built so many of their monuments on the high plateaux of the island.
Gary Biltcliffe is an international author, speaker and tour guide on Britain's sacred sites and the hidden mysteries of earth energies. He is co-author of The Spine of Albion, The Power of Centre and The Spirit of Portland. His knowledge of ancient civilisations and the Freemasons have helped to reveal new discoveries on Portland that have stretched his beliefs to the very limits and inspired this new book on Britain's Masonic Isle. https://belinusline.com/
JOHN MARTINEAU
Speakers Forum Host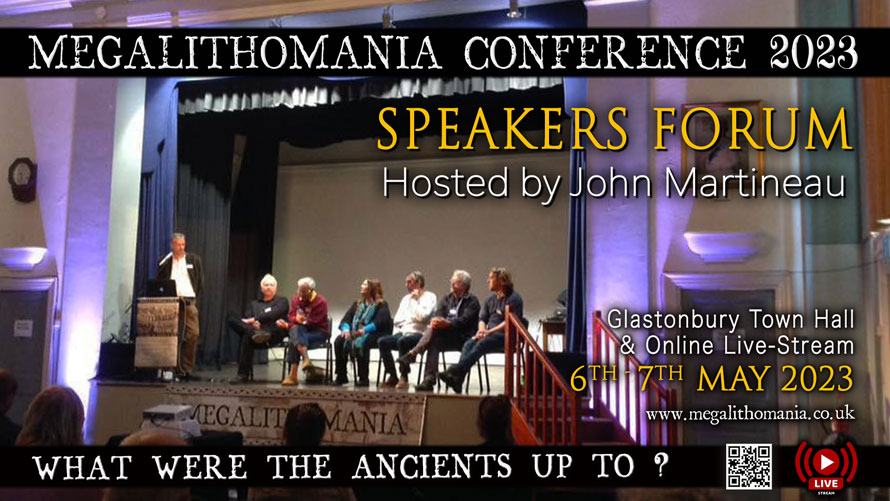 John is the regular host of the speakers forum at Megalithomania, and this year he will be doing so once more. So if you have any questions for the speakers, please raise your hand during the speakers forum and John will choose the most sensible ones, and comment on the not so sensible questions!

John founded Megalithomania with Hugh Newman and Gareth Mills in late 2005 and has spoken regulary at Megalithomania and other conferences in Britain, South Africa and Europe. John graduated in Philosophy from Bristol University and spent a few years in the early computer games industry before completing a Master's degree at the Prince's School of Traditional Arts. John's project at the School was focused on geometry and harmony in the solar system, and culminated in his Book of Coincidence, which he published under a new imprint, Wooden Books, a series of richly-illustrated and fascinating books exploring the age-old themes of nature, pattern, cosmos, design, ancient sites and geometry. Wooden Books now lists more than 60 titles, with 2.5 million printed copies in 25 languages; in 2007, it won Best Non-Fiction Series at the New York Book Show. He lives in Suffolk, UK.
SCHEDULE TO BE CONFIRMED

9.30am: Registration
10:00 am: Gary Biltcliffe
11.00 am: BREAK
11.15 am: Gwendolyn Awen Jones
12.15 pm: BREAK
12:30 pm: Carolyn Kennett
1.30 pm: LUNCH
2.45 pm: Simon Miles
3.45 pm: BREAK
4.00 pm: Prof. Vince Gaffney
5.15 pm: BREAK
5.30 pm: Robin Heath Part 1
6.45 pm: END


SCHEDULE TO BE CONFIRMED

9.30am: Registration
10:00 am: Giles Bryant
11.00 am: BREAK
11.15 am: JJ Ainsworth & Hugh Newman
12.15 pm: BREAK
12:30 pm: Robin Heath Part 2
1.30 pm: LUNCH
2.45 pm: John Michell Memorial Lecture - Christine Rhone
3.45 pm: BREAK
4.00 pm: Andrew Collins
5.00pm: BREAK
5.30 pm: Speakers Forum hosted by John Martineau
Closing Remarks
6.30 pm: END
WATCH RECORDINGS OF 2021 CONFERENCE HERE
CLICK HERE TO DOWNLOAD THE TALKS OR BUY DVDS
---