MEGALITHOMANIA GLASTONBURY CONFERENCE 2019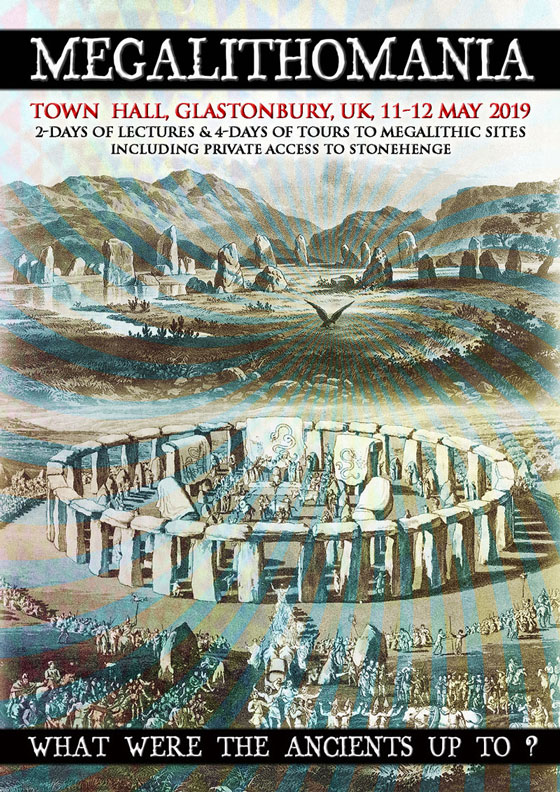 SPEAKERS CONFIRMED SO FAR

MARIA WHEATLEY
The Rollright Mysteries – A New View of Stone Circles

Maria explores the power generated by a stone circle. Focusing on complexes that have retained their circular shape, she examines the hidden properties of standing stones, the energies and sound frequencies they emit – and how certain earth energies change the air quality. The Rollright Ring in Oxfordshire has some exceptional qualities that can assist in manifestation, produce magnetic hot spots that are healing and generate time-lapses which have been experienced within the megalithic complex. Rollright's standing stones respond to the Earth's voltages, increasing the megaliths' sensitivity – and the strongest earth energy that Gaia produces is located within the complex. Leading us from the ordinary to the extraordinary, Maria takes a deep and thought-provoking look at the long-skulled people who created Neolithic monuments worldwide and how they were the first to lay out the ley line network across the British Isles and Europe, uniting monument after monument. Their Neolithic legacy has been ignored by mainstream archaeologists and this enigmatic civilisation just seemed to disappear during the Bronze Age. Maria explains what happened to them; as we shall see, fact is often far stranger than fiction.

Maria is a second-generation dowser taught by European Master Dowsers, her late father and Chinese geomants. She is a leading authority on geodetic earth energies and ley lines, and an accomplished author of books on sacred sites and dowsing. She has continued her father's dowsing research into the esoteric design canons of prehistoric sites, Druidic ceremonial enclosures and the Knights Templars' churches and cathedrals. Maria has studied Neolithic Britain and Bronze Age prehistory and combines her knowledge of archaeology and earth energies with state of the art equipment to detect and interpret the hidden frequencies the Earth emits. She is an expert on locating and analysing energies at sacred sites across Europe and offers tours for small or large groups from Stonehenge to Malta. Maria has also written holistic diploma courses and runs EsotericCollege.com which offers certificated courses on holistic subjects including past life regression, Druid Soul Star astrology, tarot and dowsing. She teaches advance dowsing techniques which are not available anywhere else in the world. www.theaveburyexperience.co.uk www.esotericcollege.com



ANDY BURNHAM
The Old Stones: A Field Guide to the Megalithic Sites of Britain and Ireland



Locate over 1,000 of Britain and Ireland's most atmospheric prehistoric places, from recently discovered moorland circles to standing stones hidden in housing estates. Discover which sites could align with celestial bodies or horizon landmarks. Explore acoustic, colour and shadow theory to get inside the minds of the Neolithic and Bronze Age people who created these extraordinary places. Find out which sites have the most spectacular views, which are the best for getting away from it all and which have been immortalized in music.



Andy founded 'The Megalithic Portal' 10 years ago and has been at the forefront of the internet stone hunting community since its inception. He coined the term 'megarak' to describe those with a similar 'unhealthy' interest and spoke at Megalithomania 2011. He also appeared at the first ever Megalithomania in 2006 and is a Chartered Electronics Engineer by trade. www.megalithic.co.uk


HUGH NEWMAN
Polygonal and Cyclopean Walls of Europe, South America

Hugh has been investigating the huge megalithic walls in Peru, Bolivia, Ecuador and also in Italy, Greece and Spain and found there are global connections to this unusual polygonal style thar are often attributed to giants or ancient gods.

Hugh Newman is an author, conference organiser, world explorer, tour host, and Megalithomaniac. As well as organising the Megalithomania conferences, he organises the Origins Conference in London with Andrew Collins every November. He has spoken at events in the UK, Malta, France, Peru, Egypt, Bosnia and North America. He has appeared on BBC TV, Sky Channel 200, Bosnian TV and the History Channel in the last five seasons of 'Ancient Aliens', and recently in 'Search for the Lost Giants'. He is author of Earth Grids (Wooden Books 2008), Stone Circles (Wooden Books 2017) and co-author of 'Giants On Record' with Jim Vieira (Avalon Rising 2015), and contributed to Megalith: Studies In Stone (2018). www.hughnewman.co.uk


THE JOHN MICHELL MEMORIAL LECTURE
Hosted by Christine Rhone


Every year, Megalithomania welcomes Christine Rhone to introduce the John Michell Memorial Lecture. Previous speakers have included John Martineau, John Neal, Christine Rhone and Steve Marshall. Christine also organises a bi-annual event in London celebrationg the work of the great visionary.

NOTE: Schedule to be confirmed

9.30am: Registration
10:00 am: Lecture 1
11.00 am: BREAK
11.15 am: Lecture 2
12.15 pm: BREAK
12:30 pm: Lecture 3
1.30 pm: LUNCH
2.45 pm: Lecture 4
3.30 pm: BREAK
4.00 pm: Lecture 5
5.00 pm: Break
5.30 pm: Lecture 6
6.45 pm: END


NOTE: Schedule to be confirmed

10:00 am: Lecture 1
11.00 am: BREAK
11.15 am: Lecture 2
12.15 pm: BREAK
12:30 pm: Lecture 3
1.30 pm: LUNCH
2.45 pm: John Michell Memorial Lecture
3.45 pm: BREAK
4.00 pm: Lecture 5
4.45 pm: BREAK
5.15 pm: Speakers Forum hosted by John Martineau
6.15 pm: Closing Remarks.
6.30 pm: END
Pre-Conference and Post-Conference Tours:

Friday 10th May
Private Access To Stonehenge Tour TBC

Monday 13th: Rollright Stones and Devil's Quoit Stone Circles, Oxfordshire
Hosted by Maria Wheatley and Hugh Newman

Tuesday 14th: To Be Confirmed
Full day exploring megalithic and ancient sites
Wednesday 15th - Ancient Avalon Walking Tour. Meet 10am. Town Hall Car Park
Explore Glastonbury Tor, The Egg-Stone, Chalice Well, The Red & White Springs, The Holy Thorn, Wearyill Hill & more! £40 includes entrance to Chalice Well and the Abbey, hosted by Shaun Kirwan. (Includes entrance tickets to Chalice Well and The Abbey)

Click here for Advance discounted 2019 tickets
CLICK HERE TO DOWNLOAD THE TALKS OR BUY DVDS
---