MEGALITHOMANIA CONFERENCE 2022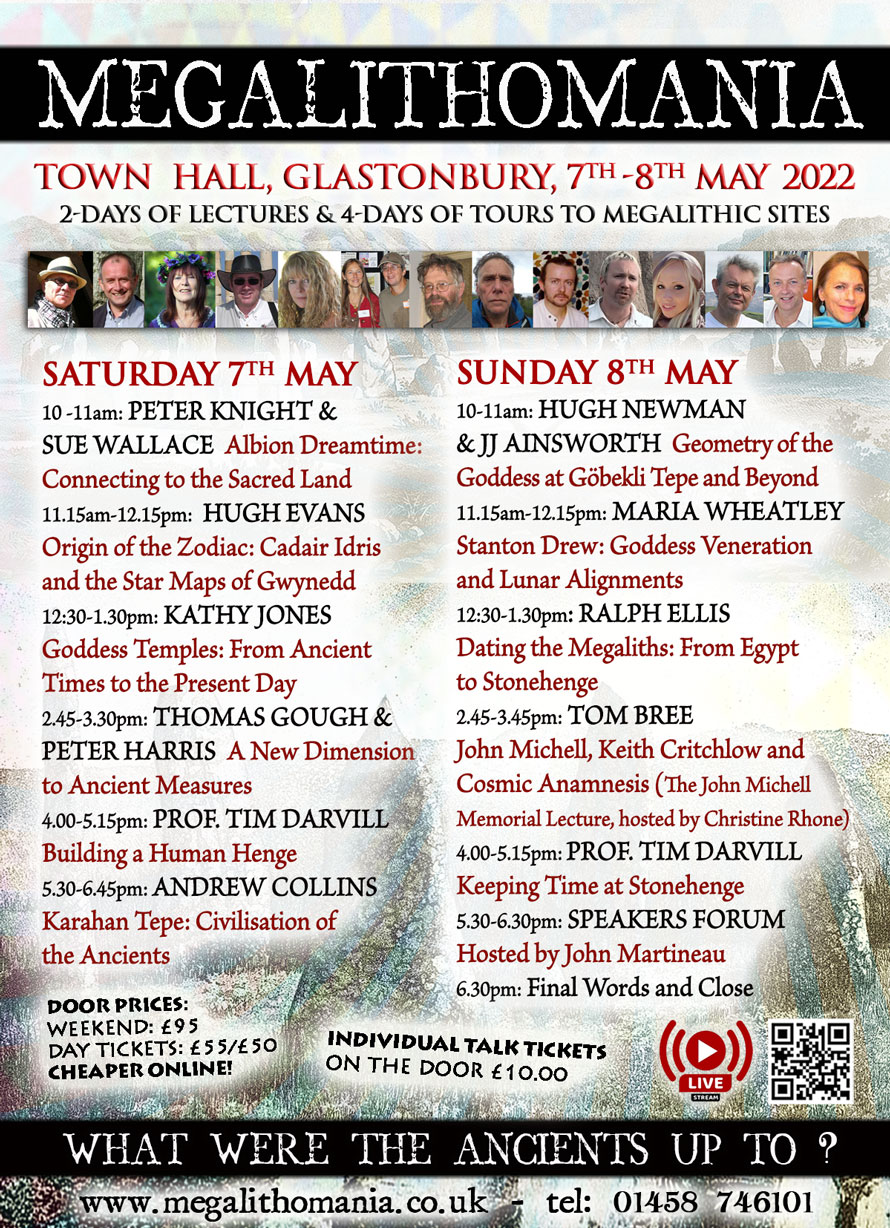 MEGALITHOMANIA TICKETS AVAILABLE ONLINE BELOW
Hello Megalithomaniacs. Last year we went online. This year were back in the Town Hall of Glastonbury, featuring a stunning line-up of speakers at the cutting edge of ancient mysteries, including Andrew Collins, Prof. Timothy Darvill, Kathy Jones, Maria Wheatley, Ralph Ellis, Peter Knight and Sue Wallace, Peter Harris and Thomas Gough, Hugh Evans, JJ Ainsworth, Tom Bree and Hugh Newman, with Christine Rhone presenting the 'John Michell Memorial Lecture', and the speakers forum hosted by John Martineau. See the full line up here and sign-up to watch the full recording of the two-day conference below online.
Live-Stream Online £50.00, plus a £2 admin/PayPal fees





The Live-Stream ticket gives you access to the full two-day conference online, which can be viewed at your leisure.

See the full speakers line up here.
Also, below is a link to our Youtube channel that has most of the previous conferences to view for free, that you can watch at your leisure: www.youtube.com/MegalithomaniaUK
Pre-Conference and Post-Conference Tours
Meet at the Town Hall / Abbey Car Park (Dunstans Car Park) for all tours (Next to the Town Hall).

Friday 6th May - 3pm - 6.00pm - £25
Burrow Mump and Compton Dundon Yew Tree and Earthworks

Monday 9th May - 9.30am - 6.00pm - £45
Exploring Dartmoor with Peter Knight, visiting Hound Tour, Merrivale Megaliths and Stone Avenues, plus the Maximajor Stone.

Tuesday 10th May: - 9.30am - 6.00pm - £45
Exploring Exmoor visiting Tarr Steps Megalithic Bridge, Withypool Stone Circles and the Caractacus Stone.

Wednesday 11th - 10am - 5pm - £45
Ancient Avalon Walking Tour
Explore Glastonbury Tor, The Egg-Stone, Chalice Well, The Red & White Springs, The Holy Thorn, Wearyill Hill & more, hosted by Shaun Kirwan.
(Includes entrance tickets to Chalice Well and The Abbey)
If you have an enquiry please email us at info@megalithomania.co.uk - Info: 01458 746101

IMPORTANT: If for any reason you cannot make it to the conference after purchasing a ticket, please be aware we cannot offer refunds, but we will give you full access to the post-conference videos to watch from the comfort of your own home, at no extra charge.

PLEASE NOTE: The organisers reserve the right to change the programme, speakers, venue and schedule at any time.
GLASTONBURY UK CONFERENCE INFO FOR 2022
The Conference main event takes place in The Town Hall - which is in the centre of Glastonbury. See map Above. Parking is next door in the Abbey Car Park

Check out 'The Town Hall' venue here
Local Hotels & B&B's here

BY TRAIN: The nearest stations to Glastonbury are Castle Cary (30 mins drive), Taunton, Bristol (55 mins drive) and Bath. Connections to Glastonbury by Buses from all stations are available. Enquiries:
National Rail (Trains to Bristol) 08457 48 49 50
First ( Buses from Bristol) 0870 6082608

BY AIR: The nearest local airports are Bristol and Exeter. Buses to Glastonbury available from both city centres.
From London Heathrow and Gatwick, trains/buses to Reading connect with trains to Bristol, Bath, Castle Cary.
coaches from both airports to Bristol connecting to Glastonbury. Enquiries: National Express or call 08705 808080

BY ROAD: Glastonbury is on A39 and A361 in Somerset. From London, take the M3 on to the A303. Stay on A303 past Wincanton and Sparkford to Podimore roundabout. Take A372 Langport Road to B3151 intersection. Turn right onto B3151 sign posted to Somerton and Street. Follow signs to Glastonbury from Somerton (journey takes 2 - 3 hours depending on traffic).

BY BUS: From Bristol, Bath, Taunton, Bridgwater and Wells local First buses come to Glastonbury.
High Speed Coaches arrive daily from London (operators: Bakers Dolphin, National Express). Enquiries: First 0870 6082608
National Express 08705 808080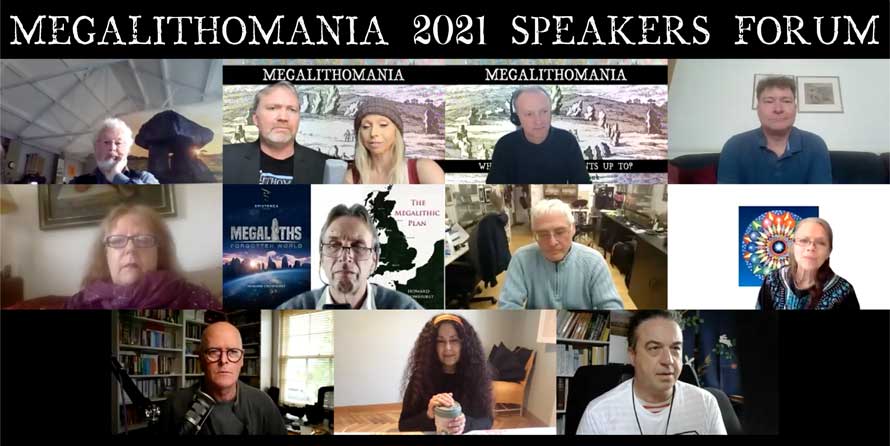 Reviews of the 2021 Online Conference
"The conference was awesome! All speakers and the managing of the online event was amazing. You should be so proud of yourselves." Michelle & Ronan
"I thought it was really good and enjoyed it a lot. The sound was very clear and it seemed as though everything went like clockwork, great line-up of speakers too. It's a really good way for people who maybe cannot get to the conference at Glastonbury to be able to attend the conference virtually." Muriel
"The conference was excellent. The web medium seemed to raise the level to a slick professional production, not to mention the fine quality of ALL contributions." Nicola
"Thanks very much for a wonderful weekend! I enjoyed it very much" Aaron "I so enjoyed the conference! Didn't watch it all, but what I did was really inspiring and the whole event had such a reassuring flavour of something familiar and friendly... You get better and better at presentation Hugh! Thank you so much for making it all possible." Karen
"I'd just like to repeat what a great job you did organising the conference and how I felt you were serving a greater cause. It was a very interesting melting pot which left no one indifferent." Howard
"Thank you for a rich & wonderful conference that I attended from my New Mexico home." Christine "It was a great thought provoking event, I enjoyed a lot." Elena
"That was an excellent weekend. My first such experience and thoroughly enjoyable. It has encouraged me to further delve into this and so, thank you very much. Amazing." Rich
"I think you've done a wonderful job in organising it and for this year keeping the Megalithomania conference alive. Well done to you and to everyone who helped and participated!" Henry
"This was one of the most significant and meaningful conferences I've yet to attend." Alison "Thank you so much, Hugh! So happy with the content I was able to watch from the US." Rhonda
"Really enjoyed it – all the speakers were excellent and it worked really well online." David "I just wanted to say how much I enjoyed the online conference. Fantastic and fascinating. Thanks to you and all the speakers. The spread of speakers was amazing with the different perspectives and theories being presented." Daniel
"You are to be congratulated for what was clearly a very shipshape and copper bottomed happening at MegMania 2021. I thoroughly enjoyed the few presentations I managed to catch. A lot of fun. The emails I've had also suggest that many others had a great experience." Robin
"I had been wanting to get over to England for the Megalithomania conferences for years now and finally, due to a pandemic, I get to partake from the ease of my home! Thank you for all the trouble to set the conference on zoom. I had been interested in the depth of rigour the researchers were going to and I am completely pleased! I love the incorporation of everyone's ideas, with the respect toward each other of "accept it or not, no worries" without the need to control the message that I feel in other archaeoastro and archaeo conferences. I have never desired to go with other folks on tours, but now that I see what a lovely personality you have, so willing to share the joy of exploration with everyone, I look forward to booking a tour in 2022 and coming to the live Megalithomania as well. Again, THANK YOU! You are aiding in the preservation and re-instatement of knowledge in the minds of us Earth folk. Very impressive." Ivy
"What a splendid job that you and your colleagues did this weekend with Megalithomania. Congratulations." Terence
"The conference was brilliant, thank you again to all." Catherine