MEGALITHOMANIA TOURS & EVENTS 2014
For info on the 2013 Glastonbury Conference Tours, please click here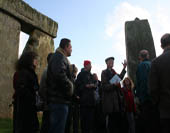 Megalithomania has been running tours since 2006. We invite megalithic authors, researchers and expert tour guides to join us on tours that have included Stonehenge with John Michell (pictured right), Peru and Bolivia with David Hatcher Childress and Brien Foerster, Egypt with Robert Bauval, The Bosnian Pyramids with Semir Osmanagich, Megalithic Cornwall with Glenn and Cameron Broughton, and Bolivia and Easter Island with Robert Schoch. in 2013 we held trips to Megalithic Ireland (August), Gobekli Tepe/Turkey (September), then Peru and Bolivia in November. In 2014 we are revisiting Turkey to explore deeper in to its incredible history, plus in June we'll be exploring ancient Wales, the home of the Druids. Email for queries and more information.
June 18th - 29th 2014
MEGALITHIC WONDERS OF WALES
Hosted by Glenn & Cameron Broughton & Hugh Newman
Wales is otherworldly – lush green valleys filled with morning mist, craggy mountain peaks reaching to the clouds, a coastline to stretch the imagination to the horizon and a formidable reputation founded on legends of druids, wizards and witches. As the last retreat of the inhabitants of ancient Albion, the Welsh are still connected to the 'olde ways'. Even today this depth of history and tradition is present in the very fabric of the land. Our journey takes us across this small but diverse country and on to the Isle of Anglesey. Wales has many impressive stone circles, dolmens, passage graves and Christianised sites that are essential for any Megalithomaniac to experience at least once in their lives! As the Welsh say "Croeso I Gymru" – Welcome to Wales! Full details here





May/June 2014


ORIGINS OF CIVILIZATION TOUR
11 days with Hugh Newman and Andrew Collins, author of the forthcoming Finding Eden, plus The Cygnus Mystery and From the Ashes of Angels. Visit some of the world's most exciting archaeological sites including Göbekli Tepe, the oldest stone temple complex, the ancient city of Harran, and Çatal Höyük, the world's first city. See also the city of Konya, home of the Whirling Dervishes; Sanliurfa, the ancient Christian city of Edessa, birthplace of Abraham; and the area of the Garden of Eden, home of the Watchers and Nephilim of the book of Enoch, and the Annunaki of Sumerian myth and legend.

Booking being taken now. Proposed Itinerary here. Please email to register interest.

January 2014


ANCIENT ALIEN CRUISE TO MAYA TEMPLES

- with David Hatcher Childress, Hugh Newman, Robert Schoch and Micah Hanks.
Join stars of Ancient Aliens on a Mayan cruise. Joining our group will allow you access to all of the presentations, panels, and discussions on Ancient Alien Theories, prond con, and the mysteries of the leading researchers and authors in this growing field of interest. Come along with us and meet and interact with many of the leading experts. Details & Itinerary here
MEGALITHOMANIA 2013 TOURS
August 18th - 28th 2013
MAGIC OF MEGALITHIC IRELAND
Hosted by Glenn & Cameron Broughton & Hugh Newman
With Guest Speakers Anthony Murphy, Meghan Rice and Mike Croghan
Visiting World Heritage site of Newgrange and Knowth Cairns, Ancient power centre of Tara, Loughcrew, Uisneach - the centre of Ireland with the Stone of Divisions, Private ceremony within Fourknocks Cairn, Carrowkeel, Carrowmore, Skellig Michael - rocky island with monastic beehive huts where Apollo & Athena energy currents cross, Glendalough round tower and more. We will have time for meditation at sites, dowsing the energies, and connecting to the elemental realm, as well as exploring the rich megalithic landscape of this incredible country. Full details here





September 2013


ORIGINS OF CIVILIZATION - 12 days With special guest Graham Hancock. Hosted by Andrew Collins, author of the forthcoming Finding Eden, plus The Cygnus Mystery and From the Ashes of Angels, with guest megalithomaniac Hugh Newman, author of Earth Grids. Visit some of the world's most exciting archaeological sites including Göbekli Tepe, the oldest stone temple complex, the ancient city of Harran, the Temple of Baalbek in Lebanon, and Çatal Höyük, the world's first city. See also the city of Konya, home of the Whirling Dervishes; Sanliurfa, the ancient Christian city of Edessa, birthplace of Abraham; and the area of the Garden of Eden, home of the Watchers and Nephilim of the book of Enoch, and the Annunaki of Sumerian myth and legend.

Booking being taken now. Proposed Itinerary here. Please email to register interest.

October/November 2013
MEGALITHIC PERU, NAZCA and BOLIVIA - Hosted by David Hatcher Childress, Brien Foerster, Glenn & Cameron Broughton & Hugh Newman
Join stars of Ancient Aliens with guest earth energies experts Glenn & Cameron Broughton to research grids, leys, ancient technology, prehistoric maps, megaliths, legends and serpent energies, using dowsing, geomancy and geodesy to find the sacred power spots used by the ancients. We will explore the 'path of Virococha' an alignment that the ancient god travelled when building the megalithic sites of Peru and Bolivia, and see the elongated skulls. Details & Itinerary here

Spring & Summer 2013/2014


WANDLEBURY TOURS & GUIDED WALKS


Hosted by Hugh Newman & Michelle Bullivant

Explore and Discover the hidden mysteries of the Cambridge Landscape. Visit Wandlebury, Bartlow Mounds, Local megaliths, Sacred Springs, Ancient Tracks, earthworks & learn about Archaeology, Ley Lines ,The Loxodrome, legends, Ghost Stories, Astronomy, Crop Circles & more.

- Half-day Tours
- Full-day mini-bus Tours
- Loxodrome Tour
- Ley Line Tours
- Archaeology Tours
- Pilgrimage

Please email to register interest or see www.wandlebury.com

Feedback from Peru & Easter Island 2012 Tour

"Still reminiscing about the trip. It was such a wonderful experience made even better by such a great group of people. And thank you all for the amazing photographs" - Janine Moore

"Great crew, awesome time! Looking forward to sharing some video and photos!!!" - G. Maestro

"Thanks Hugh! great trip for those that like alternative traveling and the deeper story to humanities history"- Jennifer Stein

"Hugh, just wanted to thank you once again for all you did to bring our trip together. I learned so much and absorbed so many new ideas to come back and study....a million directions to go, and I'll continue to look to the people and resources of Megalithomania to lead me on. You do important work. Thanks." - Karla Mahoney

"What an amazing adventure we've had over the last 10 days! Peru is a beautiful diverse country filled with so many incredible sights and mysteries! We have been on a non-stop ride, and this journey we will never forget" - Jenny Geyser-Maestro

"I just have to send a big thanks to all the persons on the Megalithomania Peru/Bolivia, It was a pleasure to spend time with all the persons and visit all these special sites. A big thanks to you all!" - Jonny Ueland