The Annual Megalithomania Grand Tour to South America
PERU, BOLIVIA & EASTER ISLAND TOUR
MEGALITHIC TECHNOLOGIES ON THE PATH OF VIRACOCHA
NOVEMBER 14th - 26th 2018 / NOV 26th - 30th 2018
There will only be 25 spaces for this exclusive tour! Currently 23 spaces are still available.
CLICK HERE FOR MORE DETAILS & TO BOOK YOUR PLACE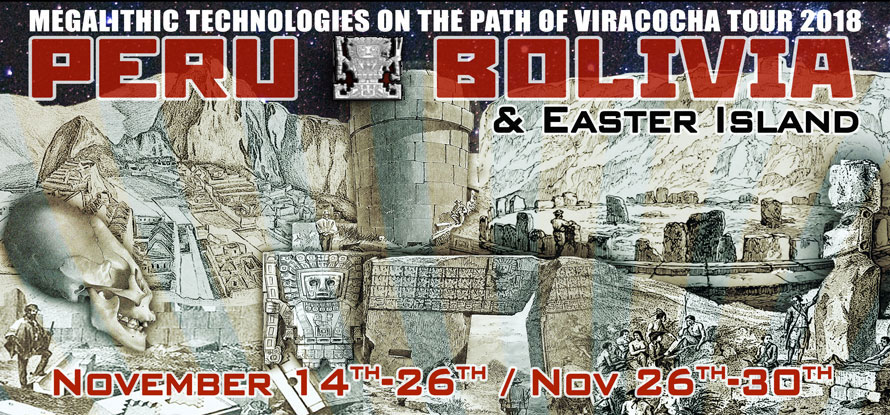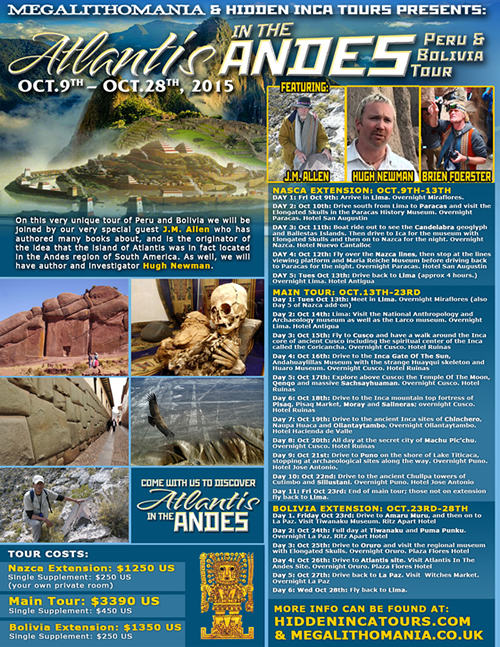 ALL TOURS INCLUDE: Guides, bus rides, internal flights, pick up at the airport, access to all the listed sites, train rides, 3 to 5 star hotels, breakfasts, some lunches (See B, L, D, for breakfast/Lunch/Dinners included), tickets to archaeological sites, time at sites to meditate and have personal time, dowsing classes, time for research, evening lectures. Note: Vegetarian options will be available.
NOT INCLUDED: US citizens will have to pay a $135 visa charge to enter Bolivia from Peru, International flights, Airport Fees, lunches & dinners unless stated otherwise, drinks, tips, paypal fees, international transaction fees, travel insurance. NOTE: Prices based upon double-occupancy. info@megalithomania.co.uk
Place your deposit securley via Paypal or Debit/Credit Card. After it has been recieved you will recieve a confirmation email, be added to the group mailing list and sent instructions on how to pay the remaining fee.
ATLANTIS IN THE ANDES
Peru & Bolivia Tour 2015


Megalithomania and Hidden Inca Tours join forces with author J.M. Allen to explore one of the possible sites of Atlantis.

October 13th - 23rd 2015
Includes pre-tour add-on to Nazca
& post-tour add-on to Bolivia

On this unique tour of Peru and Bolivia we will be joined by our very special guest J.M. Allen who has authored many books about, and is the originator of the idea that the island of Atlantis was in fact located in the Andes region of South America. Brien Foerster and Hugh Newman are co-hosting the tour.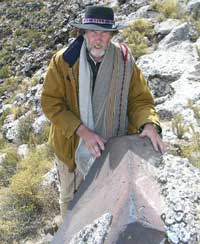 After serving with the Royal Air Force, Jim Allen used his expertise in mapping and aerial intelligence to identify the location of the site of Atlantis from Plato's description. After publishing his initial findings in Atlantis: The Andes Solution in 1998, he followed this up with numerous expeditions in the field. His research was the subject of a Discovery Channel documentary and earned him an honorary doctorate from Oruro Technical University in Bolivia. He lives in Cambridge, UK. See Allen's full research at www.atlantisbolivia.org



Hugh Newman has been a megalithomaniac for many years, travelling the world trying to work out what the ancients were up to. He organises the Megalithomania conferences in the UK, US and South Africa and has been travelling to Peru since 2007. His book "Earth Grids" covers the connections between sites in South America and the rest of the world. He has appeared on Ancient Aliens in 4 seasons. www.hughnewman.co.uk

Brien Foerster has published several books on ancient Peruvian culture and collaboared with David Hatcher Childress on "The Enigma of Cranial Deformation". He is a regular guest on Ancient Aliens and is one of the worlds leading researchers on the elongated skulls and the pre-history of Peru. www.brienfoerster.com
The team are also joined by Irene Maria Mendoza (Briens's wife) and Peru resident, plus our Gustavo Morales from Bolivia, our experienced English speaking tour guide.
Nazca Add-On
$1250 US / £799 UK
Single Occupancy: $250
Initial Deposit: $250

Peru/Bolivia Tour
$3390 US/£2175 UK

Single Occupancy: $450

Initial Deposit: $500

Bolivia Add-On
$1350 US / £865 UK
Single Occupancy: $250 Initial Deposit: $300
Add-on: Nazca, Ica & Paracas
9th - 13th October, 2015



The cost of the Nazca add-on is

$1250 US Dollars

.

Single occupancy - extra $250

. Includes flight over the Nazca lines and Boat-ride.


Day 1: Friday 9th October: Arrive in Lima. Stay in Hotel in Miraflores. If you arrive early, there is plenty to do and see around this beautiful part of Lima.

Day 2: 10th Oct: 6 hour drive to Nazca, with a stop to see the Palpa Effigies, that are part of the greater Nazca complex. Introductory lecture with Brien and Hugh. Overnight Nazca. B

Day 3: 11 Oct: Full day: Included is a morning trip via plane over the Nazca lines and effigies. We will discuss whether these were ancient 'spirit paths', or 'ley lines' or something more mysterious? Optional visit to Paradones, a stone Inca site, and the incredible 2000 year old aqueducts. Time to relax in the afternoon. Overnight Nazca. B

Day 4: 12th Oct: Visit the Maria Reiche museum, and the Mirador, from which two of the Nazca figures can be seen close up. Travel to Ica, where the largest elongated skulls in the world are in the Ica Regional museum. Then on to Paracas for the night. B

Day 5: Tuesday 13th Oct. Boat trip out to see the famous Candelabra, which is a huge geoglyph, and then on to the stone islands where wildlife, including sea lions, and hundreds of thousands of birds can be seen. Then off to the Paracas Archaeology museum to see some incredible local artefacts, including 16 elongated skulls. Return to Lima. B

Main Tour: Ancient Peru & Bolivia


13th - 23rd October, 2015

The cost of the main tour is

$3390 US Dollars

.

Single occupancy - extra $450

. Includes flights, train ride and megalithic heaven.


Day 1: Tuesday 13th Oct: Group arrives in Lima. Free time in Lima. Overnight Miraflores Lima. (people can come early & we can direct them to museums etc)

Day 2: 14th Oct: Visit the National Anthropology and Archaeology museum as well as the Larco museum. Overnight Lima. Hotel Antigua

Day 3: 15th Oct: Fly to Cuzco. Check-in to hotel. Get optional lunch on the main square, then visit the Coricancha complex, said to be the 'centre of the world' with alignments going out from this axis-mundi across Peru, and walls of the Palace of Inca Roca. We will also visit the museum with elongated skulls and the famous '12 sided stone' with limited activity and walking, as we'll be adjusting to the altitude difference. Overnight in Cuzco. B.

Day 4: 16th Oct: Andahuaylillas Museum, outside Cusco (1 hour drive) to visit the human/hybrid baby skeleton, that was all over the media last year, and see the mountain where it was found, mysteriously called Wiracochan ("where the creators descended"). The museum also houses spiral carvings and unusual ancient art. We also visit the ancient Gate of the Sun, a megalithic site made long before the Inca existed. This museum and site are rarely visited on organised tours. Visit to Huaro Museum. Afternoon to explore the megalithic city of Cuzco. Overnight Cuzco. Hotel Ruinas. B

Day 5: 17th Oct: Tambo Machay, Quenko, Amaru Machay and Sachsayhuaman: These are a megalithic series of sites up in the hills of Cuzco and have incredible water features (Tambo Machay) and massive technological construction that clearly predate Inca times. Free time in afternoon. Overnight Cuzco. Hotel Ruinas. B

Day 6: 18th Oct: Drive to the Inca mountain top fortress of Pisaq, Pisaq Market, Moray and Salineras; overnight Cusco. Hotel Ruinas

Day 7: 19th Oct: Drive through the Sacred Valley towards Ollantaytambo, stopping at the mysterious Naupa Huaca rock carvings. After lunch, Ollantaytambo. This place is simply huge, and is also where we catch the train to go to Machu Picchu the next morning. It is a very complex site, with the Temple of the Sun, agricultural terraces, water features, the Temple of the Condor and a 400 foot tall carved stone face of the great and mysterious teacher called Viracocha. Around the side of the mountain lie various gargantuan megalithic blocks that came from the neighbouring mountain's quarry, but did not quite make it up to Ollantaytambo. Time to explore the beautiful town that has a great market. Overnight in Ollantaytambo. Hotel Hacienda de Valle B

Day 8: 20th Oct: Machu Picchu: What can one say; this is the crowning jewel of Peru, the so-called lost city. Here we will also find evidence that a much older culture once lived here, and will learn what it's real name is. The unique and classy train ride from Ollantaytambo goes through the Sacred Valley, following the path of the Inca Trail. On the way we will see various ruins along Urumbamba river, as it connects the highlands with the jungle. We then get a bus up to the ruins, and spend at least 4 or 5 hours exploring this complex site, with time for meditation and ceremony. We will also have time to explore the market and small town. We will get train back to Ollantaytambo. Overnight in Ollantaytambo. Hotel Hacienda de Valle B

Day 9: 21st Oct: An 8-hour bus-ride to Puno next to Lake Titicaca, following the famous "Path of Virococha' stopping for Buffet Lunch at Alpaca Farm and the incredible Virococha Temple. B.L

Day 10: 22nd Oct. We visit the enigmatic Cutimbo, a chulpa site with polygonal construction, strange carvings that look like they are from Gobekli Tepe in Turkey, and a huge square chulpa that you can crawl inside. This place is usually free of other people, so is a great place for quiet time and ceremony. Lunch at the Sillustani restaurant with beautiful views of Lake Titicaca. Sillustani is famous for it's round towers called Chullpas, some of which are thousands of years older than the Inca and are polygonal design. There is evidence of a cataclysm hitting the site, a museum hosting elongated skulls, and some monoliths that have carvings remarkably similar to those at Gobekli Tepe. There is also remnants of a possible stone circle! Overnight Puno. B

Day 11. Friday 23rd Oct: End of main tour. Fly to Lima (included in price) and fly home (not included), or join the add-on to Bolivia.

Add-On: Bolivia & Atlantis Site


23rd - 28th October, 2015

The cost of the main tour is

$1350 US Dollars

.

Single occupancy - extra $250

. Includes flight, entrance to sites & coach journeys. $135 Bolivia border fee for US Citizens (not included)

Day 1:Friday 23rd Oct: (Day 11 of Peru Tour): Visit Amaru Muru, the famous rock-carved 'portal' or 'Stargate', that is near the Bolivia border. Here we go through the Bolivia/Peru border ($135 for US Citizens - not included in price). Drive to La Paz. If we have time visit the Witches Market or Tiwanaku Museum. Overnight in La Paz. B.

Day 2: 24th Oct: Tiwanaku and Puma Punku: Both Tiwanaku and Puma Punku are located at the same place. Tiwanaku is an enigmatic megalithic temple, with rough-hewn megaliths, strange statues, the Akapana pyramid, that has a major magnetic anomoly at its heart and the sunken temple with hundreds of carved protruding heads. There is also the incredible 'sun-gate'. It is believed that the 'Plumed Serpent' energy line goes through the pyramid and the site is flanked by two fault-lines. Puma Punku is much older and more mysterious. It is here we see evidence of ancient machining of stone. We will also visit the on-site museum and megalithic statues in the main square outside the church, and even see Tiwanaku stones embedded in the Church walls! Back to La Paz. Overnight in La Paz. B.

Day 3: 25th Oct: Drive to Oruro and visit the regional museum with Elongated Skulls. Overnight Oruro. Plaza Flores Hotel. B

Day 4: 26th Oct: Drive to Atlantis site. Visit the Volcano, canals and remains of the circular structure. See full description, maps and images at www.atlantisbolivia.org. Overnight Oruro. Plaza Flores Hotel. B

Day 5: 27th Oct: Drive back to La Paz. Visit Tiwanaku Museum or Witches Market. Farewell Dinner. Overnight La Paz. Ritz Apart Hotel. B.D

Day 6: Wednesday 28th Oct: Drive to airport. Fly back to Lima (included in price). End of Tour.

The tour is jointly organised by Megalithomania and Hidden Inca Tours. The above itinerary is subject to possible changes
(for the better!)

TOUR REVIEWS

Feedback from 'Portals of Ancient Peru & Bolivia' 2014 Tour

"Just to say a big thank you for the trip, such fun and full of giggles. From years of reading about and seeing pictures of so many of the sites visited on this trip, to finally feeling the incredible energies that surround them, was for me personally an amazing experience. So thank you all for putting together such a memorable tour. Great menu, interesting and fun crowd of fellow travellers. Good places to stay. Great stuff!"
- Lyn de Trense, England

"I want to once again thank Brien, Hugh, Irene, and Gustavo for this great tour. It definitely exceeded my expectations. You get to see many sites that would otherwise be more difficult to get to on other tours or by yourself. The accommodations were excellent and everyone was very friendly. if you like interesting information, exploring ancient sites, and good company this is the tour to go on!"
- Garrett Leo, USA

Feedback from 'The Path of Virococha' 2013 Tour

"For us the tour was an amazing opportunity and a privilege to explore the earth energies at an incredible number of megalithic sites. We learnt so much and feel truely grateful for what was revealed to us, and to all the organisers, especially Hugh & Brien, for putting together such a memorable and stimulating tour. It was also a joy to be in the company of so many like minded people with a deep curiosity about the ancient ancestors"
- Chris & Marilyn Gulliver, New Zealand

"Your tour exceeded our expectations in nearly every way. We saw, learned and experienced more than we ever would have on any other kind of tour. In addition, we traveled and made new friendships with people from all over the world. This trip is definitely one of the highlights of our life travels! For this we would like to thank you, Hugh, Irene, Cameron and Glen and David and Jennifer from the bottom of our hearts!"
- Ed & Teresa Chipp, USA

"So once more I want to thank you - Brien, David, Hugh, Irene, Cameroon, Glenn - and also all the participants, for the most special journey i've ever had! Hope to have more of those with you and will recommend to the people who are interested."
- Vicki Molliver, Israel

"I loved the tour! Many thanks to all organisers, especially Irene :) I hope you are enjoying a break from questions and demands. Was great to meet you all and being in cusco without you all is not the same. I hope the tour has deepened your interest in the ancient mysteries like it did for me."
- Alex Jupp, UK

"I thought the trip was excellent. I learned so much and from so many people on this trip. Thanks to everyone for making it great."
- Suzan Moore, Canada

"I can safely say that this was one of, if not the best, experience of my life. Thanks Brien, Dave, Hugh, Glenn & Cameron and of course Irene for an amazing adventure. You have my tick of approval ;)."
- Tony Giovani, Australia

"It felt less like a tour group and more like I had flown in to visit friends who were showing me around their turf, and for me, that was fine. I still feel I got more out of this tour than I would have with any other group. I enjoyed myself to the utmost, and was pleasantly surprised by almost everything - especially the kind people with whom I had the privilege of sharing this time."
- Sandy Underwood, USA

Feedback from 'Ancient Peru, Nazca & Easter Island' 2012 Tour

"Still reminiscing about the trip. It was such a wonderful experience made even better by such a great group of people. And thank you all for the amazing photographs"
- Janine Moore, USA

"Great crew, awesome time! Looking forward to sharing some video and photos!!!"
- G. Maestro, USA

"Thanks Hugh! great trip for those that like alternative traveling and the deeper story to humanities history"
- Jennifer Stein, USA

"Hugh, just wanted to thank you once again for all you did to bring our trip together. I learned so much and absorbed so many new ideas to come back and study....a million directions to go, and I'll continue to look to the people and resources of Megalithomania to lead me on. You do important work. Thanks."
- Karla Mahoney, USA

"What an amazing adventure we've had over the last 10 days! Peru is a beautiful diverse country filled with so many incredible sights and mysteries! We have been on a non-stop ride, and this journey we will never forget"
- Jenny Geyser, USA

"I just have to send a big thanks to all the persons on the Megalithomania Peru/Bolivia, It was a pleasure to spend time with all the persons and visit all these special sites. A big thanks to you all!"
- Jonny Ueland, Norway

Nazca Spider Effigy

Boarding the Plane at Nazca

Brien and Hugh in 3000 years time!

Tour group photo - Sacsayhuaman

High-Technology at the Coricancha

Irene & Brien at Ollantaytambo

Machu Picchu


Naupa Huaca

Cutimbo, Peru

Amaru Muru 'Stargate'

Puma Punku, Bolivia

Tiwanaku

Conditions:
1) All Paypal fees and international transfer costs must be taken care of by the buyer. These will be added on final payment. We cannot take on these costs as we are keeping the prices right down to create an affordable tour.
2) Megalithomania cannot refund from 14 days before start of tour if you cancel.
3) Megalithomania will refund 50% if you cancel up until 15 days prior to the tour (this does not include deposit).
4) Megalithomania cannot refund deposits up to 60 days prior to tour. Before that we can refund only 50% deposit if you cancel.
5) Megalithomania cannot be held responsible for any injury, accident or stolen goods - please get travel insurance and relevant visas before booking this tour and have a passport with at least 3 months past the end date of the tour.
6) Full payment and passport details must be received by September 1st 2015
7) Roommates: We are happy to try to and match our guests with a suitable roommate for those who are traveling alone. If we are unable to do this, you will be responsible to pay for the single supplement. Early registration will facilitate this process. (Note: Itinerary may be subject to change if circumstances arise beyond reasonable control.)
8) Please hold off booking your international flights, until the tour is confirmed in writing via email. We cannot be held responsible for any costs incurred.
9) Please email for further details - info@megalithomania.co.uk

Megalithomania TOURS: