Pyramids, Megaliths and Giants of

ANCIENT SARDINIA EQUINOX TOUR




September 18th - 26th 2021 - with Corsica Add-On

26th - 29th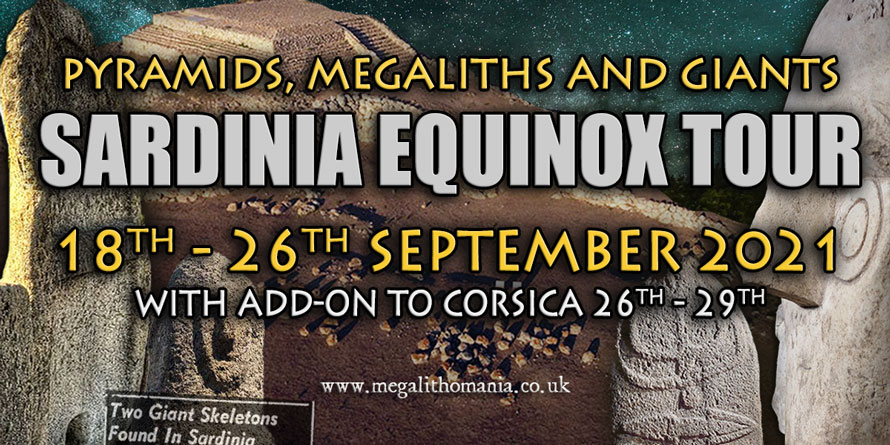 Sardinia is rich in megalithic culture and featured in a popular 'Ancient Aliens' (History Channel) episode. Hugh Newman was part of the show and is delighted to host a unique tour to the 'Island of the Giants'. Hugh is the author of Earth Grids (2008), Stone Circles (2017), and co-author of Giants On Record (2015). He will be joined by local experts and geomancers Arianna Mendo and Enrico Gelain to explore the mighty nuraghe towers, Giant's Tombs, dolmens, hypogeum Carved stone chambers, holy wells, giant statues of Mont'e Prama, cart ruts, archaeological museums, Europe's oldest Pyramid, and much more. We will have private access for our group to witness amazing light phenomena at the magnificent Santa Cristina Holy Well.
There will only be 14 spaces for this exclusive tour.
Tour Costs:
Main Tour: £2195 GBP
Sardinia + Corsica: £2950 GBP
based on double occupancy
(meet Cagliari, depart Olbia or Corsica)
Single supplement: £325-£375 GBP
Tour deposit: £300 GBP / £400 GBP
Please email info@megalithomania.co.uk
for more info

£400/£300 GBP deposit to confirm your place:
Reviews of the 2019 Sardinia Tour
"Thanks again, Hugh & JJ for a great tour!!" - Peggy Roberts, USA
"Many, many thanks for all you did to make our holiday so successful. It was thoroughly enjoyable, if tiring. But perhaps that is my age. It was a pleasure to have everything run smoothly and see so many really interesting sights/sites" - Tricia Morgan, USA
"Thanks again for a great holiday - and I look forward to travelling with you again" - Viv Amos, USA
"Thoroughly enjoyed the 2019 May Sardinia Tour, thanks to the 'Mega Team'. Beautiful country, fantastic ancient sites, delightful cuisine and great, new friends. Our amazing guides showed us the best sites, not on the normal tourist routes, and each site was explained in spellbinding detail and care. The evidence of ancient civilisations is all about, but you need to know where to look and it's best explored with expert guides. A life changing journey. Now planning our next." - Hugh Evans, UK
"Seeing inland Sardinia – its landscapes and countryside – was a revelation. To think of all that tranquiility and beauty only two hours flight away, and with so few people around! Arianna and Enrico certainly knew their sites and chose some extraordinary places for us. I was particularly drawn to the sacred wells, our morning at the pyramid and the Mont'e Prama statues. Our hotels were a delight - so were the local food and wine. Everyone seemed enthusiastic and I came away hoping that one day I shall return to this beautiful island." - Yvonne Whiteman, UK
"Thanks once again for a brilliant tour!" - Ian Bush, UK
"Thank you Hugh, JJ, Arianna and Enrico and all other Megalithomaniacs!!!!! What a fantastic week. We saw and did such fantastic things. Old sights were brought to life by Arianna and Enrico and their in depth explanations. SUPER!!!!! I would also like to thank the numerous 'hands and and arms' that were extended to help me navigate the uneven ground. Without this assistance I would not have made it. Thank you, Thank you, Thank you ALL!!!" - Diane Sommelet, France
"Thank you for a lovely, interesting, informative and enjoyable tour. It has reawakened a part of me that has not seen the light for a few years. Thank you for the company, the chats and the music! Can anybody tell me how to get Bohemian Rhapsody out of my head? Look forward to seeing you again soon." - Vee Kiely, UK
Proposed Itinerary, Subject to Change
Day 1: 18th September. We will pick you up in a minibus at Cagliari airport. Please try and arrive by 4pm. In the late afternoon drive to the Sardegna Termale Hotel 4* in Sardara, a magnificent hotel and spa built next to the ancient Nuragic and Roman wellness baths and using their same subterranean thermal water channels. We will have a brief visit to Sant'Anastasia Sacred Well and other three sacred healing springs of the Nuragic people. Welcome dinner included and lectures by Hugh Newman and local experts Arianna Mendo and Enrico Gelain.
Day 2 - 19th Sept: Visit of the Is Concias Giant's Grave on the outskirts of Cagliari, then we will see the Cagliari Archaeological Museum with the incredible Mont'e Prama Giants made of stone only found earlier this century, and the best collection of the small bronze figures of the Nuragic people of the whole Sardinia, snack there. Free afternoon in Cagliari historical centre or free time in hotel.
Day 3 - 20th Sept: Montessu Domus de Janas hypogeums,an incredible site with more than 40 caves carved by the Nuragic people to bury their dead and to celebrate their cults of the Afterlife. Lunch in town. In the afternoon, we will see the Sa Tueredda Giant's Grave built with a unique stone cutting style, then back to the hotel.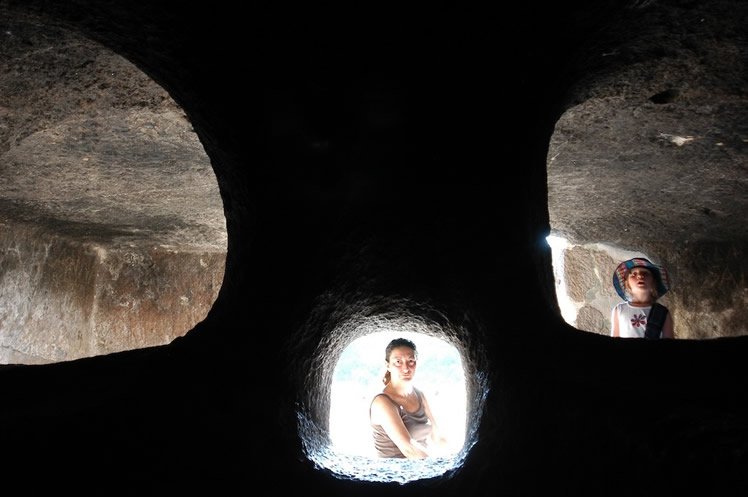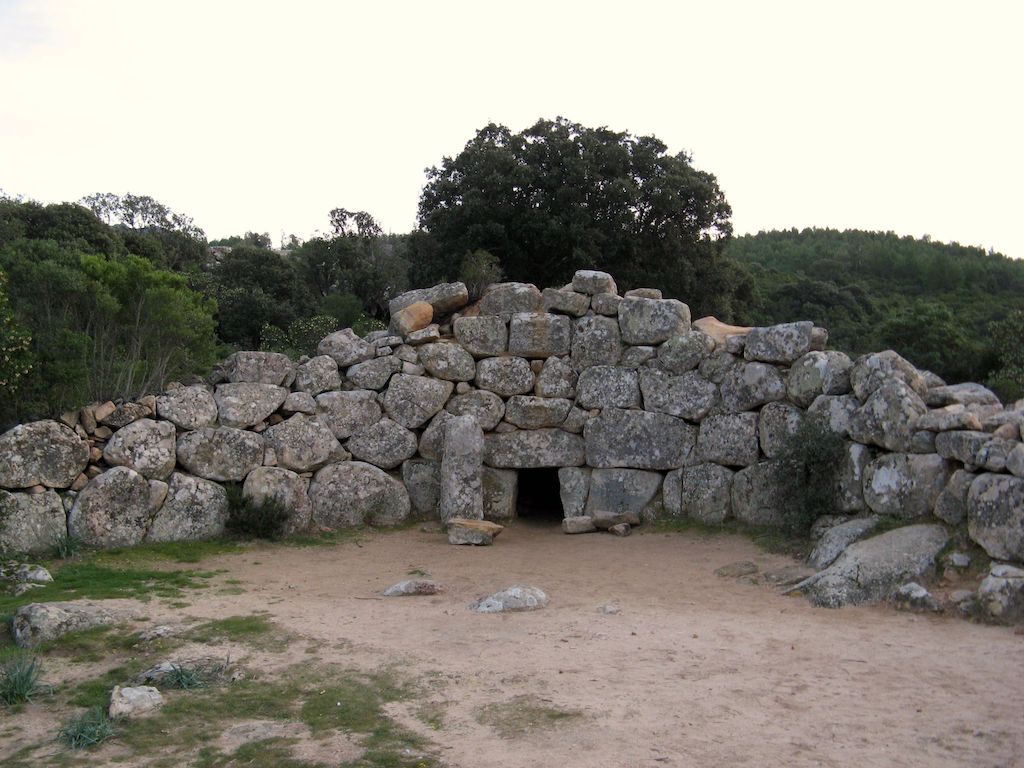 Day 4 - 21st Sept: Visit of the Su Nuraxi Nuraghe, the biggest Nuraghe in Sardinia, and its Nuragic village built around it. We'll move then to Laconi town to see the Prehistoric Statue-Menhir Museum, beautifully carved in a human shape with belt and daggers on their waist; snack in town. We will see the completely intact and very big Sa Domu 'e s'Orku Giant's Grave in the afternoon.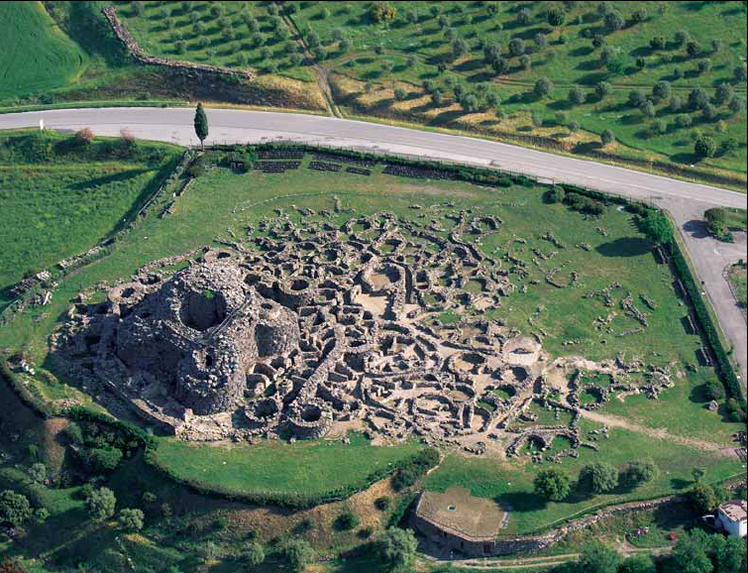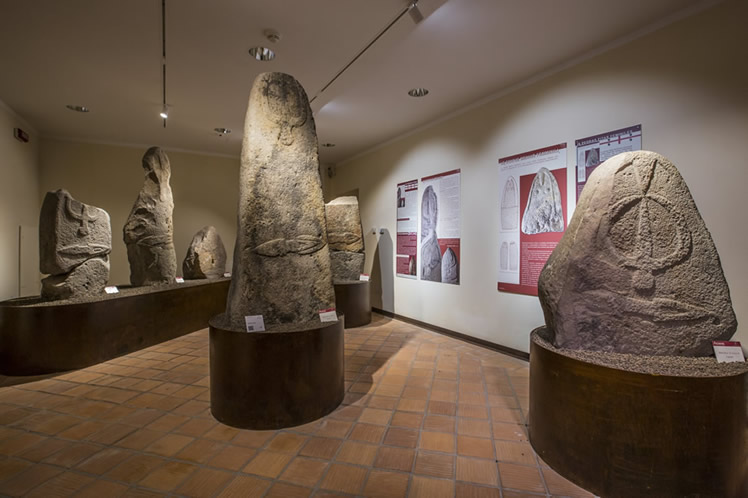 Day 5 - 22nd Sept: Arrubbiu Nuraghe, the second biggest Nuraghe in Sardinia, with thirteen towers and very high walls built with some human-sized megalithic stones,s snack there. In the afternoon we will see the Sardinian Stonehenge of Italy, the Pranu Mutteddu menhir alignments & stone circle; back to the hotel.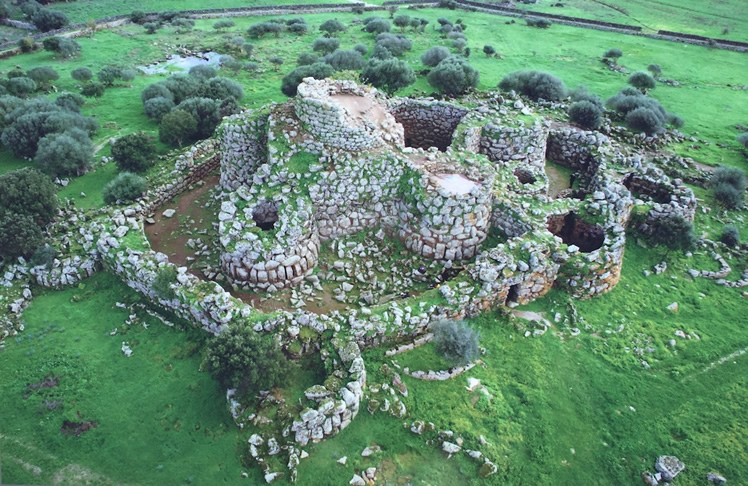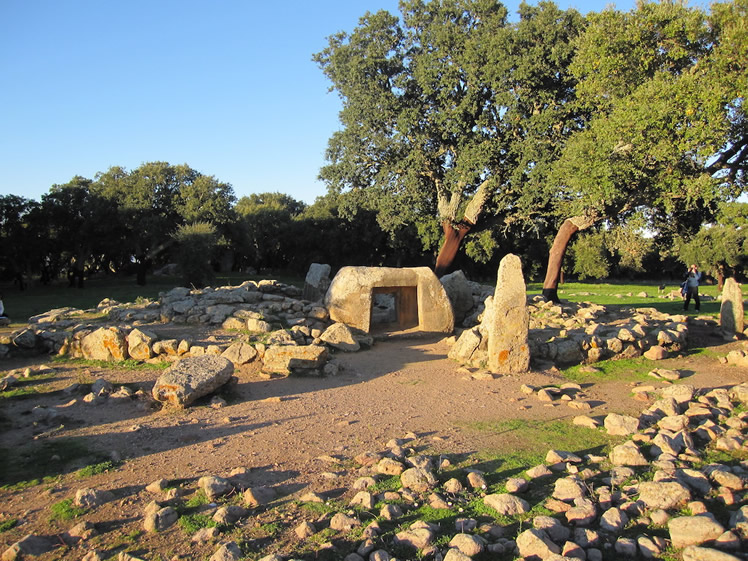 Day 6 - 23rd Sept: Equinox Alignment occurs precisely today at Santa Cristina Holy Well, the culmination of the architectural and archeoastronomical evolution of the Nuragic people. Using the waters inside the well as a mirror in the dark the sun rays will project your shadow upside-down to the rear wall of this well, making your "soul" and "heavenly" counterpart visible to your naked eye, walking the stairway toward the sky. This is also the only monument in the world to present a vertical Major Northern Lunistice alignment: the moon, every 18 and a half years, at the closest full moon next to the winter solstice, will show up from the highest orifice of the well, mirroring herself into the waters. Santu Antine Nuraghe, the tallest building in Europe during the Neolithic Era, with a three-storey tholos central tower and six incredible two-storey vaulted galleries around its three side towers; stay at Marini 4* hotel in Sassari.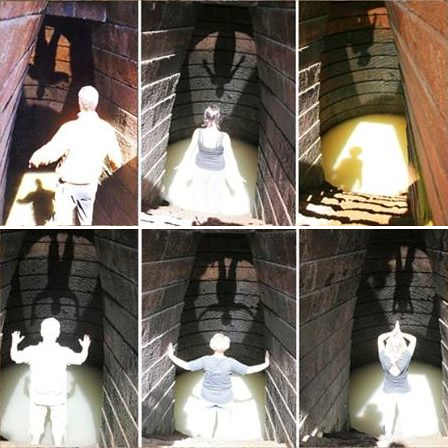 The Equinox affect at Santa Cristina Holy Well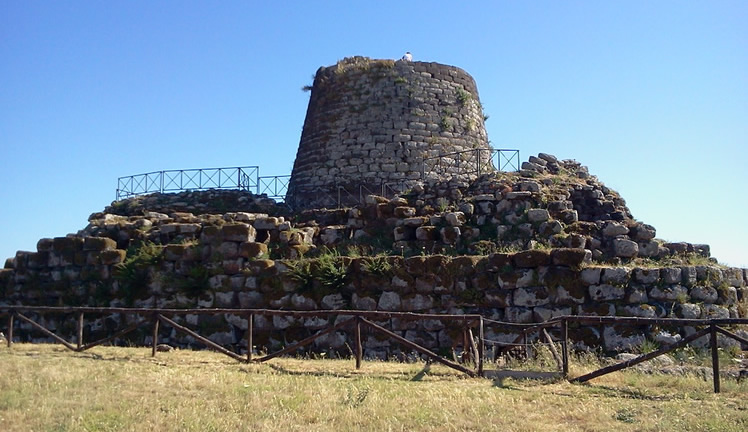 Day 7 - 24th Sept: Monte d'Accoddi megalithic pyramid, the only Ziggurat and also the oldest one in Europe. Su Crucifissu Mannu Domus de Janas with Bull's heads carved on the walls and 700m long cart ruts; snack in Porto Torres. S'Incantu best Domus de Janas in Sardinia with Bull's horns, false doors and altars carved on the walls and the floor. Free afternoon in Alghero Catalan medieval historical centre and/or back to the hotel. Meals: Breakfast and Dinner.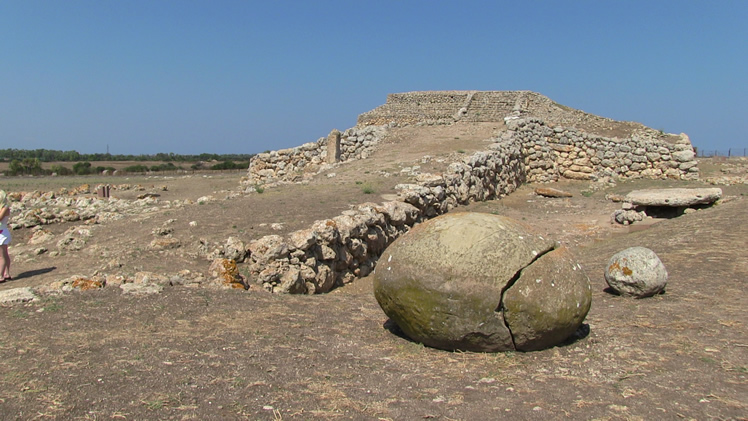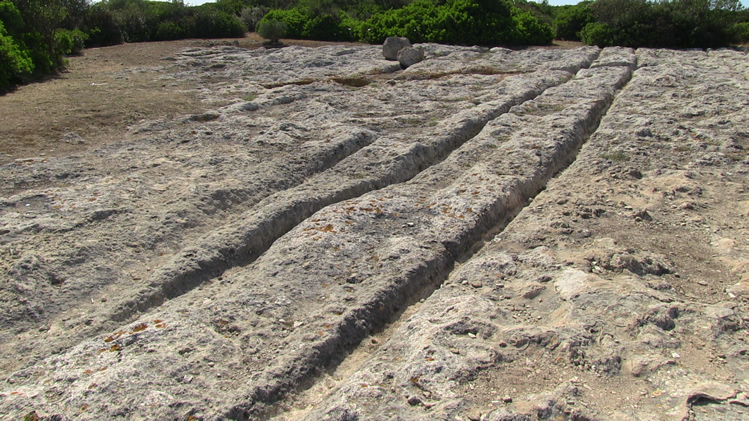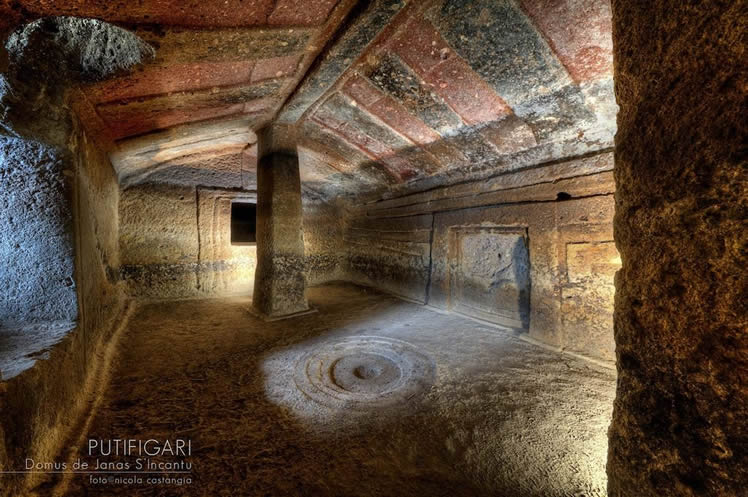 Day 8 - 25th Sept: Santo Stefano rock altar, unique in Sardinia with its geometric shapes around the site, and its Domus de Janas and proto-giant's grave; snack in Oschiri. Giants Graves near Arzachena: Coddu Vecchiu & Li Lolghi are located near Arzachena, north of Olbia. They have a curved forecourt and 'tablet' shaped entrance stone with a hole at the bottom. Most of them face to the east or southeast suggesting equinox and winter solstice alignments. Others face to the Taurus constellation which is significant as they are all shaped like a bull's head. In 1901 a 9ft skeleton was found in one of the tombs in Sardinia and more have been unearthed since then. We also explore the Li Muri stone circles and Tombs. Farewell dinner included and stay in Olbia at President Hotel 4*.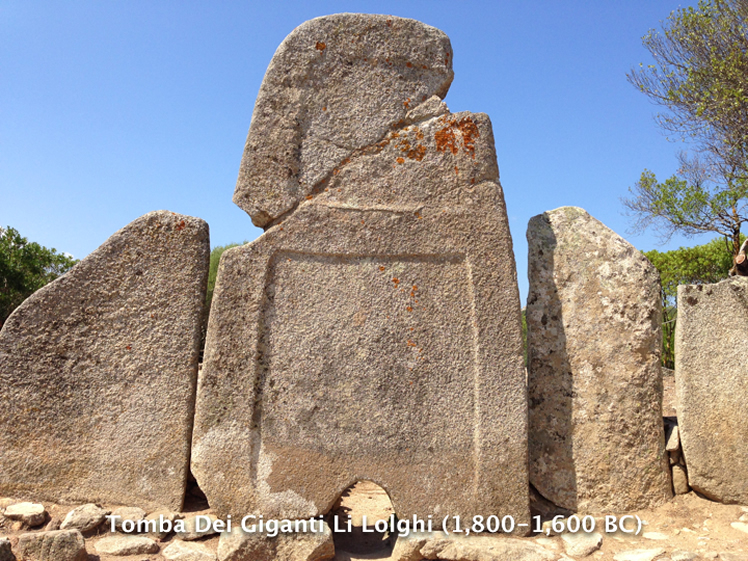 Day 9 - 26th Sept: Return Home after drop off at Olbia Airport. Meals: Breakfast.
Optional Corsica add-on - 26th - 29th September 2021
Day 1 - 26th Sept: Ferry to Corsica from Santa Teresa di Gallura to Bonifacio and snack there. Sartena Archaeological Museum with its collections of ancient findings and the explanation of their anthropomorphic menhirs culture. Dinner and sleep in Sartena town in Des Roches hotel 3*.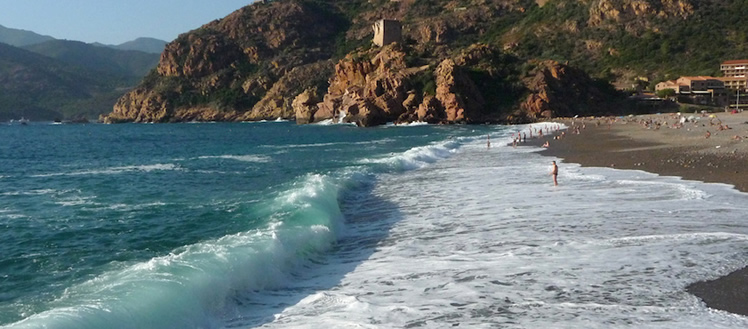 Day 2 - 27th Sept: Filitosa huge anthropomorphic menhir alignments and quarry, U Paladinu single menhir and back in Sartena to snack. In the afternoon visit of the Alo Bisuje tower, back to the hotel.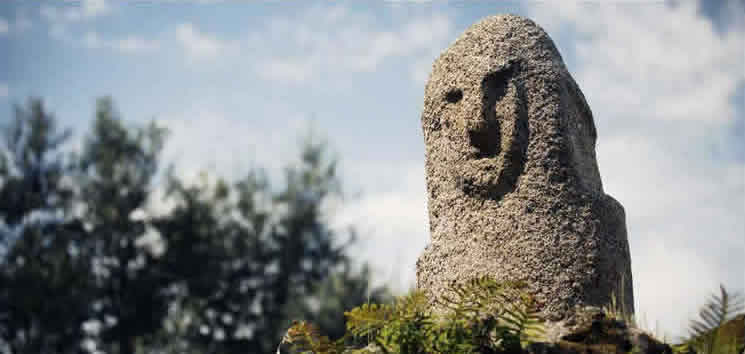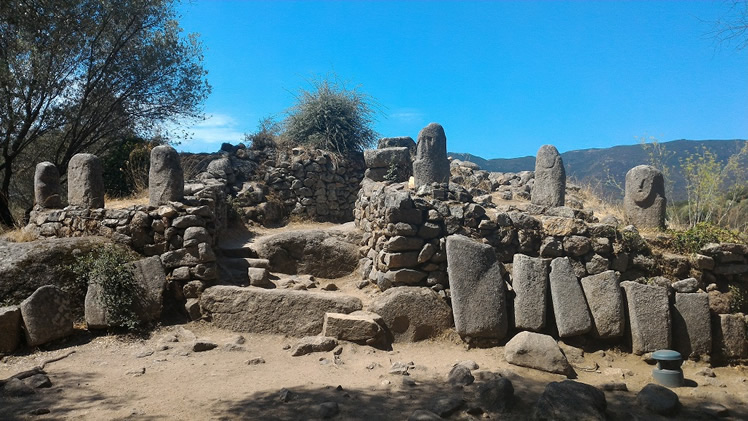 Day 3 - 28th Sept: Renaghju & Stantari menhir alignments and Fontanaccia dolmen, pic-nic on site. Paddaghju menhirs, farewell dinner included and back to the hotel.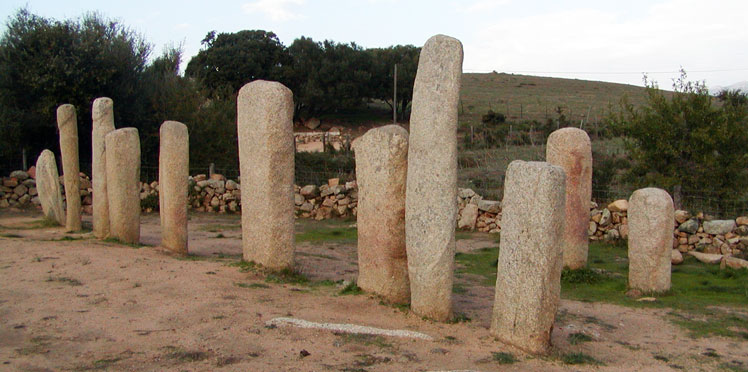 Day 4 - 29th Sept: Ferry back to Santa Teresa di Gallura in Sardinia and snack in Palau. Drive to Olbia and flight back to London.
Tour Costs:
Main Tour: £2195 GBP
Sardinia + Corsica: £2950 GBP
based on double occupancy
(meet Cagliari, depart Olbia or Corsica)
Single supplement: £325-£375 GBP
Tour deposit: £300 GBP / £400 GBP
Please email info@megalithomania.co.uk
for more info

£400/£300 GBP deposit to confirm your place:
Price includes
- All transportation in Sardinia and Corsica including Ferry
- All accommodation
- English-speaking guides
- Entrances to sites and museums
- All VAT and local taxes
- All Breakfasts
- Lunches and Dinners as stated in itinerary
- Fun

Price does not include
- Visas
- Tips and items of personal nature
- Any meals or activities not included in the programme
- International Flights
- Rain

Conditions:
1) All Paypal fees and international bank costs must be taken care of by the buyer. These will be added on final payment. We cannot take on these costs as we are keeping the prices right down to create an affordable tour.
2) Megalithomania cannot refund from 30 days before start of tour if you cancel.
3) Megalithomania will refund 50% if you cancel up until 30 days prior to the tour (this does not include deposit).
4) Megalithomania cannot refund deposits up to 60 days prior to tour. Before that we can refund only 50% deposit if you cancel.
5) Megalithomania cannot be held responsible for any injury, accident or stolen goods - please get travel insurance and relevant visas before booking this tour and have a passport with at least 3 months past the end date of the tour.
6) Full payment and passport details must be received by Jukt 15th 2021
7) Roommates: We are happy to try to and match our guests with a suitable roommate for those who are traveling alone. If we are unable to do this, you will be responsible to pay for the single supplement. Early registration will facilitate this process.
8) Please hold off booking your international flights, until the tour is confirmed in writing via email. We cannot be held responsible for any costs incurred. Please email for further details - info@megalithomania.co.uk
9) Itinerary may be subject to change if circumstances arise beyond reasonable control.
10) Megalithomania LTD accepts no responsibility for losses or incidental expenses due to delay or change in schedules, hotel booking irregularities, defaults, accidents, sickness, quarantine, emergency, weather, strikes, war, travel restrictions, or other causes. All such losses are the sole responsibility of the participants. Please make sure you have travel insurance to cover all this.
11) Force Majeure: Megalithomania LTD is not accountable; nor legally responsible, will not pay you any reimbursement if our obligations have been affected by any unforeseen circumstances that we are not able to avoid. Hereunder; we will list examples but not limited items of the force majeure cases: War, threat of war, terrorist activities, virus outbreaks, quarantine, civil discord with its consequences or the risk of such activity, riot, airport closure, natural or atomic disasters, fire, chemical or biological disasters and adverse weather, sea, ice and river conditions, and/or similar occasions.