Pyramids, Megaliths and Giants of

ANCIENT SARDINIA TOUR
May 17th - 25th 2019
Hosted by Hugh Newman, author of Earth Grids and Stone Circles, and special guest from the USA, Jj Ainsworth, a leading authority on ancient symbolism. We will be joined by local experts Adrianna Mendo and Enrico Gelain. We will explore the mighty nuraghe towers, Giant's Tombs, dolmens, hypogeum Carved stone chambers, holy wells, giant statues of Mont'e Prama, cart ruts, archaeological museums, Europe's oldest Pyramid, and much more.
There will only be 12 spaces for this exclusive tour.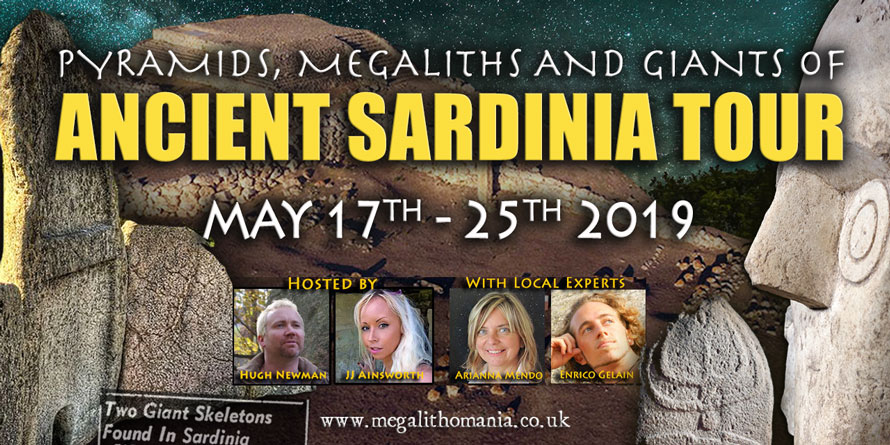 Proposed Itinerary
Day 1 - Fri 17: Pick up at Olbia airport in the morning (or arrive the night before and stay in Olbia). In the afternoon, visit to Sa Testa Holy Well and Su Monte e S'Ape Giant's Tomb. Drive and overnight in Abbasanta: Hotel Su Baione.
Day 2 - Sat 18: Santa Cristina Holy Well and Nuraghe Village. Menhirs and Dolmen of Corte Noa in Laconi and on-site museum. Overnight in Abbasanta.
Day 3 - Sun 19: Nuraghe Losa. Complex of Iloi. Santu Bainzu Giants Tomb, Sa Pedra 'e Taleri Menhir. Civico Museo Archeologico "Giovanni Marongiu" in Oristano to see the Giant statues of Mont'e Prama. Overnight in Abbasanta.
Day 4 - Mon 20: Dolmen Sa Covecadda, Sant'Andrea Priu. Santu Antine Nuragic Complex. Li Tamuli complex. Overnight in Abbasanta.
Day 5 - Tue 21: Monte d'Accoddi Pyramid, Su Crocifissu Mannu cart ruts and necropolis, Anghelu Ruju, Sassari Museum. Drive to Olbia and overnight at Grand Hotel President, Olbia.
Day 6 - Wed 22: Explore the Nuoro area. Visit domus de Janas: Sas Concas, with ancient antropomorphic figures engraved representing the souls walking upside-down towards the constellations where nuragic peoples believed souls came from. Afterwards: Su Romanzesu most important sacred ceremonial village of Sardinia with a magnificent cerimonial sacred well, many small temples and a stone labyrinth used for ritual purposes. Overnight in Olbia.
Day 7 - Thu 23: Su Tempiesu sacred well, s'Ena e Thomes Giant's Tomb, s'Edda 'e sos Carros water ceremonial village (incredibly well designed sacred water basin with 9 spouts of water and amazing tecnology to keep the water pressure balanced combined with remarkable megalithic stones. Overnight in Olbia.
Day 8 - Fri 24: Giants Graves near Arzachena: Coddu Ecchju, Li Lolghi, Li Muri stone circles and Tombs. Visit of La Prisgiona nuragic complex: very similar to that of Barumini, it's very close to the Giants Graves of Coddhu Vecchiu. Overnight in Olbia.
Day 9: Return Home after drop off at Olbia Airport.

Sardinia Tour Costs:
Main Tour: $2595 USD / £1995 GBP (meet Olbia)
based on double occupancy
Single occupancy supplement: $300 USD / £200 GBP
Tour deposit: £300 GBP
Please email info@megalithomania.co.uk for more info

Pay $400 US/£300 GBP deposit to confirm your place:

This will be converted into your currency at checkout.