Pyramids, Megaliths and Giants of

ANCIENT SARDINIA TOUR
May 17th - 25th 2019
Sardinia is rich in megalithic culture and featured in a popular 'Ancient Aliens' (History Channel) episode. Hugh Newman was part of the show and is delighted to host a unique tour to the 'Island of the Giants'. Hugh is the author of Earth Grids (2008), Stone Circles (2017), and co-author of Giants On Record (2015). He will be joined by Jj Ainsworth ('Megalithic Maiden'), a researcher of ancient cultures and symbolism, plus local experts Arianna Mendo and Enrico Gelain to explore the mighty nuraghe towers, Giant's Tombs, dolmens, hypogeum Carved stone chambers, holy wells, giant statues of Mont'e Prama, cart ruts, archaeological museums, Europe's oldest Pyramid, and much more.
There will only be 14 spaces for this exclusive tour. Four spaces still remain.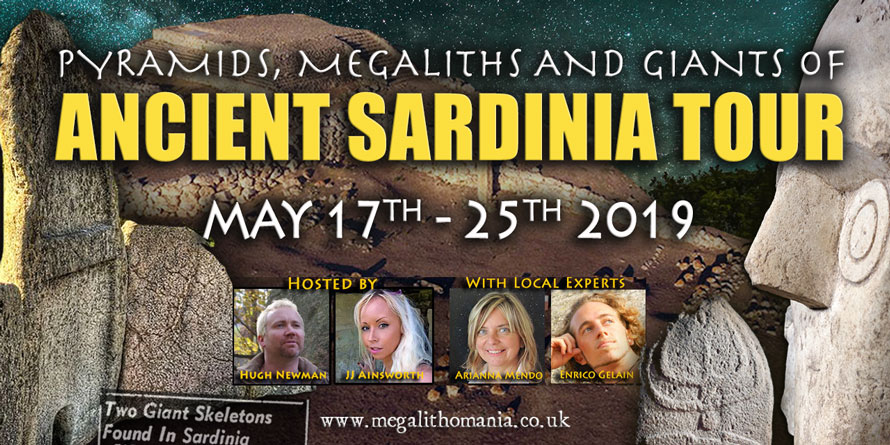 Proposed Itinerary, Subject to Change
Day 1 - Fri 17: Pick up at Olbia airport (or arrive the night before and stay in Olbia). Drive and overnight in Abbasanta: Hotel Su Baione. Group orientation and lecture, followed by dinner.
Day 2 - Sat 18: Santa Cristina Holy Well and Nuraghe Village. The Nuragi megalithic tower is one of 7,000 recorded in Sardinia and is surrounded by a stone built village dating to around 1,300 BC. The Holy Well has precision engineered stones and is much more sophisticated than the village, similar in style to ancient Peru and Egypt. The well is oriented so that sunlight shines upon the water on the equinoxes, and moonlight shines upon the water at the maximum declination of the moon, which occurs every 18.6 years. The local Santa Cristina church was built nearby in the 1200s and that's why it got that name! We will also visit the Menhirs and Dolmen of Corte Noa in Laconi and on-site museum. Overnight in Abbasanta. Meals: Breakfast and Dinner.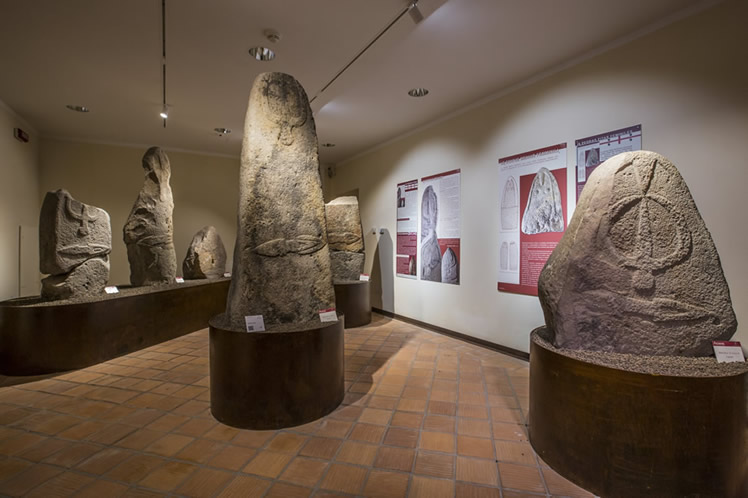 Day 3 - Sun 19: Nuraghe Losa. Complex of Iloi. Santu Bainzu Giants Tomb, Sa Pedra 'e Taleri Menhir. Civico Museo Archeologico "Giovanni Marongiu" in Oristano to see the Giant statues of Mont'e Prama. Legends persist in Sardinia that a race of giants ruled the country and built the 'Giant's Graves' and the 'Nuraghe' megalithic towers. Some 8ft skeletons were unearthed in 1953, but it is the Stone Giants of Mont'e Prama that were created by the Nuragic civilization that may represent these ancient titans. Fragmented into numerous pieces, they were found by accident in March 1974, in farmland near Mont'e Prama, in central-western Sardinia. The statues are carved in local sandstone and their height varies between 6ft and over 8ft tall. After 30 years in storage, they are now on display. Overnight in Abbasanta. Meals: Breakfast and Dinner.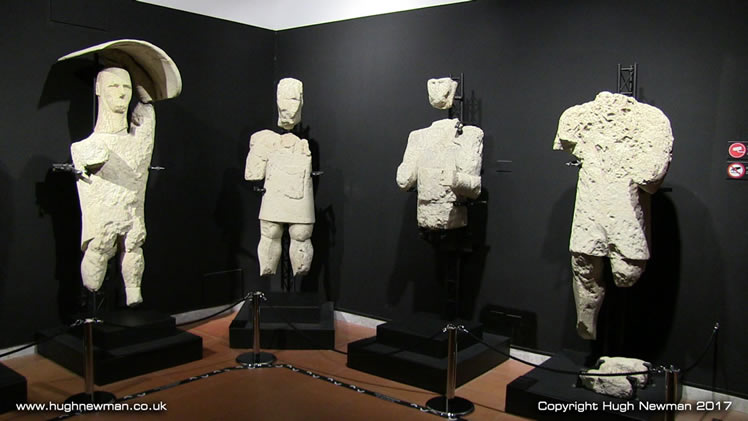 Day 4 - Mon 20: Dolmen Sa Covecadda, followed by Sant'Andrea Priu where there are incredible hypogeums and a rock carved 3D bull on top of the cliff face. Santu Antine Nuragic Complex and the Li Tamuli complex. Overnight in Abbasanta. Meals: Breakfast and Dinner.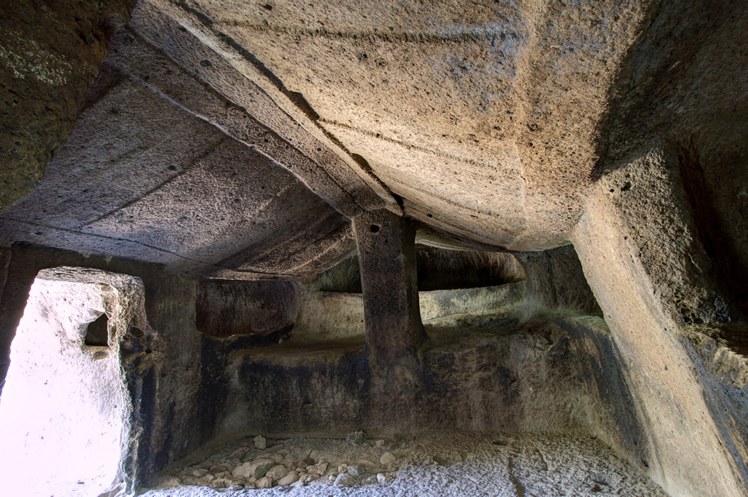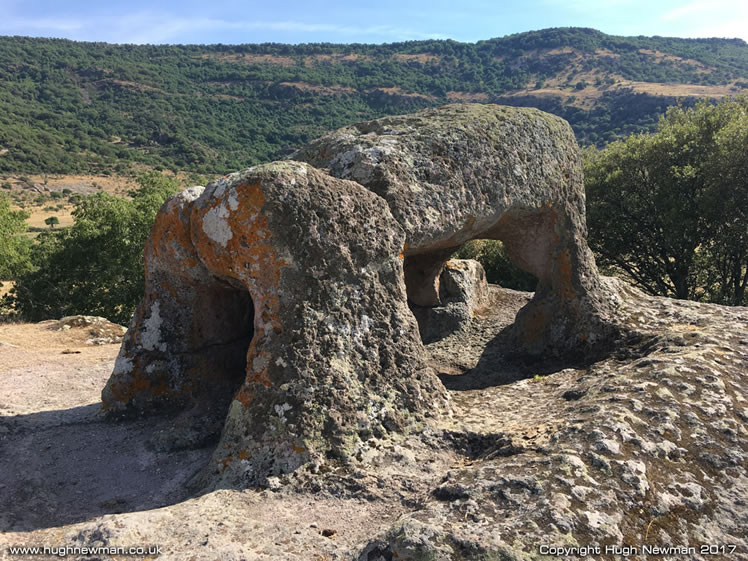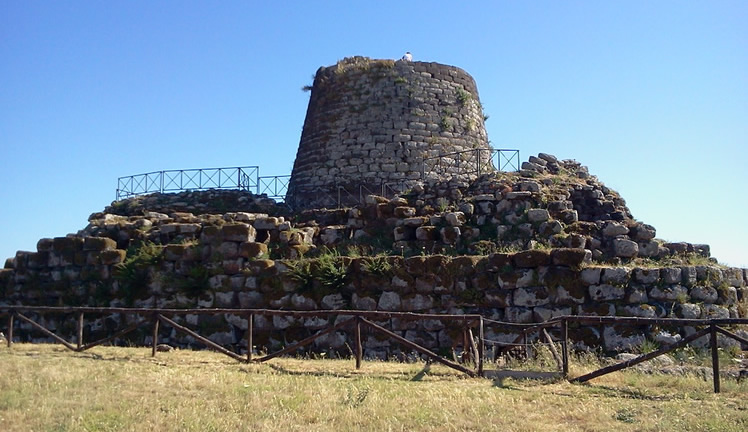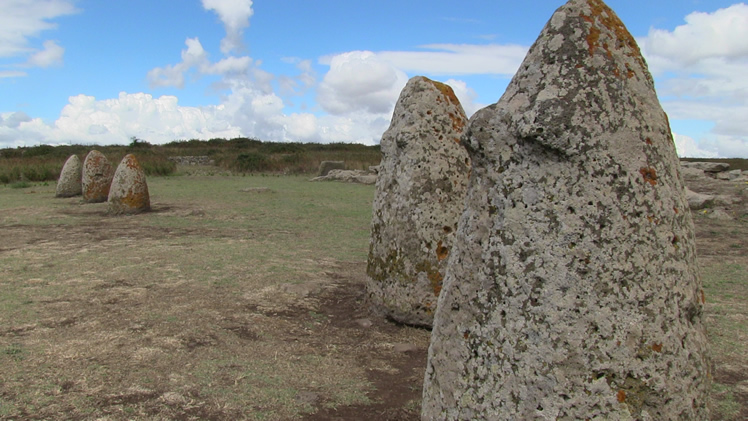 Day 5 - Tue 21:The Monte d'Accoddi Pyramid may be the oldest pyramid or Ziggurat in Europe and has a base of 89ft by 89ft (27m) and probably reached a height of 18ft (5.5m). It culminated in a platform connected to a long ramp. It also has dolmens with acoustic effects and a mysterious egg-stone that may have been the omphalos of the site from as early as 4,200 BC. The nearby necropolis has at least eight hypogea including the Tomba del Capo (The Chief's Tomb), with nine cells placed in a rectilinear direction around a main central one. We will also visit the Su Crocifissu Mannu cart ruts and necropolis, the only know cart ruts in Sardinia, similar to those in Malta. We also explore Anghelu Ruju. We also visit Sassari Museum. Drive to Olbia and overnight Tenuta Pilastru, Arzachena. Meals: Breakfast and Dinner.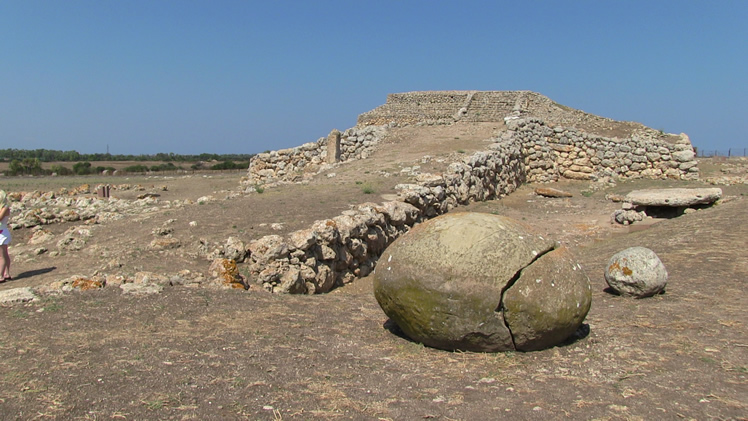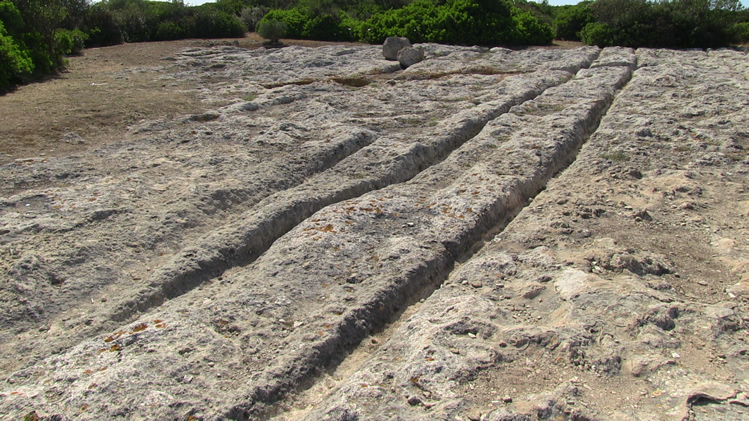 Day 6 - Wed 22: Explore the Nuoro area. Visit Domus de Janas: Sas Concas, with ancient antropomorphic figures engraved representing the souls walking upside-down towards the constellations where nuragic peoples believed souls came from. Afterwards: Su Romanzesu, a ceremonial village with a magnificent sacred well, many small temples and a stone labyrinth used for ritual purposes. Overnight Tenuta Pilastru, Arzachena. Meals: Breakfast and Dinner.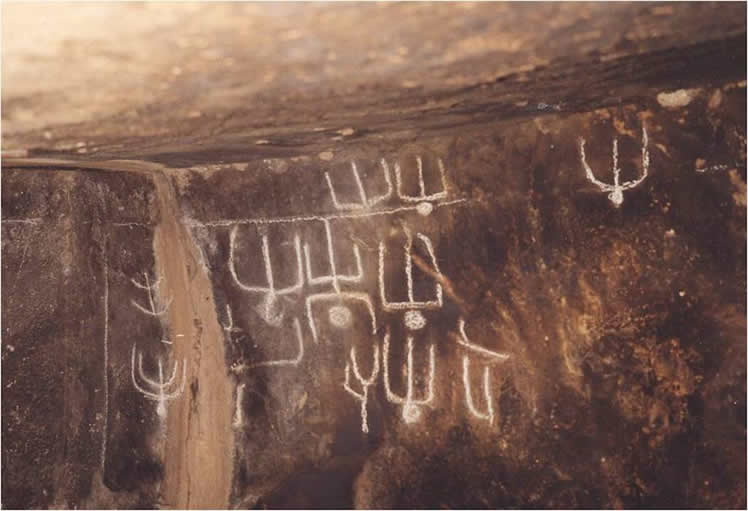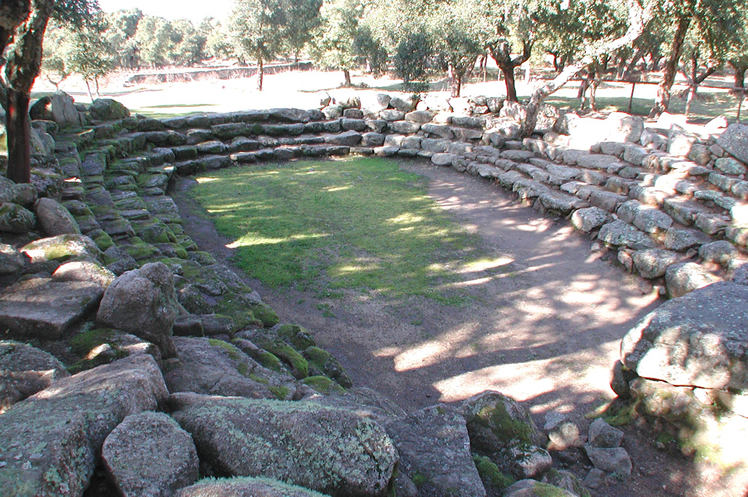 Day 7 - Thu 23: Su Tempiesu sacred well, s'Ena e Thomes Giant's Tomb, s'Edda 'e sos Carros water ceremonial village, which is an incredibly well designed sacred water basin with 9 spouts of water and amazing tecnology to keep the water pressure balanced combined with remarkable megalithic stones. In the afternoon, visit to Sa Testa Holy Well and Su Monte e S'Ape Giant's Tomb. Over 300 Giants' Tombs have been recorded in Sardinia and are thought to have been built by the Nuragic Culture from around 1800 BC. Overnight Tenuta Pilastru, Arzachena. Meals: Breakfast and Dinner.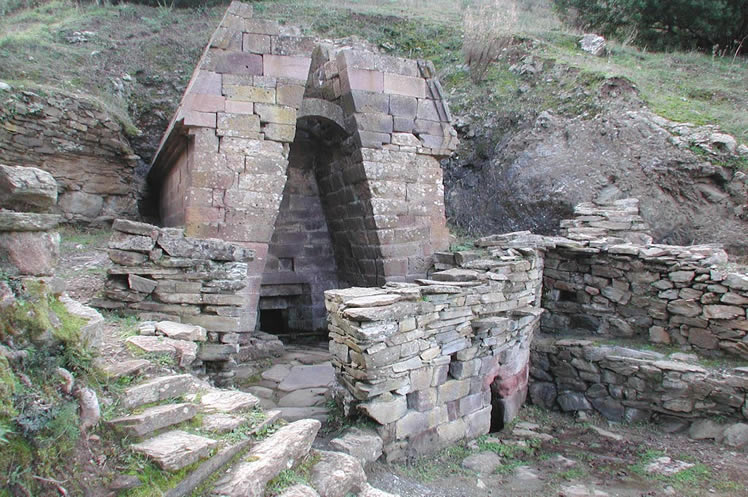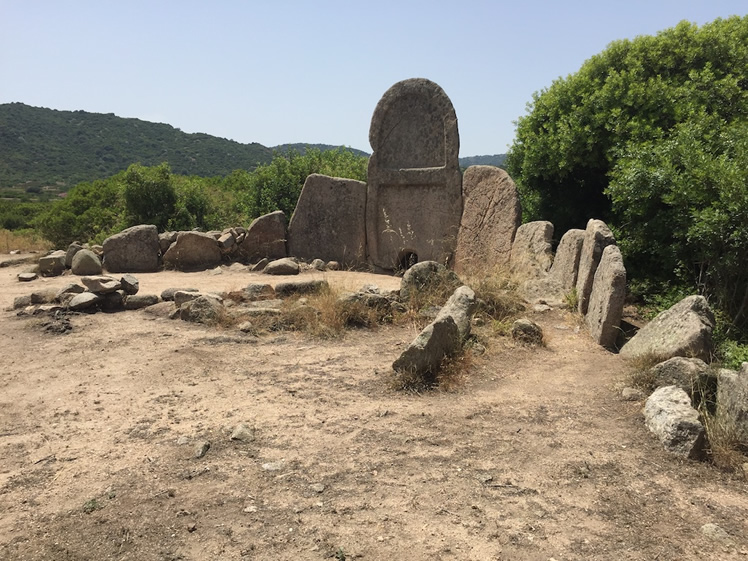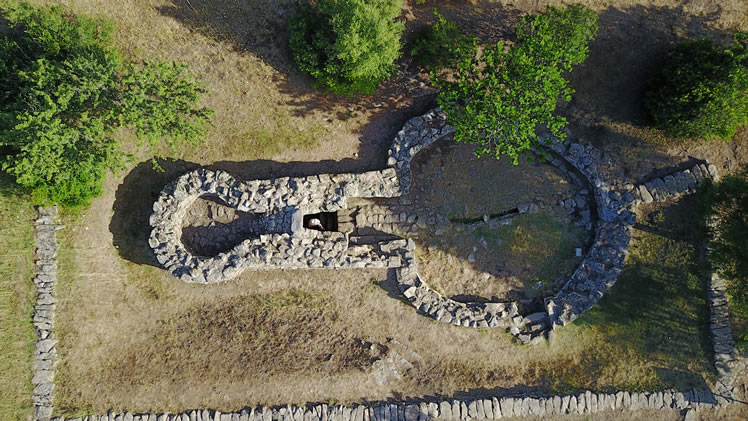 Day 8 - Fri 24: Giants Graves near Arzachena: Coddu Vecchiu, Li Lolghi, Coddu Vecchiu & Li Lolghi are located near Arzachena, north of Olbia. They have a curved forecourt and 'tablet' shaped entrance stone with a hole at the bottom. Most of them face to the east or southeast suggesting equinox and winter solstice alignments. Others face to the Taurus constellation which is significant as they are all shaped like a bull's head. In 1901 a 9ft skeleton was found in one of the tombs in Sardinia and more have been unearthed since then. We also explore the Li Muri stone circles and Tombs. Visit La Prisgiona nuragic complex: very similar to that of Barumini, it's very close to the Giants Graves of Coddhu Vecchiu. Overnight Tenuta Pilastru, Arzachena. Meals: Breakfast and Dinner.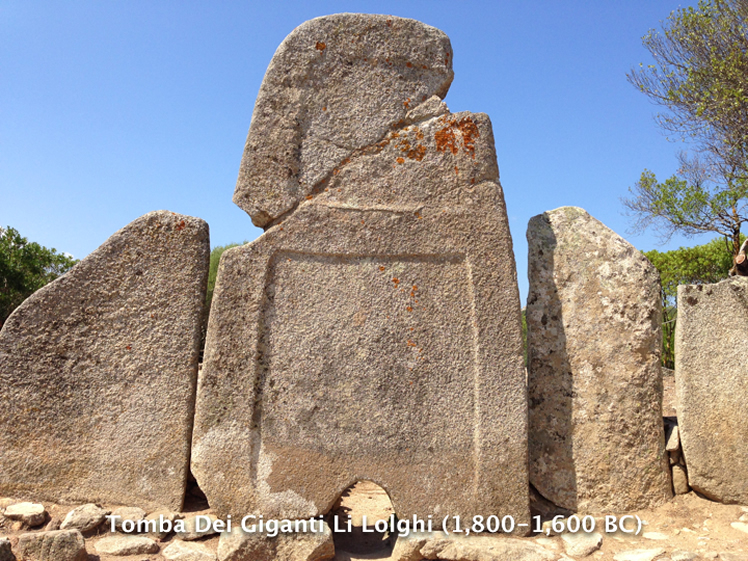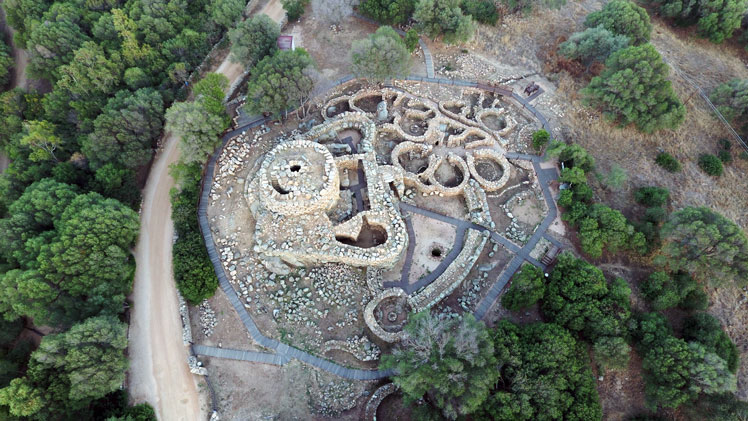 Day 9: Return Home after drop off at Olbia Airport. Meals: Breakfast.

Sardinia Tour Costs:
Main Tour: $2595 USD / £1995 GBP (meet Olbia)
based on double occupancy
Single occupancy supplement: $300 USD / £200 GBP
Tour deposit: £300 GBP
Please email info@megalithomania.co.uk for more info

Pay $400 US/£300 GBP deposit to confirm your place:

This will be converted into your currency at checkout.

Price includes
- All transportation in Sardinia
- All accommodation
- English-speaking guides
- Entrances to sites and museums
- All VAT and local taxes
- All Breakfasts and Dinners
- Lunches as stated in itinerary
- Fun

Price does not include
- Visas
- Tips and items of personal nature
- Any meals or activities not included in the programme
- International Flights
- Rain

Conditions:
1) All Paypal fees and international bank costs must be taken care of by the buyer. These will be added on final payment. We cannot take on these costs as we are keeping the prices right down to create an affordable tour.
2) Megalithomania cannot refund from 30 days before start of tour if you cancel.
3) Megalithomania will refund 50% if you cancel up until 30 days prior to the tour (this does not include deposit).
4) Megalithomania cannot refund deposits up to 60 days prior to tour. Before that we can refund only 50% deposit if you cancel.
5) Megalithomania cannot be held responsible for any injury, accident or stolen goods - please get travel insurance and relevant visas before booking this tour and have a passport with at least 3 months past the end date of the tour.
6) Full payment and passport details must be received by March 17th 2019
7) Roommates: We are happy to try to and match our guests with a suitable roommate for those who are traveling alone. If we are unable to do this, you will be responsible to pay for the single supplement. Early registration will facilitate this process.
8) Please hold off booking your international flights, until the tour is confirmed in writing via email. We cannot be held responsible for any costs incurred. Please email for further details - info@megalithomania.co.uk
9) Itinerary may be subject to change if circumstances arise beyond reasonable control.
10) Megalithomania accepts no responsibility for losses or incidental expenses due to delay or change in schedules, hotel booking irregularities, defaults, accidents, sickness, quarantine, emergency, weather, strikes, war, travel restrictions, or other causes. All such losses are the sole responsibility of the participants. Please make sure you have travel insurance to cover all this.