Origins Conference 2021 ONLINE


The 2021 conference takes place ONLINE via ZOOM. Listen to lectures, news and revelations, and share views and ideas with others on the quest of discovery.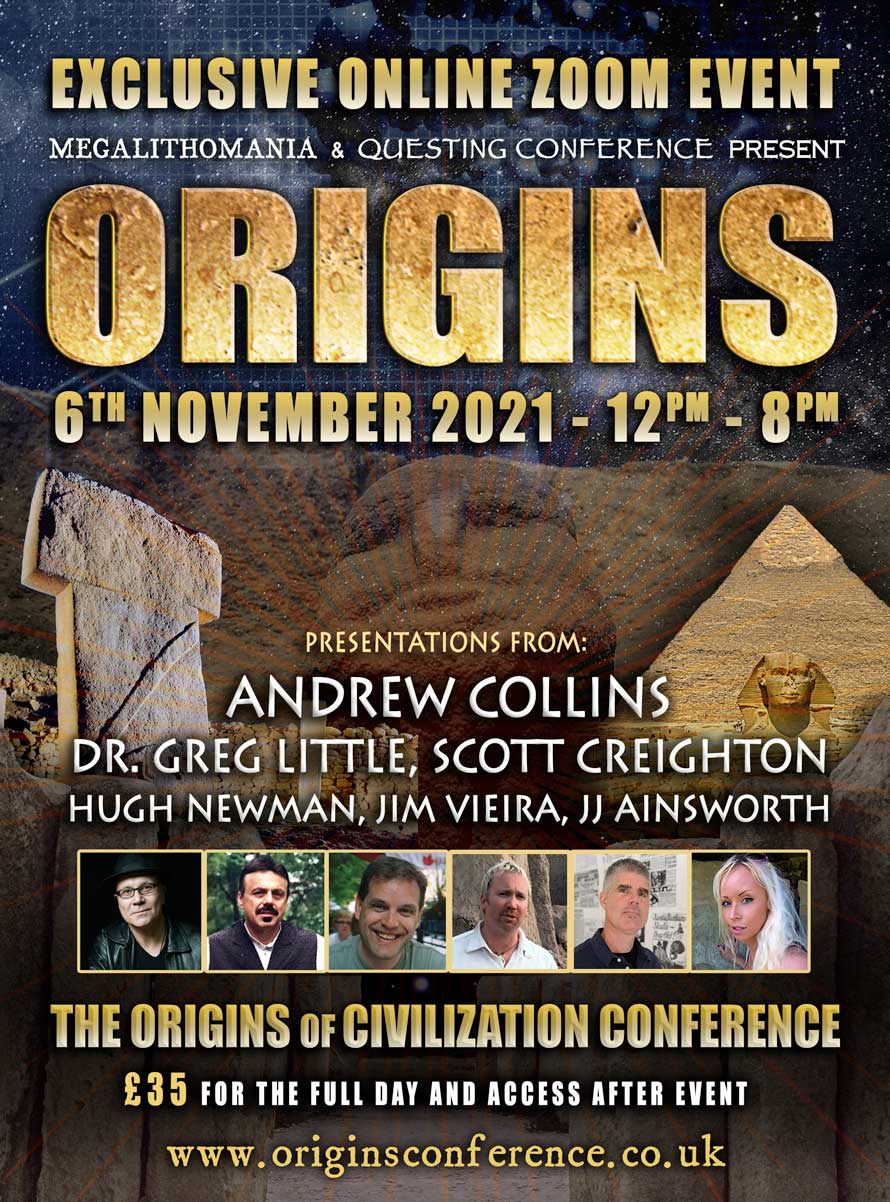 Due to possible restrictions we are delivering a one-off Online conference similar to the big Megalithomania event that took place in May 2021. We welcome back Jim Vieira from America who will be sharing evidence of esoteric teachings in prehistoric cultures. Andrew Collins will reveal brand new research on the origins of the Karahan Tepe and explore the remarkable new discoveries coming out of that area. Dr. Greg Little will be sharing his new research on stellar alignments relating to the 'Path of Souls.' JJ Ainsworth will share her latest decoding of Gobekli Tepe and its relationship to other sites aropund the world, and Hugh Newman will be presenting his new book, co-authored with Jim Vieira titled The Giants of Stonehenge and Ancient Britain. We have now confirmed our final speaker, Scott Creighton, author of the recently published book: The Great Pyramid Void Enigma. We will be having an interactive break where the speakers and atendees can get together and discuss ideas, as well as a speakers forum Q&A to finish off proceedings.
11.30am - Registration and Introduction
12.00pm - 1.00pm - Scott Creighton
1.30pm - 2.00pm - JJ Ainsworth
2.30pm - 3.45pm - Hugh Newman & Jim Vieira
4.15pm - 5.15pm - Dr. Greg Little
5.45pm - 6.45pm - Andrew Collins
7.15pm - 8.00pm - Speakers Forum Q&A
8.00pm CLOSE
The Origins Conference was founded by authors Andrew Collins (Questing Conference) and Hugh Newman (Megalithomania) in 2013 to explore the origins of civilization.
| | |
| --- | --- |
| | Early-Bird Tickets are £35, plus £2.00 booking fee, and the whole conference can be viewed after the event for three months at your leisure. |