ANCIENT TECHNOLOGY OF THE OLMECS MEXICO TOUR 2022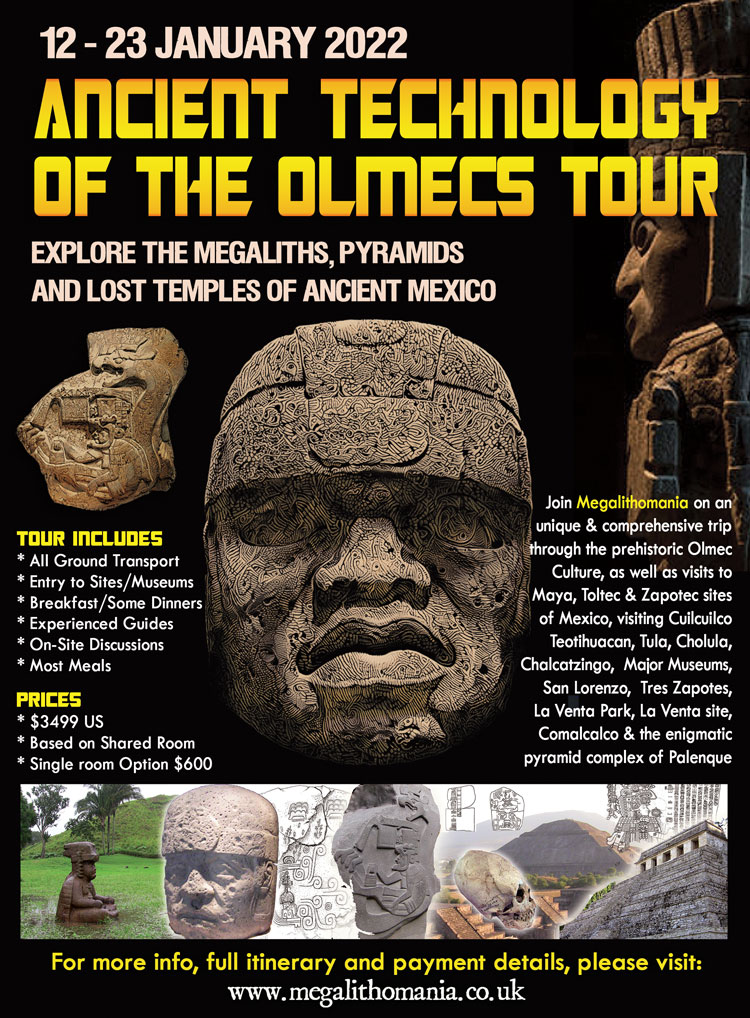 Join Megalithomania for an incredible comprehensive trip through the megalithic world of Mexico, visiting all the major Olmec sites, plus Teotihuacan, Tula, Cholula, Cuilcuilco, the National Museum, and much more ending in the beautiful jungle location of the Maya site of Palenque.

Feedback from the Mexico tour in January 2018:
"Wow - Mexico was PHENOMENAL - I was absolutely gobsmacked by the sites! Places I've seen on TV and dreamed about! And I loved being in your, and fellow like-minded travellers, company. Hugh and JJ were so friendly and personable - it made my experience so much better." - Chris Burnett, Australia

SITES VISITED
Cuilcuilco, Teotihuacan, Tula, Cholula, Mexico Archaeology Museum, Xalapa Museum, Chalcatzingo, San Lorenzo, Tres Zapotes, La Venta Park, La Venta, El Azuzul, Carlos Pelicer Museum, Catemaco, Coatzalcolcas, Villahermosa Museum, Comalcalco, Palenque + sites not on itinerary that we will have private access to only for our group!

For more info email us

PRICES
* $3495 US
* Based on Shared Room
* $650 Single Supplement

Day 1
Arrival in Mexico City. Personal taxi pick-up at the airport. Overnight Hotel Galeria Plaza Reforma.
Mexico City is an amazing place to be located, whilst we visit some sites. It has had thousands of UFO sightings, discoveries made under its streets and still has an Aztec observatory in the subway station! Royal Reforma Hotel.

Day 2
Toltec complex of Tula and Pyramids of Teotihuacan
Tula is a fascinating temple with some megalithic construction, and the mighty Atlanteans presiding over the site, in the image of the 'Plumed Serpent' or Quetzalcoatl. The Atlanteans are 30ft tall statues that are surprisingly similar to the ones at Tiwanaku, Bolivia, plus they have similar head-dresses and they have that same look in their eyes. Zecharia Sitchin had noted that the archaeologists description of what they were holding in their hands was questionable. Officially described as knives and incense bags, Sitchin believed they may have been something quite different, an idea that was later picked up by Graham Hancock. They look more like metal devices or plasma-guns from a sci-fi movie. Sitchin believed they were used to quarry and cut rock, and Hancock backed this up when he remembered that in ancient legends they had armed themselves with 'Xiuhcoatl' or 'fire serpents'. These were said to emit burning rays capable of piercing and dismembering human bodies, and perhaps to cut, quarry and carve stone. The statues at Tiwanaku hold similar devices in their hands too. One of many comparisons to Virococha and ancient Peru that will be expanded upon as we pursue the ancient mysteries of Mexico. Tula could also possibly be the site of the legendary Tollan.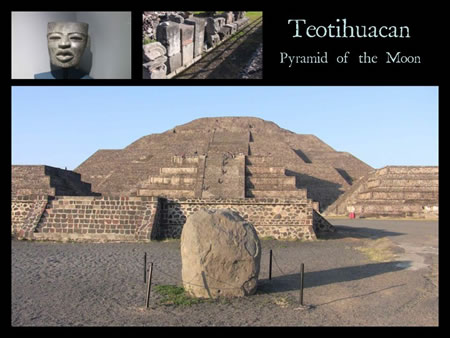 In the afternoon we visit massive Teotihuacan. This multi-pyramid site has been compared to Giza in size and style, and is unique in Mexico. It has Olmec influences, is aligned astronomically, has underground tunnels, and contains a another temple to the Plumed Serpent (pic on right). The complex is said to have been built around 200BC, but it could be much older. Overnight Royal Reforma Hotel. B.

Day 3
Visit anthropological museum, historical centre with Templo Mayor, plus the circular pyramid of Cuilcuilco.

We will start our investigation in to the origins of the famous Mayan 'Long Count' Calendar, looking at many Olmec artifacts in the Anthropological museum that suggest they may have instigated the calendar in 3114BC (and ends on December 21st 2012). We will see several Olmec heads, the 'Aztec' sun stone and original Maya codices. Continue to visit the historic centre of Mexico City.
Continuation to visit Cuicuilco circular pyramid, a fascinating and unique structure, again with discoveries of Olmec artifacts at the site. Controversy over the age of this sitehas been ongoing that range from 100AD to 7,000 BC!. Archaeocryptographer Carl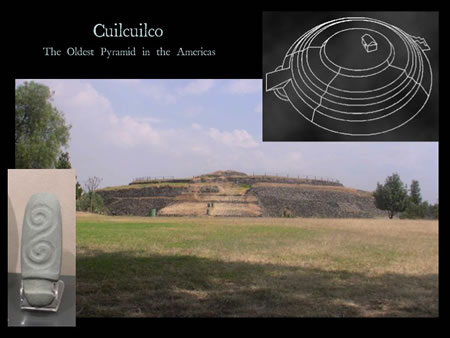 Munck believes it is an important marker on a grid of ancient sites across the planet. The site is also covered with an ancientlava flowand the subsequent dating of Cuilcuilco has made the site famous. The pyramid was first excavated by Mexican Archaeologist Manuel Gamio in 1917 and although the site is officially dated to around 100AD, the lava flow that covers much of the pyramid was dated to 5,000 BC. Back in 1923 National Geographic were the first to report on this incredibly ancient date. The author of the piece was archaeologist Byron Cummings, who became fascinated by the site because Geologist George E. Hyde estimated the age of the flow to be 7,000 years old at least, suggesting that the pyramid must have been even older than that. A strange blue light even appeared above the pyramid when they began to excavate it. Apparently the workers were delighted, thinking it must contain ancient Mayan treasure. None was said to be found, but its location on a seismic faullt line, may indicate its important placement and explain the strange light phenomena. Carbon dating of sediment on the paths around the pyramid, gave a date of around 2000BC, although the official date is around 100AD. Royal Reforma Hotel. B,L.

Day 4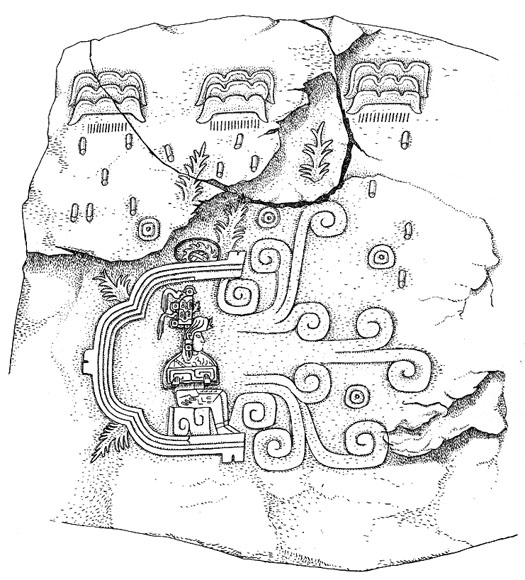 Visit one the most important sites of theOlmec culture: Chacaltzingo
A rarely visited, but incredibly impressive Olmec site far from their homeland featuring two pyramiuds, incredible rock carvings and a breathtaking landscape. The huge carvings have Olmec symbols and styles (pic on right). This is not on any other tours. Royal Reforma Hotel. B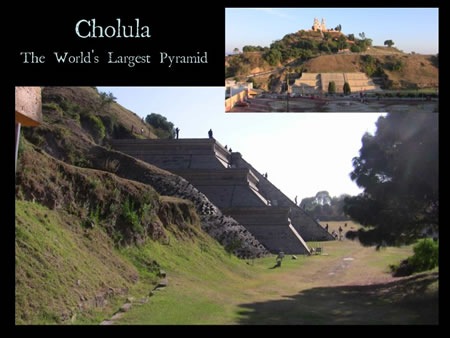 Day 5
Visit Cholula, the largest pyramid in the world
Visit the town of Puebla to visit Cholula, the largest pyramid in the world, with underground tunnels, again dedicated to Quetzalcoatl. Some of Cholula has been reconstructed and around its outskirts were several mysterious megaliths. One looks like an Olmec head (the Olmecs could well have built this place). There are two large megaliths, one with inscriptions and around the main entrance an enigmatic quartz-rich standing stone with a square hole cut out of it - A Mexican Men-an-Tol. We will also hear the story of Hernan Coetez's arrival at Cholula and how they discovered they were seen as 'the returning fair-skinned gods' (Quetzalcoatl), that opened the door for their gold-thirsty rampaging across Mexico. Drive to Xalapa. Holiday Inn Express Xalapa. B

Day 6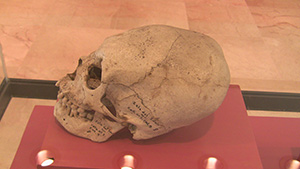 Xalapa Museum and Catemaco.
Visit anthropological museum in Xalapa to see several Olmec heads, stelae, megaliths and elongated skulls. The Anthropological Museum of Xalapa has a significant collection of archaeological finds from three millennia. The focus on the Olmec culture is especially featured by huge heads of their rulers or gods made of bas-alt andweighing up to 20 tons each. Particularly noteworthy are the smaller sculptures of jade and obsidian. Xalapa - Catemaco (262.0 km / 240 Min.) Catemaco is considered Mexico's center of healers (curanderos) and sor-cerers (brujos) to this very day. In an attitude sure of victory, they use magic potions, herbal juices, tinctures, dice, and cards to approach any problem of life. During a short walk through the small town, you visit the basilica of La Virgen del Carmen and the local market, and stroll along the Lago de Catemaco. Hotel La Finca. B.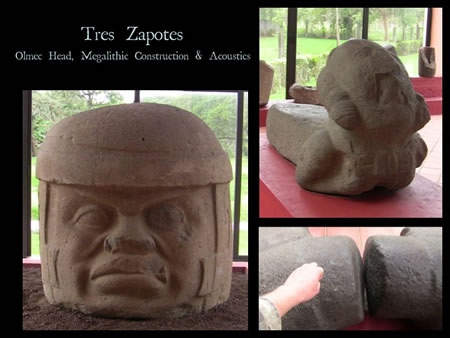 Day 7
Santiago Tuxtla and Tres Zapotes. Drive to Santiago Tuxtla and visit museum in Santiago Tuxtla where some incredible Olmec carvings that show clearly negroid features. We'll see two Olmec heads, including the only one with closed eyes, weighing in at 40 tons. We then take a 13 km drive to Tres Zapotes to visit the museum there, seeing more Olmec heads, evidence of acoustics, plus the stelea showing the controversioal 31BC Long Count date, indcating that the Olmec in fact invented the famous 'Mayan' Calendar. Return to Catemaco. Overnight Hotel la Finca. B.

Day 8
Olmec capital San Lorenzo & El Azuzul
Visit San Lorenzo Tenochtitlan, the ancient capitol of the Olmec, with a small museum with an Olmec head and several other fascinating carvings and megalithic oddities. We'll see here how sophisticated the stonework really is. We will also visit the site of El Azuzul, an Olmec pyramid on private land where several important Olmec statues were discovered. Overnight Hotel Joalica, Acayucan. B.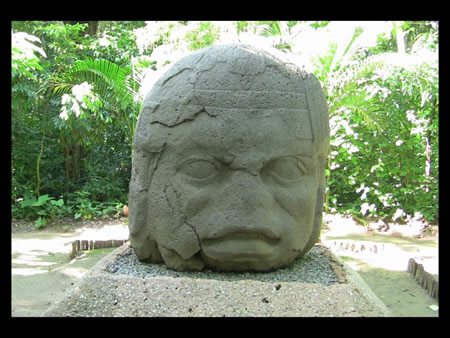 Day 9
LaVenta Pyramid Site
The pyramid and megalith complex of La Venta (site), a fascinating tropical pyramid site, with the earliest pyramid in the America's (see pic below), underground mosaic floors, massive megalithic statues, Olmec heads and much more. We will visit the Museo Regional de Antropología Carlos Pellicer Cámara, where a fragment of the Tortuguero stone is kept and several other artifacts presents an impressive collection of pre-Columbian sculptures and pottery – particularly focussing on the Olmecs and the Zapotecs. Continue to Villahermosa. Overnight hotel Hyatt Regency. B,L.

Day 10
La Venta Park, Villahermosa Museum and Comalcalco
Visit La Venta archaeological park, where several Olmec heads, altars and stelae are housed in a beautiful outdoor museum. These were saved from theLa Venta site in the 1950's, and are an incredible collection. In addition, you can also discover interesting artifacts from Teotihuacán and from the Totonac, Mixtec, Toltec, Mexi-can and Mayan cultures.. After lunch we drive to Comalcalco pyramid complex, where strange texts and writings are found on clay bricks, that appear to be from many different ancient cultures, where last year an inscription indicating the end of the Long count calendar (December 21st) was found. Continuation to Palenque. Overnight hotel Hyatt Regency. B.

Day 11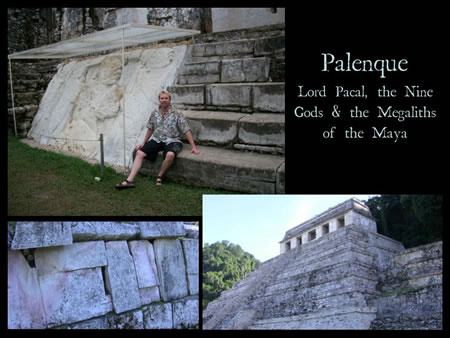 Palenque pyramid site, Lord Pacal's Tomb
Visit Palenque, a beautiful jungle location, with a look at the museum with Lord Pacal's tomb, a great leader in 6th Century said to be of extraordinary height. The great 'plumed serpent' energy current sweeps through this site and the ambience and power of this site is something we can enjoy for a good part of the day. From the village of Palenque, you will reach the most beautiful ruined site in all of Mexico. Founded around 300 BC, Palenque flourished in the 7th and 8th centuries AD. All buildings that are still visible date from this period, e.g., the "Temple of Inscriptions" with more than 620 hieroglyphs that tell King Pacal's history, the Grand Palace, the Temple of the Sun, and the North Temple with its stucco remains and military scenes. The Templo Olvidado was built by the Mayan king K'inich Janaab Pakal in 647 AD; its name "lost temple" results from its hidden situation in the subtropical jungle. Your guide leads you over narrow paths through the rain forest and explains the mystic flora of the Maya: the Christmas candle or devil's backbone is poisonous, but also has medical uses. Or the rind and fruits of the "nance tree" (Byrsonima crassifolia), whose flowers are even shown on king Pakal's sarcophagus. Farewell Dinner (Included). Overnight Overnight hotel Hyatt Regency. B, D.

Day 12 - Transfer to the airport at Villahermosa - Ciudad de México (Flight Not Included) to Mexico City. End of Tour. The tour company can arrange this flight for you and usually cost under $100. B.


Praise for Previous Megalithomania Mexico Tours:
"It was a trip of a lifetime for me. Don't know many other tours that are animal enough to road trip 1050 miles to visit 15 ancient ruins in 14 days. I climbed countless pyramids, was bedazzled by their beauty and engineering, and feel blessed to have done it without the crowds of Chichen Itza."- Mona Stevenson, Hawaii
"As far as feedback on the trip--I thoroughly enjoyed just about everything, and loved feeling into the unique energy of each site" - Carla Fox, USA
"I have enjoyed your pleasant good humor and look forward to traveling with you in the future." - David Lewis, USA
I really enjoyed the experience and adventure. This one was like all the others, unforgettable, really eventful, interesting and great company- and also you get to see and do a lot- and go places and see things that others don't. I have travelled a lot- but these are adventures with great company and are always full on 'trip of a lifetime' highlights. Thanks again." - Peter Bugg, England
TOUR INCLUDES
• Transfer In - day 1, Transfer out - day 12
• English-speaking tour guides from day 1 to day 12
• Accommodations in 4-star hotels – 11 nights
• 11 x Breakfast, 7 x Lunch, 2 x Dinner
• All entrance fees as specified in program
• Tips for maids and porters (1 piece of baggage per person)
• Parking fees and motorway tolls
• Tour operator's liability insurance
• Local taxes for service providers and hotels
* On-Site Discussions & Lectures with Jj & Hugh
* Fun

DOES NOT INCLUDE
• Airport taxes
• $125 Gratituity Fee to be paid in advance for drivers, maids and bell boys etc
• Mexican tourism fees
• Transfers (except as specified)
• Meals and drinks (except as specified)
• Optional excursions
• Individual travel insurances
• Personal expenses
• Tips for tour guides and drivers
BOOKING CONDITIONS