Megalithomania, The Khemit School and Soul of Egypt Travel present
EGYPTIAN ORIGINS
Pyramids, Gods & Giants Tour 2021
November 17th - 29th 2021

Join Jim Vieira and Hugh Newman, authors of Giants On Record, JJ Ainsworth, symbolist and explorer, and Yousef Awyan, a stonemason and wisdom keeper of ancient Khemit, on a unique expedition to ancient Egypt. We will investigate its esoteric mysteries, earth energies, ancient high technology, hidden geometry, ancient measures, ancestral wisdom and the strange accounts of giants being found in prehistoric tombs. This is a quest to explore the realms of the creator gods and 'The Followers of Horus' on land, by air and along the Nile river. Includes private access to the Great Pyramid and inside the Osirion at Abydos.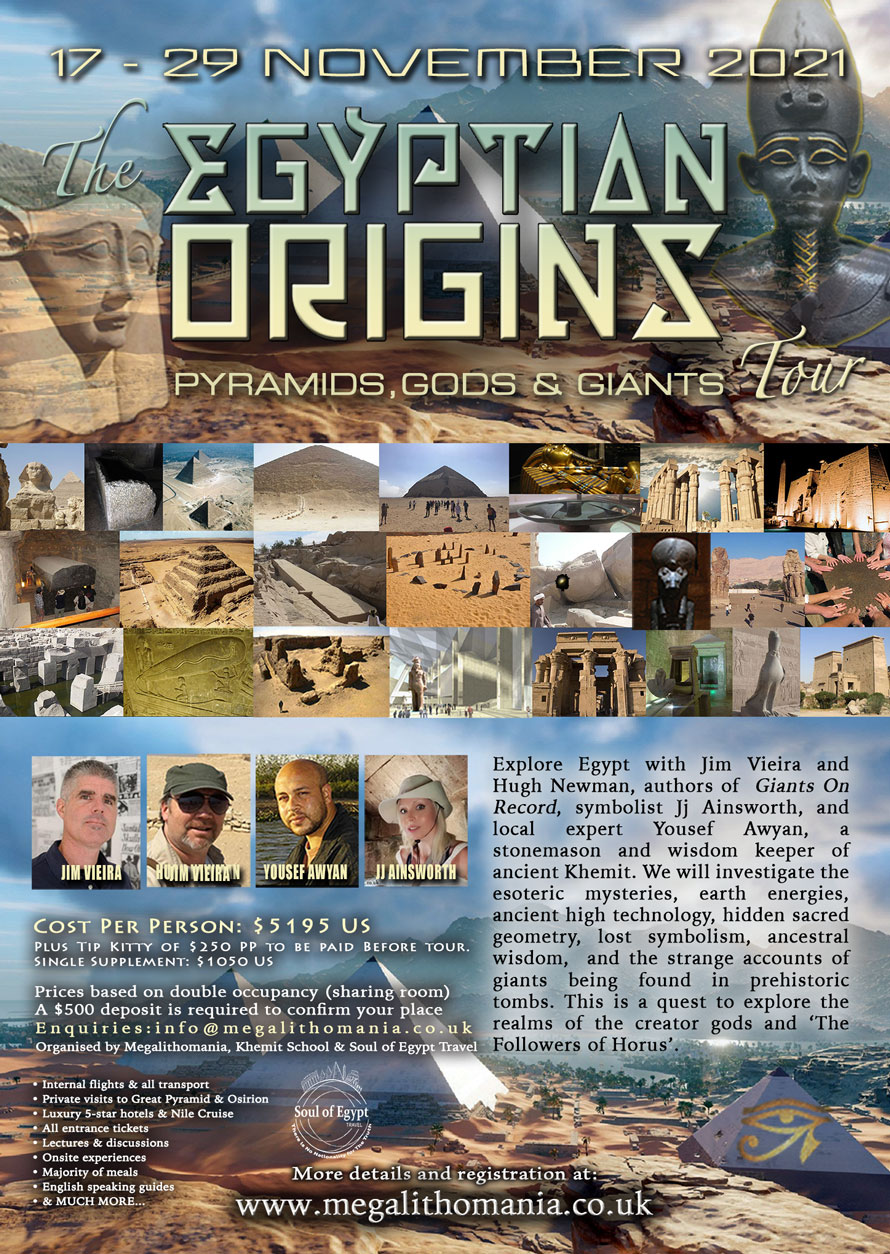 Detailed Itinerary

Day 1: Arrival Cairo – Welcome to the Land of the Pharaohs!
Arrival at Cairo International airport; our friendly representative will be waiting for you! Claim your luggage and he will escort you to the beautiful Steinenberger Hotel, Giza. Introductory lecture with the speakers/hosts. Sleep well and get ready for the start of your tour. Meals: Dinner / Overnight: Steinenberger Hotel.

Day 2: Giza Pyramids / Dahshur Pyramids
Visit Dahshur, where we will be able to visit the Red Pyramid and the Bent Pyramids, that have unique geometry and are of megalithic construction. After lunch we have our first visit to the Giza Plateau to visit all three Pyramids and numerous anomolies that we will point out on the way. After this breathtaking tour, we will head to the hotel. Meals: Breakfast, Lunch & Dinner / Overnight: Overnight: Steinenberger Hotel.


Day 3: Egyptian Museum / Fly to Luxor
Visit the massive new Egyptian Museum. We will point out some fascinating evidence of advanced ancient technology, and visit the Akhenaten section, as well as see some rare pieces including an elongated skull that is hidden at the back of an obscure display case. After lunch we head to Cairo airport for a short flight to Luxor. Arrival and transfer to your selected hotel where you will enjoy a magnificent view of the Nile. Meals: Breakfast & Lunch / Overnight: Steigenberger Nile Palace Hotel.

Day 4: Karnak Temple / Luxor Temple
After breakfast, we head to the East Bank and explore the ancient city of Thebes (Luxor), the Avenue of Sphinxes leading to the much larger Karnak temple site. After exploring Karnak , including the immense Obelisks and the secret rooms with the powerful Sekhmet statue, we make our way to Luxor Temple; one of the most powerful temples in ancient Egypt, the deity of the site being Amun or Amun-Ra. Beginning in the New Kingdom period, the power of Amun's priesthood rivalled that of the Pharaoh. Meals: Breakfast & lunch / Overnight: Steigenberger Nile Palace Hotel.

Day 5: Dendera Temple
Visit Denderah, one of the best-preserved complexes, will reveal the famous carvings of the light bulbs in an underground chamber, and many beautiful statues and carvings of Hathor, with a quick hello to the dwarf god 'Bes'. Meals: Breakfast, packed lunch & dinner. Overnight in Abydos House of Life Hotel.

Day 6: Abydos & The Osirion (Private Visit) / Heironkonpolis
After a delicious breakfast we visit the sacred and ancient city of Abydos, the Seti l temple and its famous Kings List, as well as the strange hieroglyphs depicting modern technology and flying vehicles! We will descend to the Osirion Temple, discovered in 1903, with the flower of life burnt into the huge stone uprights. The megalithic stonework here is the largest in Egypt and the temple is now free of water so we have arranged private special access for our Megalithomania group to examine this stunning megalithic masterpiece in detail. It also contains nine 'flower of life' geometrical carvings/paintings. Continue to the rarely visited site of Heironkonpolis, where a giant 8.ft 6in tall Pharaoh called Khasekhemwy once ruled, who was connected to both Saqqara and Byblos in Lebanon. Luxury coach back to Luxor and board the 5-star Nile Cruise. Breakfast & Dinner. Overnight: on board Nile Cruise.

Day 7: West Bank / Colossi of Memnon / Ramesseum / Valley of the Kings
Morning visit to Valley of the Kings, to see the tombs of the pharaohs inscribed with sacred transformative texts, including the Books of knowing light and dark, the book of what is in the underworld, the book of caverns, and naming and taming the hours of the night, and many others. We will visit the Colossi of Memnon and the Ramsseum, both with the largest known megalithic statues in Egypt. Sail on the cruise and relax in the afternoon with lectures from the hosts on board. Meals: Breakfast, lunch & dinner / Overnight: on board Nile Cruise.

Day 8: Visit Horus Temple at Edfu / Temple of Kom Ombo
Today we will visit Edfu Temple of Horus one of the most well-preserved Temples in Egypt. The side chambers of the Temple show the complexity of ancient rites. They include a healing chamber, a perfumery, and singers' rooms. One chamber, called the House of Life, stored all of the sacred texts used in seasonal and daily rituals. Horus is associated with higher vision and clarity. The eye of Horus greatly relates to his myth and power. The builders were influenced by the legendary Followers of Horus, a predynastic elite who occupied Egypt, who were thought to have written the Edfu Building Texts that describe dates going back tens of thousands of years. Sail to Kom Ombo, by sunset we will visit the only dual temple in Egypt. This dramatic temple poised between the edge of the river and the encroaching desert sand was dedicated to two gods - Sobek the crocodile god of strength, fortitude, fertility and rebirth, and Horus the hawk-headed son of Isis and Osiris. The duality of light/ dark, yin/yang, conscious/unconscious is obvious in this ancient site. One of the most powerful places in Kom Ombo is the Seat of Neutrality, which is placed on the exact centerline between the parts of the temple that are dedicated to Horus / Sobek and Light/Dark. We will dock near Kom Ombo for the night. Meals: Breakfast, lunch & dinner / Overnight: on board Nile Cruise.

Day 9: Sail to Aswan / Visit Philae - Temple of Isis / Afternoon Felucca ride
Today we will return to the source of all, the Great Mother, to receive the blessings of Isis at her beautiful island temple at Philae. This isle represents a fusion of three great civilizations: Egyptian, Greek and Roman. It is also here that numerous giant skeletons were unearthed in 1901, including one that was over eleven feet tall. We will continue our leisurely morning as we sail to Aswan. Aswan city is our favorite Egyptian city. Enjoy a felucca boat ride. Meals: Breakfast, lunch & dinner / Overnight: on board Nile Cruise.

Day 10: Aswan Quarry / Nubian Museum to see Nabta Playa Stone Circle
Following breakfast, we will visit the 1168 Ton Obelisk still in the quarry, and the amazing Nubian Museum that has in its grounds, the 7000 year old stone circles of Nabta Playa, and many other important artifacts from Southern Egypt. After lunch we will head to Aswan airport for a short flight back to Cairo. The rest of the day will be free at leisure, to either relax at the Mena House Hotel. Meals: Breakfast & Snack lunch. Overnight: Steinenberger Hotel, Cairo.

Day 11: Visit Step Saqqara Pyramid / Unas Pyramid / The Serapeum
Today we will visit Saqqara, located south of modern Cairo, on the West Bank of the Nile River to visit the 3rd Dynasty Step Pyramid of Djoser, thought to be the oldest pyramid in Egypt designed by architect and genius Imhotep. We are now able to explore inside and underneath the pyramid with the group. Visit Pyramid of Unas & The incredible underground Serapeum of Sakkara. Meals: Breakfast & Lunch / Overnight: Steinenberger Hotel.

Day 12: Private Visit inside Giza Great Pyramid and visit to Sphinx and Valley Temple
Today we will have a visit to the Giza Plateau culminating in private experience inside the Great Pyramid with silent time in the King's chamber (5pm - 7pm). Here, we unite our life story with the story of those who have come before us and those who will come after as we embrace the transformation that we have experienced. We will have the opportunity to see the Queen's Chamber and the Subterranean Chamber. We will also get to visit The mighty Sphinx and the beautifulValley Temple, that is similar in style to the Osirion at Abydos. Optional visit to the Osiris Shaft, revealing some stunning secret burial chambers showing high levels of technology (extra cost $200). Afternoon visit to Yousef's shop and time for Essential Oils etc. Meals: Breakfast & Farewell Dinner in a specially selected restaurant / Overnight: Steinenberger Hotel.

Day 13: Departure
Breakfast at hotel or breakfast box (if you leave early), then we will transfer you to Cairo International airport for the flight back home. Meals: Breakfast / End of service.

"Itineraries might slightly change due to unforeseen circumstances"

Tour Costs:
Tour Cost $5195 US
Based on double occupancy
Single occupancy supplement: $1050 US
(if you want your own room)
Tour deposit: $500 US
Plus Tip Kitty of $250 per-person to be paid before tour to avoid hassle from sellers in Egypt. The hosts pay it too! See details below.

Please email: info@megalithomania.co.uk
for more info, or any queries.

Click to pay deposit to confirm your place.
You will be directed to 'Megalithomania' to place your secure payment via paypal or credit card
(This will be converted to your countries currency)
Feedback from the 'Egyptian Origins Tour' November 2019
"Thanks to Megalithomania for truly epic tour of Egypt and Jordan! The list of highlights is way too long to mention. Suffice to say we got to see more than expected, learned more than expected, and had the pleasure of doing all this in a great travel group of fascinating people. The insights from Hugh, J.J., Jim, Yousef, and the local guides made seeing all these sights for the first time even more exciting. We loved the combination of hotels and the Nile cruise. Getting to walk, climb, and crawl in the Great Pyramid, Bent Pyramid, Osiris Shaft, around the Sphinx, and other areas was amazing. We're so happy we did the Jordan add-on. So many things to see in Jordan, still, Petra was even more remarkable than we imagined. Hope to see you all on a future trip! - Steve Sadler & Barbara Patrick, USA
"This was the best holiday trip experience in my life so far! Had lots of laughs and fun and I was absolutely stunned and mesmerised by the incredible historical ancient sites and captivated by the remarkable discoveries! I learned so much With your great knowledge insights and will remember this trip and you as a group / tour guides and all the tour hosts ,Forever! The choice of accommodation was impressive and meals was delicious . Thank you Soul of Egypt tours for your excellent arrangements. It was worth every dollar paid for this tour. Highly recommended! Thank you each one in the tour group for everyday's friendly smiles and chats and I would love if ever it could be possible a reunion with the same group lol! Take care..maybe will see some of you again in the future". - Lariana, UK
"That was the best trip ever! I echo Lariana's hope that we all could get together again sometime. To a person, this was a wonderful, truly compatible and friendly group. The best!" - Aleta and Dave, USA
"Our Megalithomania tour to Egypt and Jordan was everything I wanted it to be and so much more! It was such a special trip shared with a group of like minded souls all interested in searching for the truth about these ancient civilizations. I am an ancient history addict and love to explore alternative theories about the origins of civilization. Hugh Newman, Jim Vieira, Yousef Awyan, and JJ Ainsworth guided and informed our journey every step of the way. It was so special to hear cutting edge theories from experts in the field! I learned a lot and was able to ask many questions, which was so fulfilling! We are definitely booking another Megalithomania tour soon!" - Katy and Jorge Montanez, Mexico/US
"Well what an amazing holiday, still resonating now with me as I'm sure it is with you too. Nobody does it like Megalithomania, thanks to Hugh and Jj, Jim Vieira, the Soul of Egypt team; Amro, Ahmed our wonderful guides; Yousef, Ehab, Adel, we walked betwwen worlds together. Great hotels, opulent dining all in stunning locations and in really good company which meant I may have started that journey alone but it ended with fond farewells to a couple of dozen or so new friends, thanks for putting up with me! " - Tony Chinn, UK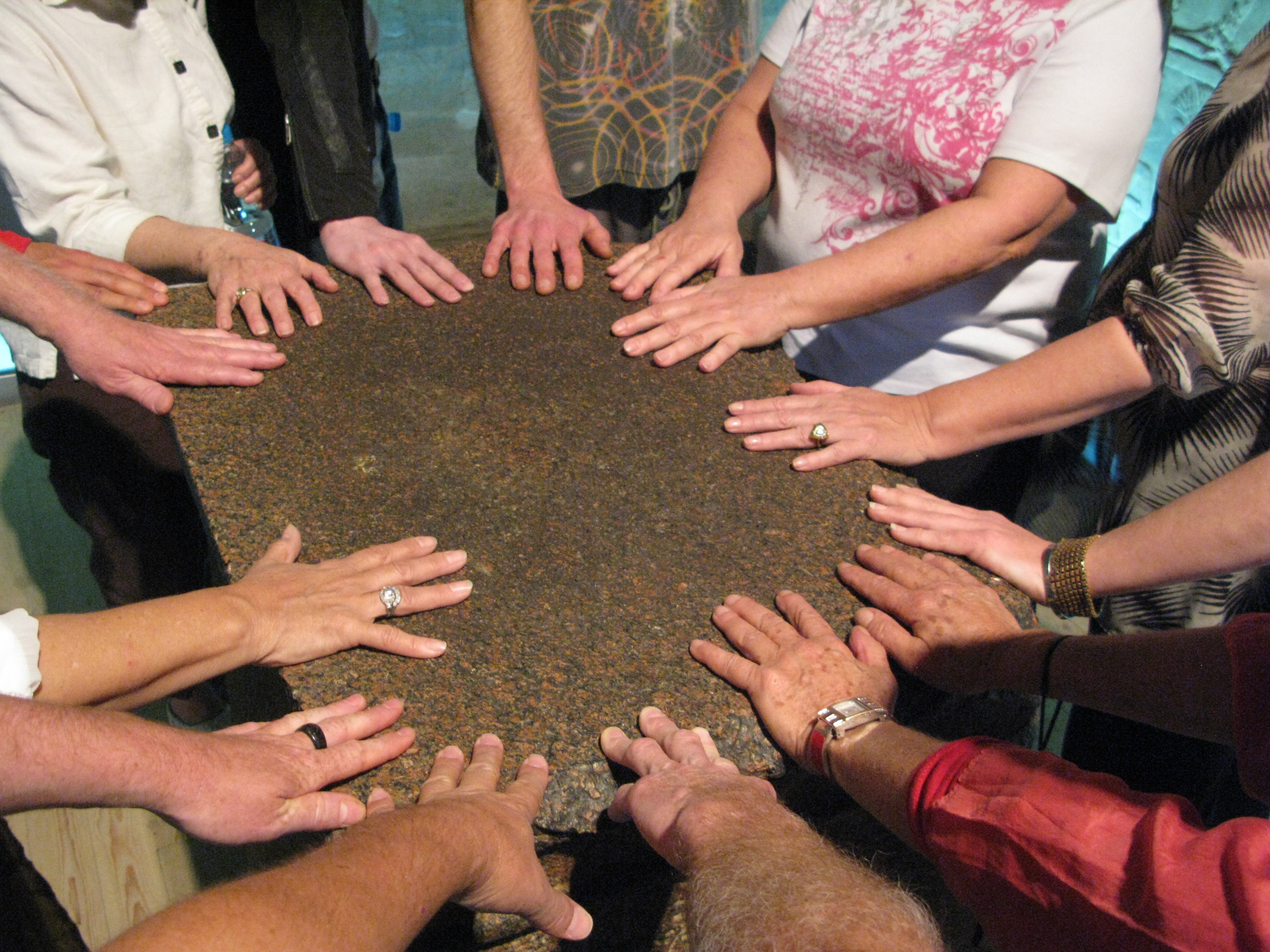 Read Hugh's article about the Giants of Ancient Egypt here or click on the image below.
Egypt Tour Price includes
- 2 nights at 5 star Steinenberger Hotel.
- 2 night at 5 star Steinenberger Hotel or similar in Luxor
- 4 nights on 5 Star Nile cruise – Blu Shadow or similar
- 1 night at Abydos House of Life Hotel
- 3 nights at 5 star Steinenberger Hotel
- Domestic flight tickets Cairo / Luxor – Aswan / Cairo
- Private visit inside the Great Pyramid
- Private Visit at The Osirion at Abydos
- Pick up airport transfers
- Drop off airport transfers
- Daily breakfast starting the second day
- Breakfast, lunch & dinner meals while on board cruise
- Meals as indicated on each day
- Farewell dinner in Cairo included
- English speaking Egyptologist / Tour guides
- Private arrangements throughout
- Well trained drivers and Luxury air conditioned Vehicles


Price does not include
- Entry visa, international flight tickets.
- Entry of the Royal Mummies room at the Egyptian Museum
- Tipping Kitty To be paid to Soul Of Egypt Travel in advance: USD $250.00, per person. They will take care of tipping everyone on your behalf (staff at hotels, Nile cruise, guards, drivers, reps, …etc.). This is standard procedure in Egypt. This tipping excludes your tour guide.
- Pocket money, personal expenses, laundry, phone calls, optional tours, etc.…
- Tipping for your Egyptologist tour guide
- Any un-mentioned item.
- Drinks, meals other than included above.
- Wi-Fi
- All kind of tips at hotels, portage , tour guide …etc.
- Travel Insurance
- Any other unmentioned items.

TERMS AND CONDITIONS


INSURANCE
We cannot be held responsible for any injury, accident or stolen goods - please get travel insurance and relevant visas before booking this tour and have a passport with at least 3 months past the end date of the tour.
ROOMMATES
We are happy to try to and match our guests with a suitable roommate for those who are traveling alone. If we are unable to do this, you will be responsible to pay for the single supplement. Early registration will facilitate this process.
CONFIRMATION OF TOUR
Please hold off booking your international flights, until the tour is confirmed in writing via email. We cannot be held responsible for any costs incurred.
SUBJECT TO CHANGE
Itinerary and hosts may be subject to change if circumstances arise beyond reasonable control and if we cancel the tour you will get a full refund minus any paypal or bank fees.
LAST MINUTE BOOKING
Normally we proceed booking the tour up to one year ahead, for last minute bookings; we might need to charge supplement for domestic flight tickets; if the available seats are based on business class or different hotel / cruise in case no availability to get accommodated at the same hotel /cruise of the group. In case space is available; we will not charge any supplement.
PASSPORT DETAILS & PAYMENT
Full payment and passport details must be received by Sept 1st 2021 at the very latest (see above)
CANCELLATION POLICY
The $500.00 are non-refundable deposit.
6 month prior to arrival, 10% of the settled deposit will be charged (plus bank fees).
Between 40 days to 30 days prior to arrival date, a 25% fee from your tour price will be charged.
29 days to 15 days prior to tour start date, a 50% of the tour rate will be charged. Two weeks to 7 days' prior arrival date a 75% cancellation will be applied.
7 days to 1 days prior to arrival will result in 100% cancellation fee.
For domestic flight tickets; cancellation fees will apply as per the policy of the supplier. To be checked by time of cancelation - if any.
SIGNING OUT OF THE TOUR
If you have chosen, decided to leave the tour, you will be requested to inform us in writing; you will receive a "Tour Sign out form". No refund is offered from our side for the leftover portion of the tour. Soul of Egypt Travel will have no accountability for banishment or any other expenditures which may occur due to such an event.
FORCE MAJEURE
Soul of Egypt Travel is not accountable; nor legally responsible, will NOT pay you any reimbursement if our obligations have been affected by any unforeseen circumstances that we are not able to avoid. Hereunder; we will list examples but not limited items of the force majeure cases: War, threat of war, terrorist activities, civil discord with its consequences or the risk of such activity, riot, Esna lock closure while boarding Nile Cruise, natural or atomic disasters, fire, chemical or biological disasters and adverse weather, sea, ice and river conditions, and/or similar occasions.