MEGALITHIC ORIGINS & ANCIENT TECHNOLOGY
TOUR OF CAMBODIA & LAOS
Featuring Angkor Wat and the Plain of Jars
21 - 27 February / 28 Feb - 5 March 2021

Explore the beauty of the Buddhist-Hindu Temples of Cambodia and optional visit to Laos, with Hugh Newman, author of Earth Grids and Giants On Record, special guest from the USA, JJ Ainsworth, a leading authority on ancient symbolism, and Arianna Mendo and Enrico Gelain, geomancers, astronomers and experienced tour guides.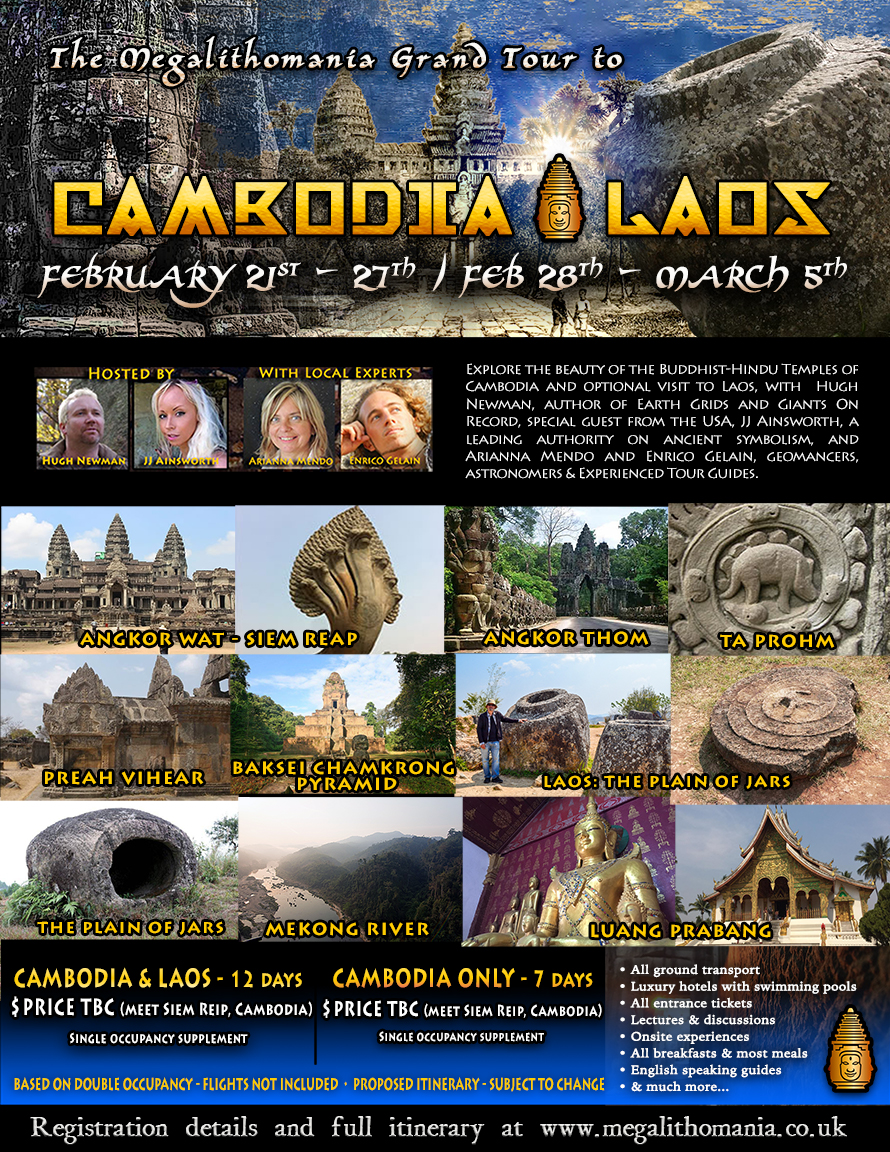 Proposed Itinerary - subject to change
Day 1 – Arrival Day
Welcome to Cambodia. Upon arrival in Siem Reap obtain your Cambodian visa, if you haven't already. Clear Immigration and Customs and proceed into the arrival area. You will meet your private driver for your transferring to check-in at hotel.
Check-in, freshen up and prepare for a great trip in The Kingdom of Wonder. Dinner at your leisure, but we are happy to make suggestions for one of the many fantastic restaurants in town. Overnight at Navutu Dream Resort, Grand Tour room.


Angkor Wat - Photo Courtesy of Wikimedia Commons
Day 2 – Siem Reap – Angkor Wat
Morning free at your own leisure. In the afternoon is set aside for a visit to the main temple, Angkor Wat. Angkor Wat is one of mankind's greatest achievements, and the intricate carvings at the temple demonstrate the skill of the Khmer builders. It was constructed in the early 12th century and later mysteriously abandoned by Khmer civilization. Now Angkor Wat is the main reason tourists come to visit Cambodia. Finish the day with an unforgettable sunset on the quiet east side of Angkor Wat. Notice: visiting temples or other religious sites, visitors are advised to follow a dress code consisting of "long trousers or skirt which cover the knees, and covered shoulders". Skirts, small shorts, tank tops, and other items of revealing clothing are not allowed. Overnight at Navutu Dream Resort, Grand Tour room. Meals: B

Day 3 – Angkor Thom complex
You will start to visit to the South Gate of Angkor Thom where you can take a quiet optional 1km walk along the wall and through the jungle to a hidden temple. Then visit the temples of Bayon, In the afternoon see the Terrace of the Elephants, Leper King, Phimeanakas, Baphoun and other nearby temples. Overnight at Navutu Dream Resort, Grand Tour room. Meals: B


Angkor Thom - Photo Courtesy of Wikimedia Commons
Day 4 – Preah Vihear
After breakfast at the hotel you will depart early today for Preah Vihear temple. Drive north of Siem Reap town to Anglongveng by road to the Strong hold of Khmer rouge. Visit Pol pot 's houses ( The khmer rouge's Houses), then head to Preah Vihear close to the Cambodia - Thailand border at the Dangrek Mountain range. Preah Vihear is a Khmer ruin dedicated to Hindu and Buddhist deities. Upon arrival it's another 20 km drive to the strategically located temple Preah Vihear. The temple is beautifully situated on top of a mountain. It therefore requires some effort to get there. The last part is by stairs, but once upstairs you are rewarded with a spectacular view. The temple itself is particularly well preserved due to its location. This shrine is particularly special because of its architecture adapted to the natural environment and the religious function of the temple. The quality of the carved stone ornamentation is unique and includes cyclopean masonry suggestive of a pre-Vedic origin. Return afterward to Siem Reap. Overnight at Navutu Dream Resort, Grand Tour room. Meals: B


Preah Vihear - Photo Courtesy of Wikimedia Commons
Day 5 – Ta Prohm, Bakheng & Preah Khan
After breakfast you will start your to explore Ta Prohm, this jungle-clad temple with overgrown trees exudes a haunting and exotic atmosphere that also has the controversial Stegosaurus carving! The magnificent roots of a tree push between the temple's huge stone blocks in a strange embrace. In the afternoon visit Phnom Bakheng pyramid and continue to visit Preah Khan temple with its labyrinth of grey, decaying stone courtyards that are slowly being reclaimed by the jungle. Large kapok trees extend limbs and roots throughout the carved stone work; while raucous parrots screech and monkeys keep watch to complete a surreal picture. Overnight at Navutu Dream Resort, Grand Tour room. Meals: B
Day 6 - Free to explore Temples
Explore further temples in the Angkor district at your leisure by Tuk Tuk (own arrangement). Overnight at Navutu Dream Resort, Grand Tour room. Meals: B
Day 7 - Siem Reap - Laos
LAOS ADD-ON DETAILS COMING SOON


INCLUDING:
- All transfers and transport as per the program:
- All accommodations as per program (based on 1 double/triple sharing room)
- All meals as mentioned (B=breakfast, L=lunch, D=dinner).
- Service English speaking station guides as mention in itinerary
- All Entrance fees on tour
- Water & Tissues

NOT INCLUDING:
- Air tickets: domestic and international (see below)
- Insurance
- Early check-in and late check-out
- Personal expenses
- All drinks
- Visa fees and/or visa authorization
- Tips
- Other expenses that not mentioned on the itinerary