NOTICE: TOUR CANCELLED BY TRAVEL THE UNKNOWN
please click here for other tours
MEGALITHIC ORIGINS & ANCIENT TECHNOLOGY
TOUR OF CAMBODIA & JAVA
Featuring Angkor Wat Equinox Sunrise
March 17th - 23rd 2019
With an option to explore Gunung Padang and ancient Java 23rd - 31st March

Explore the beauty of the Buddhist-Hindu Temples of Cambodia and the 20,000 year old Gunung Padang in Java with Andrew Collins, author of Gobekli Tepe: Genesis of the Gods and many other bestselling books, along with Hugh Newman, author of Stone Circles, Earth Grids and Giants On Record. Both Hugh and Andrew are regular guests on History Channel's Ancient Aliens and have explored southeast Asia previously. An expert local tour guide will be with us for the entire journey.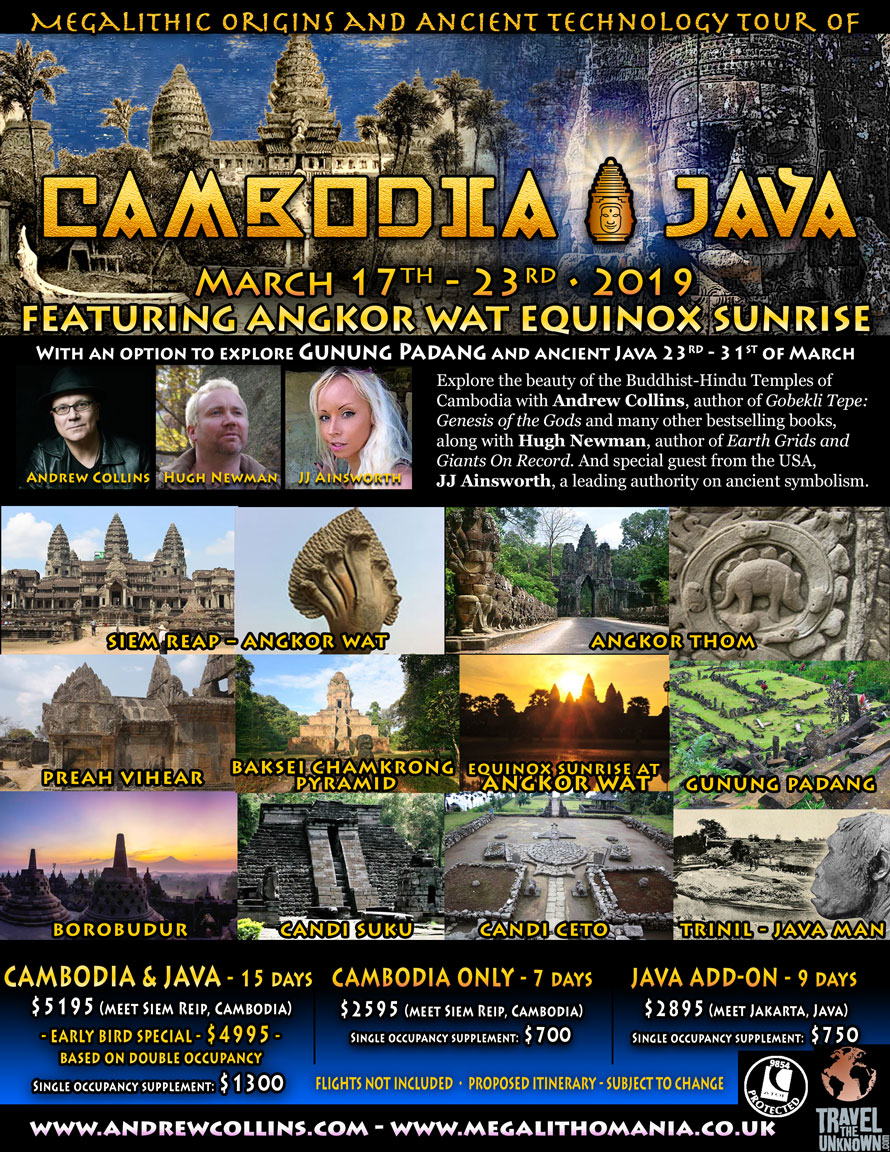 Proposed Itinerary - subject to change
Day 1 – March 17th: Arrival Day
Welcome to Cambodia. Upon arrival in Siem Reap obtain your Cambodian visa, if you haven't already. Clear Immigration and Customs and proceed into the arrival area. You will meet your private driver for your transferring to check-in at hotel.
Check-in, freshen up and prepare for a great trip in The Kingdom of Wonder. Dinner at your leisure, but we are happy to make suggestions for one of the many fantastic restaurants in town. Overnight at Navutu Dream Resort, Grand Tour room.


Angkor Wat - Photo Courtesy of Wikimedia Commons
Day 2 – March 18th: Siem Reap – Angkor Wat
Morning free at your own leisure. In the afternoon is set aside for a visit to the main temple, Angkor Wat. Angkor Wat is one of mankind's greatest achievements, and the intricate carvings at the temple demonstrate the skill of the Khmer builders. It was constructed in the early 12th century and later mysteriously abandoned by Khmer civilization. Now Angkor Wat is the main reason tourists come to visit Cambodia. Finish the day with an unforgettable sunset on the quiet east side of Angkor Wat. Notice: visiting temples or other religious sites, visitors are advised to follow a dress code consisting of "long trousers or skirt which cover the knees, and covered shoulders". Skirts, small shorts, tank tops, and other items of revealing clothing are not allowed. Overnight at Navutu Dream Resort, Grand Tour room. Meals: B

Day 3 – March 19th: Angkor Thom complex
You will start to visit to the South Gate of Angkor Thom where you can take a quiet optional 1km walk along the wall and through the jungle to a hidden temple. Then visit the temples of Bayon, In the afternoon see the Terrace of the Elephants, Leper King, Phimeanakas, Baphoun and other nearby temples. Overnight at Navutu Dream Resort, Grand Tour room. Meals: B


Angkor Thom - Photo Courtesy of Wikimedia Commons
Day 4 – March 20th: Preah Vihear
After breakfast at the hotel you will depart early today for Preah Vihear temple. Drive north of Siem Reap town to Anglongveng by road to the Strong hold of Khmer rouge. Visit Pol pot 's houses ( The khmer rouge's Houses), then head to Preah Vihear close to the Cambodia - Thailand border at the Dangrek Mountain range. Preah Vihear is a Khmer ruin dedicated to Hindu and Buddhist deities. Upon arrival it's another 20 km drive to the strategically located temple Preah Vihear. The temple is beautifully situated on top of a mountain. It therefore requires some effort to get there. The last part is by stairs, but once upstairs you are rewarded with a spectacular view. The temple itself is particularly well preserved due to its location. This shrine is particularly special because of its architecture adapted to the natural environment and the religious function of the temple. The quality of the carved stone ornamentation is unique and includes cyclopean masonry suggestive of a pre-Vedic origin. Return afterward to Siem Reap. Overnight at Navutu Dream Resort, Grand Tour room. Meals: B


Preah Vihear - Photo Courtesy of Wikimedia Commons
Day 5 – March 21st: Equinox sunrise at Angkor Wat, Ta Prohm, Bakheng & Preah Khan
This morning before sunrise, depart the hotel for Angkor Wat, the largest and most breathtaking monument at Angkor. Built as the funerary temple for Suryavarman II, who ruled from 1112 to 1152, Angkor never fails to reward the first time or repeat visitor with its grand scale, surreal bas reliefs and unbelievable attention to detail. The temple is aligned to the Equinox sunrise and is a spectacular astronomical event that happens twice a year. Returning to the hotel for a late breakfast After breakfast you will start your to explore Ta Prohm, this jungle-clad temple with overgrown trees exudes a haunting and exotic atmosphere. The magnificent roots of a tree push between the temple's huge stone blocks in a strange embrace. In the afternoon visit Phnom Bakheng pyramid and continue to visit Preah Khan temple with its labyrinth of grey, decaying stone courtyards that are slowly being reclaimed by the jungle. Large kapok trees extend limbs and roots throughout the carved stone work; while raucous parrots screech and monkeys keep watch to complete a surreal picture. Overnight at Navutu Dream Resort, Grand Tour room. Meals: B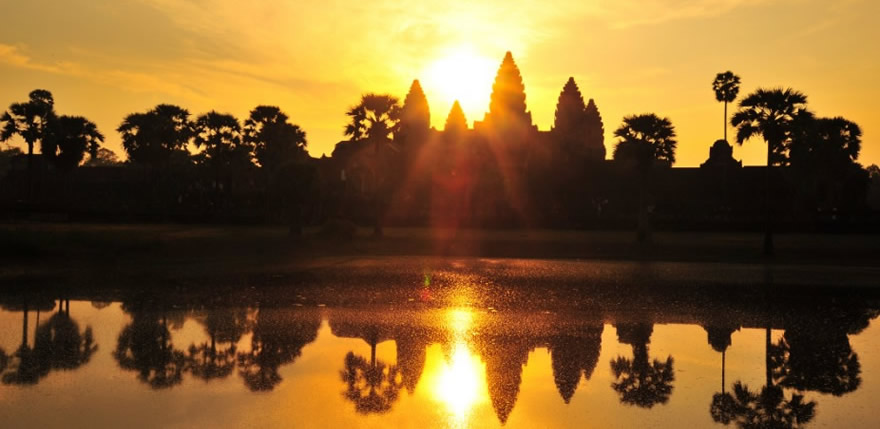 Angkor Wat Equinox Sunrise
Day 6 - March 22nd: Free to explore Temples
Explore further temples in the Angkor district at your leisure by Tuk Tuk (own arrangement). Overnight at Navutu Dream Resort, Grand Tour room. Meals: B
Day 7 - March 23rd: Siem Reap - Jakarta
Welcome to Indonesia. Upon arrival, after clearing Immigration and Customs, we begin today with a visit to explore the old city of Batavia to see historical Dutch buildings including the Cafe Batavia, which has won international accolades for an interior decor that combines the elegance of the 1920s and 1930s with a dollop of humor. We will continue to Sunda Kelapa Harbour, which was once a busy harbour where Portuguese traded with the Hindu Kingdom of Pajajaran in the 16th century. In the afternoon we will continue for a visit to The National Museum, established in 1778 by the Dutch Batavia Association of Art and Sciences. This Museum offers historical, pre-historical, archeological and ethnographic aspects of Indonesia through its extensive collections of artifacts and relics that date as far back as the Stone Age. Next, visit The National Monument, standing at 137 meters in height and capped with a 50-kilogram gold flame on top, which symbolizes the nation's independence. Afterwards you will then be transferred to your deluxe hotel in the city. Settle in and have a good night sleep. Overnight at Santika Premiere Jakarta, Deluxe Room. Meals: B,D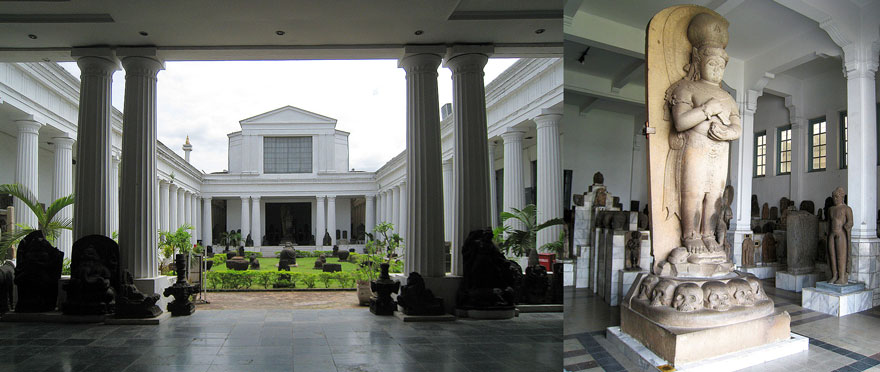 Jakarta National Museum and Hindu-Buddhist statue of Adityavarman as Bhairava - Photos Courtesy of Wikimedia Commons

Day 8 – March 24th: Jakarta - Cianjur
After check out time, meet your guide for your transfer to the next destination in Cianjur. The transfer time between Jakarta and Cianjur is approximately three-to-four hours. The transfer from Jakarta to Cianjur has beautiful scenery with a stop at the famous Puncak pass. Against the slopes of this pass, tea-plantations rise up in to view. Local people earn a living by picking tea. Afterwards you will continue driving to Cianjur where we will arrive late afternoon. Overnight at Novus Giri Resort & Spa, Deluxe Garden View. Meals: B,D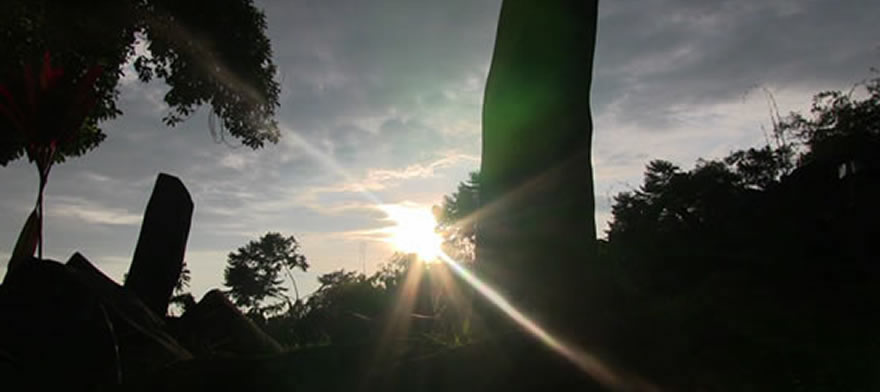 Day 9 – March 25th: Gunung Padang
Enjoy the early breakfast at the hotel. Gather at the hotel lobby by 8.30am to drive one and half-to-two hours to the megalithic site of Gunung Padang. Arrive in Gunung Padang and explore its origins at the end of the last Ice Age. Here we meet Danny Hilman who will explain the story of this megalithic site. It is believed to be largest megalithic site in Southeast Asia which has an estimated construction area of 900 square meters, set in a total area of around 3 hectares. The original construction itself is believed to have been a stepped pyramid that was built of natural volcanic stones in various sizes. The site was first mentioned in 1914 the Reports of the Archeological Office of the Dutch East Indies government by N.J. Krom, a respected Dutch historian. There are multiple levels with carbon dating pushing it back to a staggering 20,000 years old. Return to hotel. Overnight at Novus Giri Resort & Spa, Deluxe Garden View. Meals: B,D

Gunung Padang
Day 10 – March 26th: Cianjur to Borobudur
This morning after check out, transfer to your next destination in Borobudur. The long journey east into Central Java arriving in the area of the great Hindu-Buddhist temple complex of Borobodur will take about nine-hours and we will arrive in the evening. Overnight at Manohara Hotel. Meals: B D


Borobudur - Photo Courtesy of Wikimedia Commons
Day 11 – March 27th: Borobudur
This morning in the pre-dawn hours,we'll head out with the guide to witness Borobudur at sunrise. Not only is the mist and lighting at dawn serene, it is also a special time to explore this ancient site before masses of tourists arrive later in the day. Borobudur predates Angkor Wat by 300 years. "Discovered" in 1815, it has been excavated and returned to its original glory. The stone relief panels offer a clear glimpse into Buddhist doctrine and Javanese life 1,000 years ago. You'll have plenty of time to amble around and explore this fabulous monument. After exploring Borobudur, you'll have a little free time to relax and enjoy the hotel. Later this afternoon you'll be transferred to Candirejo village to see the "Jathilan". A traditional Javanese folk dance using the power of music and dance to channel powerful and sometimes terrifying forces. A spiritual guide leads the troupers and a group of dancers ride woven horses in rhythmic unison until spirits enter the dancers. Overnight at Manohara Hotel. Meals: B,D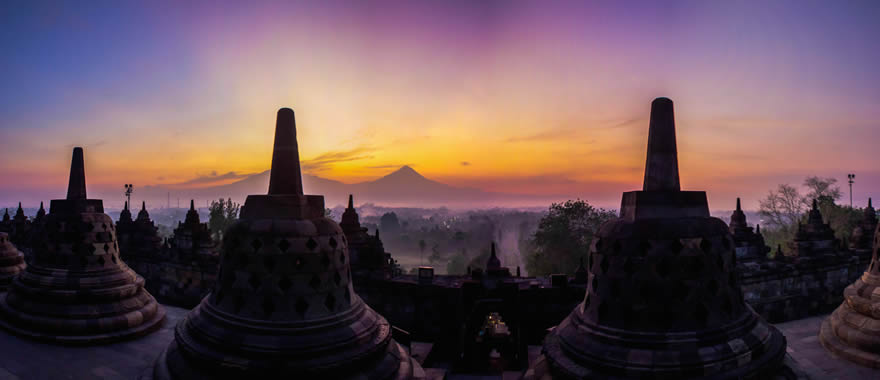 Borobudur at Sunrise - Photo Courtesy of www.ourglobaltrek.com
Day 12 – March 28th: Borobudurto Surakarta
Today you will head to other ancient temple sites that look a lot like Mayan pyramids in Mexico. The three hours journey east to Surakarta city will pass the beautiful scenes between two majestic mountains, Mt. Merapi and Mt. Merbabu. Later this afternoon you will arrive in Surakarta. Enjoy the leisurely day in the city. Overnight at the Royal Heritage Surakarta, Deluxe Room. Meals: B,D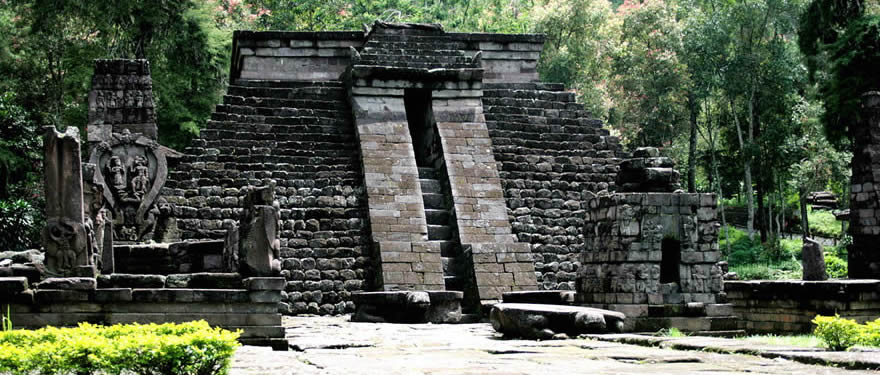 Candi Sukuh - Photo Courtesy of Wikimedia Commons

Day 13 - March 29th: Surakarta
Today we continue our journey with a one and a half hour drive to two important temples of central Java; Candi Sukuh and Candi Ceto. Candi Sukuh has distinctive thematic reliefs different from other candi, with life before birth and sexual education as its main themes. The temple displays a pyramid structure similar to that found in Mesopotamia and Central America. Candi Ceto is situated further up the slopes of Mount Lawu and lies at an elevation of 500 meters above sea level. The temple dates from the 15th century and is a good example of late Javanese-Hinduism in Central-Java. We combine the visits to the temples with a beautiful walk through the area covered with rice fields, forest and tea plantations. Lunch will be served in a local restaurant. We return back to the hotel in Surakarta and settle into hotel. Overnight at the Royal Heritage Surakarta, Deluxe Room. Meals: B,D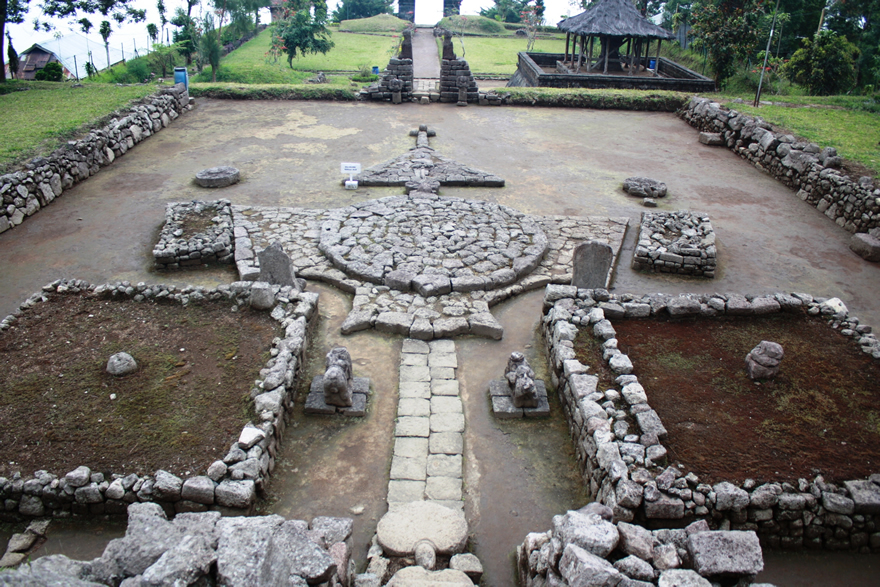 Candi Ceto - Photo Courtesy of Wikimedia Commons
Day 14 - March 30th: Java Man
Today you will visit Trinil on the Solo River where evidence of Java Man was found by anthropologist Eugène Dubois in 1891. Afterwards continue for a visit to the site in Ngandong where Java Man's homo erectus descendants, known as Homo soloensis surviving through until around 27,000 years ago were excavated. Later this afternoon you will return back to your hotel in Surakarta. Overnight at the Royal Heritage Surakarta, Deluxe Rooms. Meals: B,D


Photos Courtesy of Wikimedia Commons
Day 15 - March 31st
Meet your guide for your flight back to Jakarta, and return flight to either Siem Reap or airport hub. End of services.
Selamat jalan–Have a good journey!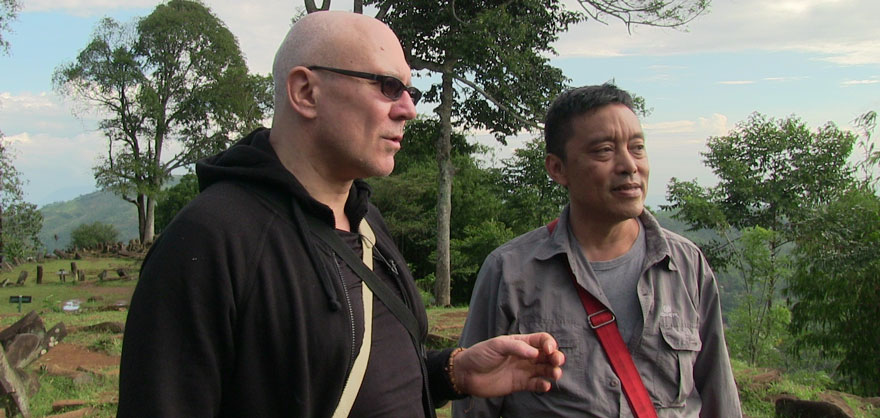 Andrew Collins and Danny Hilman at Gunung Padang.

INCLUDING:
- All transfers and transport as per the program:
- All accommodations as per program (based on 1 double/triple sharing room)
- All meals as mentioned (B=breakfast, L=lunch, D=dinner).
- Service English speaking station guides as mention in itinerary
- All Entrance fees on tour
- Water & Tissues


Contact and info email HERE

NOT INCLUDING:
- Air tickets: domestic and international (see below)
- Insurance
- Early check-in and late check-out
- Personal expenses
- All drinks
- Visa fees and/or visa authorization
- Tips
- Other expenses that not mentioned on the itinerary
- AIRFARES during tour must be arranged by 'Travel the Unknown': Price per person in GBP:
Flight REP-KUL-CGK (Operated by Malaysia Airlines) £275 - £325 per person per way, Economy.
SurakartaSOC – CGK Jakarta (GA 277)– Economy Y Class: £100 - £125 per person (NOTE: THESE PRICES MAY INCREASE)