Gobekli Tepe tour in October 2018 - more info here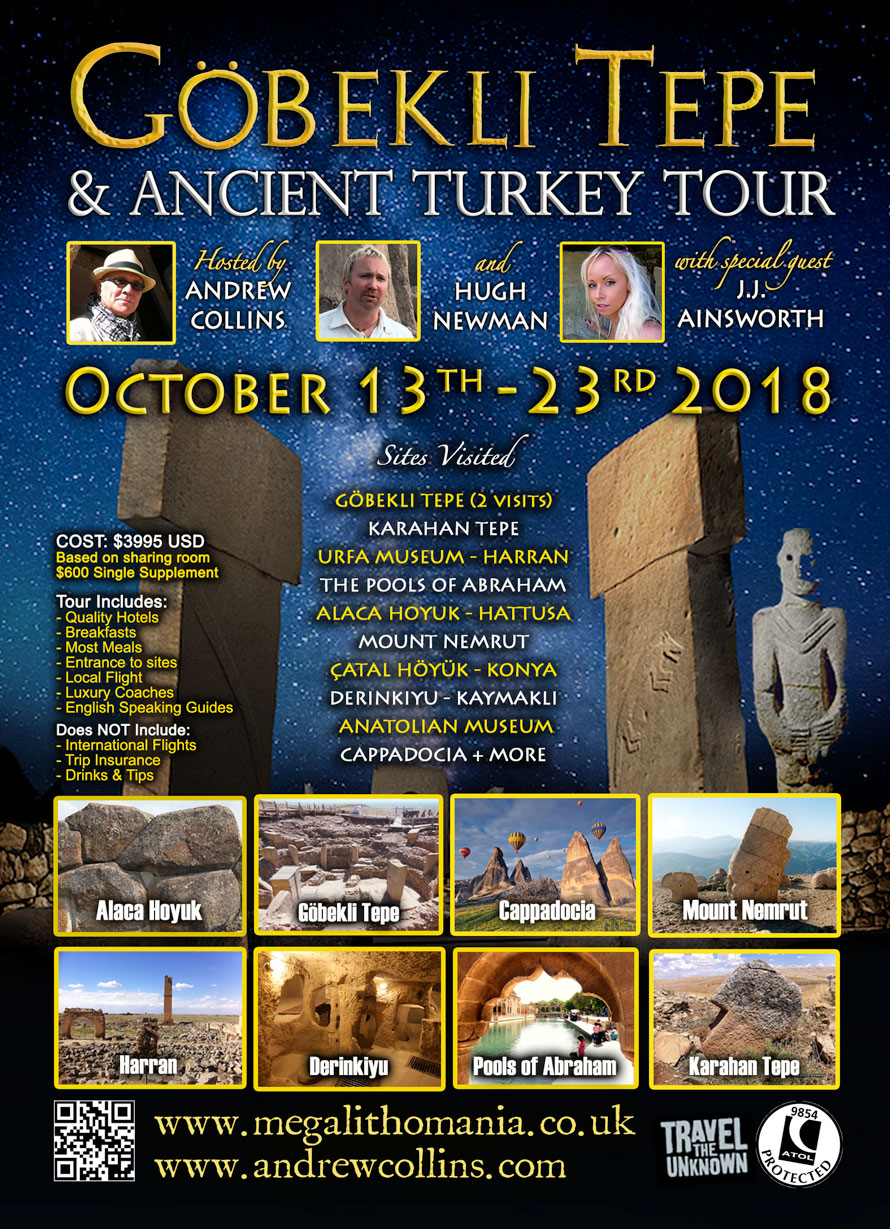 ORIGINS OF CIVILIZATION ANCIENT ARMENIA & GEORGIA TOUR
June 1st - June 11th 2017

Pre-tour add-on to

Gobekli Tepe & Urfa - May 27th - 29th


Pre-tour add-on to

Eastern Turkey - May 29th - June 1st


Rediscovering prehistory in the South Caucasus and Southeast Turkey
with authors Andrew Collins and Hugh Newman

Tour Costs - 11 days (Georgia & Armenia).
International flights not included
£2295 (meet Tbilisi, Georgia)/ £2890 inc E. Turkey Add-On (Save £100) / £3340 inc both Add-Ons (Save £200)
EARLY BIRD SPECIAL £3240 (Save £300)
based on double occupancy
Single occupancy supplement: 20% of Price. Deposit: £595
Gobekli Tepe Add-On
£550 w/flight to Van (meet Urfa, Turkey)
Lake Van Add-On
£695 (meet Van, Eastern Turkey)

Click here to pay £595 deposit to confirm your place:


Please email nick@easternturkeytour.org for queries and further info, who can also arrange international & internal flights.
Pre-tour add-on to

Gobekli Tepe & Urfa - May 27th - 29th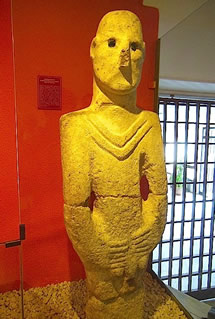 Day 1 – May 27th - Arrival Day
Arrive in Urfa and check in to El Ruha Hotel. Free time to explore Nimrod's Castle, the Pools of Abraham, and the birthplace of the great prophet. The hotel is very close to this area.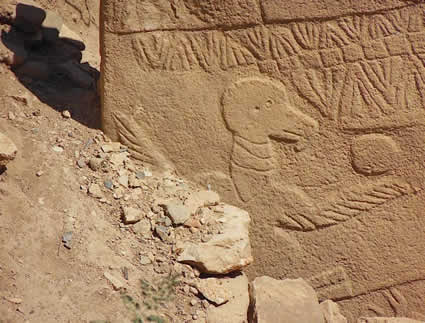 Day 2 – May 28th - Göbekli Tepe, Urfa Archaeology Museum, Karan Tepe
Today we visit the enigmatic Göbekli Tepe where the remains of the earliest religious structures built by man exist. At about 11000-13000 years old this site pre-dates both pottery and writing and is far older that either Stonehenge in England or the great Egyptian Pyramids. In fact, less time separates us from the builders of Stonehenge than separates the builders of Stonehenge from the last known use of Gobekli Tepe. Gobekli Tepe may have been in use as a point of gathering for religious and ritual events for over 2000 years and it represents a major advance in our understanding of man's early history. Visit Urfa Museum to see display of artefacts from Gobekli Tepe, and 10,000 year-old 'Urfa Man' statue, then we take a trip to Göbekli Tepe's sister site, Karahan Tepe that has parallel rows of T-pillars and is unexcavated.
Day 3 – May 29th - Depart Urfa. Flight to Van.
Pre-tour add-on to Eastern Turkey - May 29th - June 1st
Day 1 – May 29th - Arrival Day
Overnight in Van.
Day 2 – May 30th - Van Region – Hosap Castle and Çavustepe - Van Citadel
We will start the day with a trip to visit Hosap castle, built by a 17th century Kurdish chieftain Sars Suleyman (Blond Suleyman). Built on earlier Urartian remains. The name Hosap means "sweet water" which was also its name during Urartian times. This entire area is part of a water catchment area for a Urartian irrigation system. On the way to Hosap we will pass a modern dam which originally was part of a dam and irrigation system serving Van and the surrounding area. Until the mid 1960's, when Van's population began to expand, the city was supplied with water by the original Urartian piping and cistern system.
| | |
| --- | --- |
| | |
On the way back from Hosap we will stop to visit Çavustepe, a Urartian palace fortress and grain silo system. Çavustepe was built by the Urartian King Sardur II around about 640 BC and stored grain and other agricultural products from the surrounding plain in large pithos jars. It has precision megalithic stonework similar to what we see in Peru and Egypt. Overnight Van.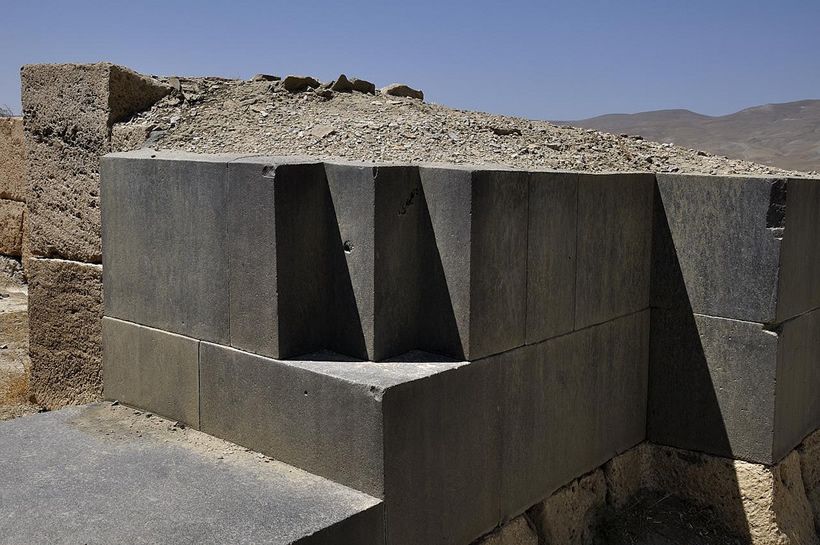 Day 3 – May 31st - Akdamar Island, Church of the Holy Cross, Van Rock Carvings
A visit to Akdamar Island in Lake Van to visit the 10th century Armenian church of the Holy Cross Built as a part of a palace and religious complex between 915 and 921 by the Armenian King Gagik Ardzruni. Although it is one of the best known examples of Armenian architecture, it is also unique in that there is no comparable example in terms of the reliefs and decorative features that adorn the exterior of the building. From Akdamar we will return to Van to view some enigmatic rock carvings from the Urartian period which have caused considerable debate over the years. Overnight Van/Leisure time

Day 4 – June 1st - Depart Van for Dosubeyazit and Kars
Depart north along the eastern shore of Lake Van anda few miles north of Van we will stop to visit the current excavations at the Urartian fortress of Ayanis. From Ayanis we will continue past Mt Suphan and then traversing the great shield volcano of Mt. Tendurek before glimpsing our first view of Biblical Mount Ararat and then arriving at Do?ubeyazit.
At Dogubeyazit we will visit Isak Pasa Sarayi, built between1685 – 1784 with unique fusion of architecture from Seljuk, Ottoman, Georgian, and Armenian–Persian styles and view the adjacent Urartian fortifications and rock tomb, a perfect example of the Urartian skill of blending megalithic construction with nature. From Dogubeyazit we will continue to Kars.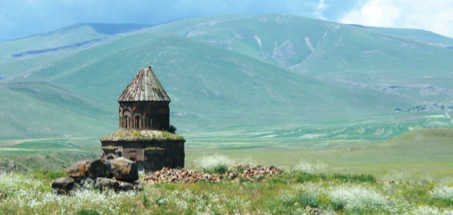 Ani, about 40 minutes drive from Kars and right on the Armenian border was the former capital of the great medieval Armenian kingdom. In the mid 10th century, nothing in Europe could rival this capital of the Armenian kingdom in terms of either size or magnificence. The remains of the ruined city include several churches as well as the shell of the Cathedral of Ani, the citadel and a mosque along with an extensive and well preserved defensive wall. There are also some exciting remains of frescoes in the Church of St Gregory (Tigran Honentz) despite exposure to the elements for centuries. The citadel, once a restricted military zone, is now open. Walking time around this extended site is about 2 hours. Overnight Kars.
Main Tour to Georgia & Armenia - June 1st - 11th
Day 1 – June 1st - Arrival Day
Arrive Tbilisi, Georgia. Overnight in Tbilisi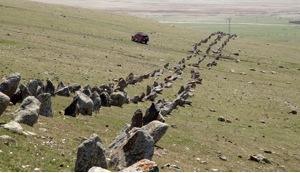 Day 2 – June 2nd - Transfer from Tbilisi (or Turkey): Bavra – Bronze Age megaliths – Gyumri
Cross into Armenia near the village of Bavra, transfer to Gyumri and on the way we willstop near the village of Hartashen. From here we will walk to visit Bronze Age megaliths at Hartashen. Hartashen Megalithic Avenue: These Megalithic Formations are set up in three parallel rows of stones stretching for hundreds of metres. Large, uncut stones are placed one after another. Every stone is about one metre high. The site is located at an altitude of 2108 – 2178 meters. The site was probably connected with a ritual/ worship centre nearby which dates to 2-3 millennium BC. but the original use of that site is still unknown. However, Armenian academics have put an earlier date of 7000 – 5000 BC on the megalithic lines themselves. All the stones are oriented along an East / West pattern. There is a river not far from the stones and they are set up as if showing the river flow indicating a mystical relationship between the builders and the nearby water course. The longest part of the complex reaches the length of 600 metres. Overnight Gyumri.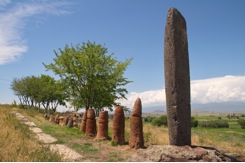 Day 3 – June 3rd - Gyumri– Metsamor -Agarak - Echmiadzin –Zvartnoc – Yerevan
After breakfast we will drive to the village of Metsamor. The astronomical observatory at Metsamor (see pic on left) is of particular interest as it predates all other known observatories in the ancient world, that is, observatories that geometrically divided the heavens into constellations and assigned them fixed positions and symbolic design. Until the discovery of Metsamor it had been widely accepted that the Babylonians were the first astronomers. The observatory at Metsamor predates the Babylonian kingdom and contains the first recorded example of dividing the year into 12 sections. Using an early form of geometry, the inhabitants of Metsamor were able to create both a calendar and conceptualise the curve of the earth. It seems likely, according to Armenian researchers, that at the time the Metsamor observatory was constructed the object of the orientation was the star Sirius. Apart from the megalithic remains Metsamor was one of the earliest centres of metallurgy and is the site of the oldest kiln to be identified so far. The Museum of History and Archaeology at the Metsamor Site was opened in 1968and holds more than 22,000 artifacts, almost all uncovered at the site.
Archaeological excavations at Agarak are relatively recent, having started only in 2001. The main feature of the site is the exploitation by the builders of natural volcanic rock to literally form structures from the living rock. It is the only site of this type in the Armenian Highlands. Dating from at least the very early Bronze Age the site covers roughly 200 hectares and is largely ceremonial and ritualistic in nature and is associated with the Anatolian Earth Mother Goddess. Kibela or Cybele. Originally a Phrygian deity the cult of Kibela took on a variety of form and names and spread across the wider region, even as far as Rome where she was a cult exclusively followed and tended by women and known as the Great Mother. Various rounded and bowl-like "key" and "comet" holes, "labyrinths," "thrones," "altars" were carved on the surfaces of the complex producing what appears to be an extensive sacrificial and votive landscape.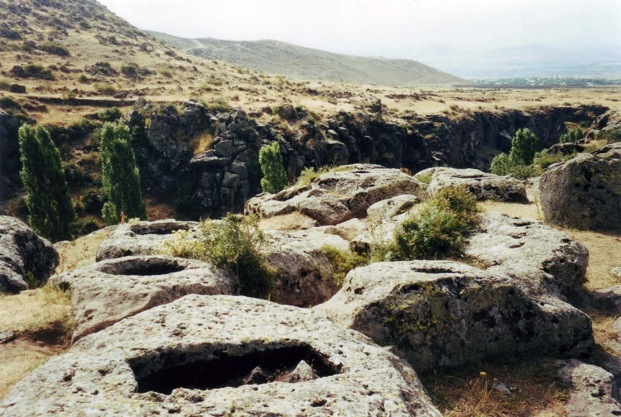 Then we will continue to Echmiadzin (UNESCO WorldHeritage Site) before continuing on to Yerevan. En route, we will visit another UNESCO World Heritage Site, the Monastery of Zvartnoc. In the evening we will walk to see the Dragon Stones in Yerevan. Overnight in Yerevan
Day 4 – June 4th - Yerevan – Geghard village – Lake Vanki (Dragon stones) – Garni temple – Yerevan
In the morning we will travel to Geghard village from where we will take Soviet era 4x4's to Lake Vanki where we will see two Dragon stones (see pic on right). Dragon stones, or Serpent Stones, are to be found across Armenia. These are cigar shaped menhirs topped with features or images or snakes or serpents. Alternatively they could be representations of "Vishaps," legendary mystical creatures associated with water in the region around Ararat. This mythical creature is also connected to thunder storms, whirlwinds and solar eclipses. According to folklore, Vishaps would, on occasion, also steal infants and toddlers substituting small evil spirits instead.
| | | |
| --- | --- | --- |
| Dragon Stones | Symphony of Stone Formation | Garni Pagan Temple |
From Vanki we drive to visit an outstanding monument of medieval Armenian architecture – Geghard Monastery (4-12th cc.) listed as UNESCO World Heritage Site. We will have lunch in a private house in Garni village, after lunch we will walk to the gorge where we will see amazing basalt rock formations, a result of a volcanic eruption. This amazing geological monument is called "Symphony of Stones." Our short hike will finish near Garni Pagan Temple (1st century) which is the only surviving pagan temple from the region's pre Christian culture. Adjacent are the ruins of the royal palace and baths with stunning mosaic work.
Day 5 – June 5th - Yerevan – Noravank – Dvin Pyramid - Karahunj Stone Circle – Goris – Portakar
Depart for Ararat Valley which is at the foot of the biblical Mount Ararat. This is exactly opposite the Turkish town of Do?ubeyazit on the other side of the mountain. We will visit Khor Virap monastery, this complex embodies the adoption of Christianity in Armenia in 301 AD. From here we will visit Noravank monastery and on the way we will visit the Areni-1 cave complex in Areni village. In 2010, the earliest known shoe was found in the cave. In January 2011, possibly the earliest known winery in the world was discovered. Also in 2011, the discovery of a straw skirt dating to 3900 BC was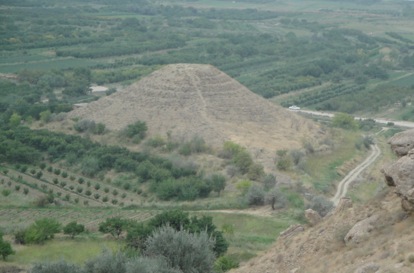 reported. Then the bus will transfer us to the city of Goris. On the way we will visit Pyramid of Dvin. This was one of the most ancient settlements of the Armenian Highland and an ancient capital of Armenia, traced back as far as the 3rd millennium BC. During the excavations of 1958, a settlement of Late Bronze and Early Iron age period was discovered under the citadel of Dvin. Excavations revealed ancient workshops and worship structures from the beginning of the 1st millennium BC, with a metal workshop and four sanctuaries. The latter were large structures that had stone bases and walls made of unburnished clay. Flat roofs rested on wooden columns. Astonishing altar stelae of complex compositions, with traces of "eternal" fire and mostly black-polished utensils used at ceremonies were placed inside these sanctuaries built in the architectural traditions of Pre-Urartian (Araratian) dwellings. In the first half of the 8th century BC, Dvin and numerous settlements of the Ararat Valley were ruined due to invasions. Traces of a great fire and ruins that took place in this period are clearly seen from excavations in Dvin. It is a conical / pyramidal structure resembling Silbury Hill in Wiltshire, England.
Karahunj standing stones, believed to be an observatory from prehistoric times, and the highlight of our Megalithomania tour of the Southern Caucasus.
| | | |
| --- | --- | --- |
| Karahunj Stone with hole | Strange humanoid carving | Megaliths of Karahunj |
Also called "Zorats Karer" or "Karenish" by local people, Karahunj is often referred to as Armenia's Stonehenge in the wider world. The site comprises 223 standing stones, or menhirs, as well as burial mounds and cairns. The stones vary in size between 0.5 and 3.0 metres above ground and weigh up to about 10 tons. Eighty stones have circular holes drilled through them, 37 of which are still standing. It is believed by researchers that this monumental arrangement was an ancient astronomical observatory with points set out marking solstices, equinoxes and lunar extremes.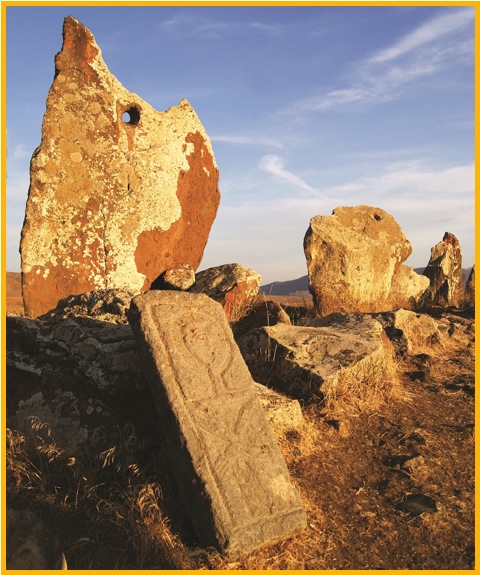 There are also a number of enigmatic rock carvings to be seen at the site. Another aspect of these holes is acoustic. The word Karahunj also means "speaking stones" and when the wind blows in the right direction the stones do indeed hum. This effect, known as the Helmholtz Resonance was known by Neolithic peoples and is certainly a factor in the construction of Neolithic monuments in other parts of Europe.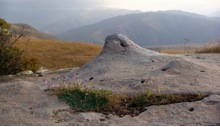 From Karahunj we will briefly stop to visit Portakar, a natural stone protrusion located above a system of caves. Pre Christian beliefs of this region, probably even before Armenians arrived, have Portakar, which means "navel stone," as the centre of the universe and the place from which all of humanity sprang. There are many places around the world that have a particular importance to women and to fertility but this place surely must be amongst the oldest and the successive generations of supplicants over millennia has rubbed the stone smooth. Overnight in Goris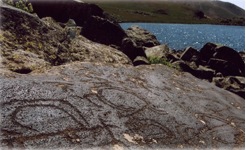 Day 6 - June 6th - Goris – Tatev monastery – Ukhtasar – Hermon
In the morning the bus will take us near to the village Halidzor from where we will take a cable car to Tatev monastery. The cable car is called The Wings of Tatev and in October 2010 it was officially recorded by Guinness World Records as the world's longest non-stop double track cable car. After visiting the monastery of Tatev we will take the cable car back to Halidzor village and continue our drive to the village of Ukhtasar where we again will take Soviet 4x4's to the mountain, where at 3300m there is a small lake around which we will see the petroglyphs of Mt.Ukhtasar. Uphill trek of about 1 km. Overnight in Hermon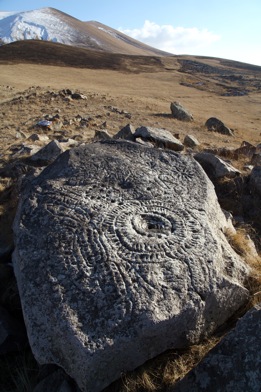 Day 7 - June 7th - Yeghegnadzor – Selim Carvanserai – Sevsar Mountain observatory - (4x4 transport) – Dilijan
Today the car will take us closer to the Mountain of Sevsar through Selim Pass. In the Selim pass at 2410m we will visit the Selim Carvanserai (14th century), a Silk Road stopover. Closer to the mountain of Sevsar we will start to walk to the Observatory of Sevsar to see an ancient star map carved onto the rock (see pic on right). Then we will drive to Dilijan via Lake Sevan. Overnight in Dilijan.
Day 8 – June 8th - Depart early for Georgia and Tbilisi….approximately a three hour drive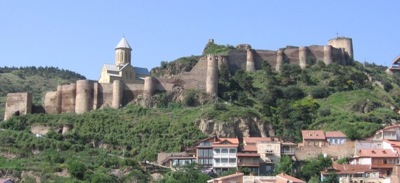 Afternoon: we will explore the old district of the city taking in the 13th century Metekhi church and finishing in the 4th century Narikala Fortress (see pic below). Overnight Tbilisi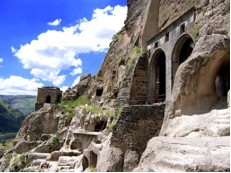 Day 9 – June 9th - Tbilisi – Uplistsikhe - Akhaltsikhe
Depart for Akhaltsikhe. En route we will visit Gori and and the Uplistsikhe cave town dating back to the 1st millennium BC. This was also a stop on one of the branches of the Silk Road and we will visit a complex that held dwellings, a winery and a bakery. We will also visit an ancient theatre and a significant rock cut church very reminiscent of the churches found in Cappadocia with which Georgia has a close historical connection: St. Nino, who introduced Christianity to Georgia, was from Cappadocia. Overnight Akhaltsikhe
Day 10 – June 10th - Akhaltsikhe – Vardzia – Tsalka -Tbilisi
Depart for Vardzia Cave Town. En route we will stop at the 10th century Khertvisi Fortress and the megalithic ruins at Saro. However, the Cave Town is the highlight of our stay in Georgia. The complex once contained over 3000 caves cut out of the rock including a number of churches with important frescos. The complex had a mix of dwellings, churches, monasteries, wine production and storage facilities and infirmaries. From Vardzia we take a scenic drive back to Tbilisi passing Lake Parvani (Georgia's largest lake) set along the route of Georgia's lake district. Final Dinner & Wine Tasting. Georgia probably has the oldest wine culture in the world going back over 8000 years and probably to the dawn of agriculture. This is a unique opportunity to taste wines produced in a manner found nowhere else in the world. In fact, many linguists suggest that the word "wine" is derived from the Georgian "Ghvivili". Overnight Tbilisi.
Day 11 – June 11th - Depart for home –Have a good journey!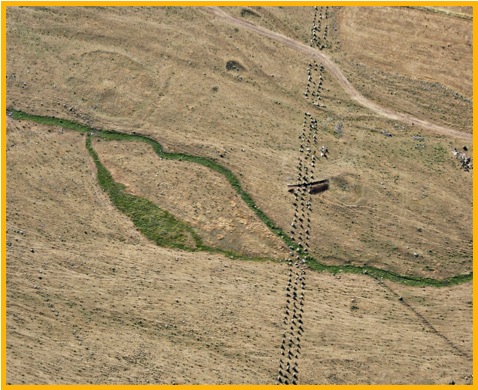 Hartashen: Megalithic Avenue, Armenia

Andrew Collins Andrew Collins is a historical writer and explorer living in the United Kingdom. He is the author of more than a dozen books that challenge the way we perceive the past. His latest book is Gobekli Tepe: Genesis of the Gods, a thorough examination of the worlds oldest stone circle complex in Turkey. It also locates the fabled 'Garden of Eden'. Other books include From the Ashes of Angels (1996), which establishes that the Watchers of the book of Enoch and the Annunaki of the Sumerian texts are the memory of a shamanic elite that catalyzed the Neolithic revolution in the Near East at the end of the last Ice Age, the era of Gobekli Tepe. Further books include Gateway to Atlantis (2000), which pins down the source of Plato's Atlantis to the Caribbean island of Cuba and the Bahaman archipelago; and The Cygnus Mystery (2007), which shows that the constellation of Cygnus has been universally venerated as the place of first creation, and the entrance to the sky-world, since Paleolithic times. In 2008 Andrew and colleague Nigel Skinner Simpson discovered a previously unrecorded cave complex beneath the Pyramids of Giza, which has brought him worldwide acclaim. It is a story told in his book Beneath the Pyramids (2009). www.andrewcollins.com

Hugh Newman Hugh Newman is a world explorer, megalithomaniac and author of 'Earth Grids: The Secret Pattern of Gaia's Sacred Sites' and co-author of 'Giants On Record America's Hidden History, Secrets in the Mounds and the Smithsonian Files' (with Jim Vieira). He has been a regular guest on History Channel's 'Ancient Aliens' and 'Search for the Lost Giants' and has articles published in Atlantis Rising (US), New Dawn (Australia), Nexus (UK/AUS) and numerous other publications. As well as organising the Megalithomania conferences and tours, he co-organises the Origins Conference in London with Andrew Collins and has spoken at events in the UK, Malta, France, Peru, Egypt, Bosnia and North America. He lives near Stonehenge, England. His websites are www.megalithomania.co.uk and www.hughnewman.co.uk
INCLUDING:
- All transfers and transport as per the program:
- All accommodations as per program (based on 1 double sharing room)
- All meals as mentioned (B=breakfast, L=lunch, D=dinner).
- English speaking guides and special guests Andrew Collins and Hugh Newman
- Evening Lectures & Discussions
- All Entrance fees on tour
Contact and info email HERE

NOT INCLUDING:
- Air tickets: domestic and international (see below)
- Insurance
- Early check-in and late check-out
- Personal expenses
- All drinks
- Visa fees and/or visa authorization
- Tips
- Other expenses that not mentioned on the itinerary



The tour is organised by Eastern Turkey Tours, a fully accredited travel agency - Alkans Travel - which operates a class "A" license under the auspices of TURSAB (Turkiye Seyhat Acentalari Birligi - The Association of Turkish Travel Agents). Under Turkish law legally established travel agencies must be a member of TURSAB before they are permitted to conduct travel agency business. In line with TURSAB standards our customers are fully insured. You will have the security of endorsement from Turkey's governing tourism body.