Archaeoastronomy Tour of PERU, BOLIVIA and EASTER ISLAND
with special guest Robert Bauval





Peru & Bolivia: November 19th - 30th / Easter Island: December 1st - 7th



In November 2017 we have the distinct pleasure of exploring the ancient megalithic sites of Peru, Bolivia and Easter Island with bestselling author Robert Bauval. we will visit Cuzco, Machu Picchu, Lake Titicaca, Nazca, Easter Island and much more on this specially designed tour.

Robert Bauval was born in Egypt in 1948. He completed his building engineering studies in England at the University of the Southbank (1969-73) and in marketing at the University of Buckingham (1989-90). He speaks English, French, Italian and Arabic, and some Spanish. Bauval lived and worked in England, Oman, Iran, Sudan, Guinea, Ivory Coast, Saudi Arabia, India, Pakistan, France, Egypt and Spain. In 1983 Bauval developed the Orion Correlation Theory (OCT) and published his first paper in 1989 in the Oxford Journal Discussions in Egyptology. His first book The Orion Mystery (1994) was a No.1 bestseller and is in more than twenty-five languages. His has since written fifteen other books on related subject, and is currently working on a book with astrobiologist Dr. Chandra Wickramasinghe. Bauval has appeared on TV channels worldwide. He lives in Spain with his wife Michele, and has two children, Candice and Jonathan, who live in England. www.robertbauval.co.uk

Hugh Newman is an explorer, megalithomaniac and author of Earth Grids: The Secret Pattern of Gaia's Sacred Sites and co-author of Giants on Record. He has been a regular guest on History Channel's Ancient Aliens and featured in Search for the Lost Giants. He has articles published in Atlantis Rising (US), New Dawn (Australia), Nexus (Aus/UK) and numerous other publications. As well as organising the Megalithomania conferences and tours, he has spoken at events in the UK, Malta, France, Peru, Egypt, Bosnia and North America. He lives in Glastonbury, England. His websites are www.megalithomania.co.uk and www.hughnewman.co.uk

Brien Foerster has published several books on ancient Peruvian culture and collaboared with David Hatcher Childress on The Enigma of Cranial Deformation. He is a regular guest on Ancient Aliens and is one of the worlds leading researchers on the elongated skulls and the pre-history of Peru. He lives in Paracas and Cuzco, Peru. www.hiddenincatours.com

The team are also joined by Peruvian resident Irene Maria Mendoza (Briens's wife), plus Gustavo Morales, our experienced English speaking tour guide from Bolivia.
The cost of the main tour is $3690 US Dollars. Single occupancy - extra $650. Includes internal flights, train & boat ride, flight to Easter Island and megalithic heaven!
A $500 deposit confirms your place on the Peru/Bolivia Tour and another $500 for the Easter Island Add-On.
Main Tour: Ancient Peru & Bolivia


November 19th - 30th 201

7


Day 1: 19th November: Everyone should arrive by this day in Lima; those that come early in the day, or days before can visit the museums and other sites in the city. We recommend staying at the Airport Hotel, Lima.
Day 2: 20th Nov: Meet at airport at 12pm. Fly to Cusco (2pm flight) and drive to Sacred Valley hotel. Orientation and introduction with group. Overnight Sacred Valley.
Day 3: 21st Nov: Visit the mountaintop ancient complex of Pisaq (and one other site?). Overnight Sacred Valley.
Day 4: 22nd Nov: Ollantaytambo and the Lazy Stones, plus optional visit to Huaca Carved cave. Overnight Sacred Valley.
Day 5: 23rd Nov:Full day at Machu Pic'chu. Overnight Sacred Valley.
Day 6: 24th Nov: Drive to Cuzco. 3-hour afternoon tour of Inca and megalithic Cusco. Overnight Cusco.
Day 7: 25th Nov: Amaru Machay, Qenqo and Sachsayhuaman; the megalithic sites above Cusco. Overnight Cusco.
Day 8: 26th Nov: Drive south and visit the Inti Punku Sun Gate, Andahuaylillas Museum and the massive Inca terracing complex of Tipon. Overnight Cusco.
Day 9: 27th Nov: Fly to La Paz. Overnight La Paz.
Day 10: 28th Nov: Visit Tiwanaku and Puma Punku: Both Tiwanaku and Puma Punku are located at the same place. Tiwanaku is an enigmatic megalithic temple, with rough-hewn megaliths, strange statues, the Akapana pyramid, that has a major magnetic anomoly at its heart and the sunken temple with hundreds of carved protruding heads. There is also the incredible 'sun-gate'. It is believed that the 'Plumed Serpent' energy line goes through the pyramid and the site is flanked by two fault-lines. Puma Punku is much older and more mysterious. It is here we see evidence of ancient machining of stone. We will also visit the on-site museum and megalithic statues in the main square outside the church, and even see Tiwanaku stones embedded in the Church walls! Back to La Paz. Overnight Hotel Ritz Apart, La Paz. B
Day 11: 29th Nov: La Paz Museums. See the incredible Fuenta Magna Bowl with Sumerian inscriptions that suggest a link between the middle East and South America thousands of years ago. Plus the newly opened Tiwanaku Museum that houses hundred of incredible artefacts, statues and elongated skulls. We will also visit the Witches Market and have an optional city tour. Free time to explore La Paz. Farewell Dinner. Overnight in La Paz. B.D
Day 12: Sunday 30th Nov: Tour ends. Fly back to Lima. End of main tour. Easter Island Extension begins the next day
Easter Island Add-On
December 1st - 7th 2017



The cost of the Easter Island add-on is

$2499 US Dollars

.

Single occupancy - extra $650

. Includes return flight from Lima to Easter Island. Viability of this tour will require at least 15 guests.


Day 1: 1st December: Fly to Easter Island via Santiago Chile.

Day 2: 2nd December: visit the Ahu Tahai complex, one of the most spectacular ahu complexes on the island. Visit the Rano Kau Caldera and Orongo Village to see unusual and low-lying ancient stone houses as well as beautiful and well-preserved petroglyphs, including those depicting shapes associated with the traditional Birdman Competitions.
Day 3: 3rd December: Tour the Rano Raraku Quarry up close, where the moai (large stone heads and torsos) made from volcanic tufts were carved. More than 200 moai are still here in various states of completion, including one estimated to weigh approximately 250 tons. Lunch. Visit the Ahu Tongariki complex.

Day 4: 4th December: Visit Anakena Beach where the unusual Ahu Nau Nau is located. Almost all the moai here retain their mysterious headpieces. Very nearby is Te Pito Te Henua, "the navel of the world", which we will visit. Anakena Beach contains beautiful white sand, and here we can swim and explore more moai.
Day 5: 5th December: Visit the North Coast, including Ahu Maitake Te Moai, which oddly contains an older moai reused in the ahu wall. Then visit the area of Vinapu containing possibly the oldest and most incredible stonework on the island, stonework that has been compared to that found in South America. In the late afternoon, visit the island's museum, Museo Antropológico Padre Sebastián Englert, where many beautiful and mysterious artifacts are located, including the enigmatic "female" moai that some people feel looks alien.
Day 6: 6th December: Free day to explore more, shop, and/or relax. If anyone wants to visit additional archaeological sites, the organizers will be available. Includes a farewell dinner.
Day 7: 7th December. Tour Ends. Fly to Lima and for those who are staying the night, we'll book into a local hotel near the airport or connect with flights home. The tour ends!
The tour is jointly organised by Megalithomania and Hidden Inca Tours. The above itinerary is subject to possible changes.
TOUR REVIEWS
Feedback from 'Megaliths, Gods & Giants Peru & Bolivia' 2016 Tour
with guest host Jim Vieira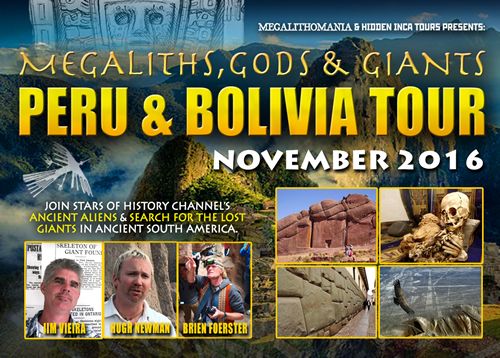 "Aloha everyone, Thank you for the trip of a lifetime! Enjoyed the sites, all of you, and the adventure. A hui hou....until we meet again."
- Mona Stevenson, Hawaii
"Thank you all for the fantastic time we had in Peru and Bolivia!"
- Jelle Kolmer, Holland
"Thank you all for a great trip.. Everyone of you added a brilliant insight into this trip for me and I thank you kindly for that. I normally don't have patience for humans but you all were beautiful in your own light. Once again I thank you for that."
- Seak Kelly, USA
"Hey, Hugh! It was great to meet you and learn so much about ancient mysteries from your vast storehouse of knowledge and insight!"
- Tom McGuire, USA
"The ancient Peru / Bolivia tour hosted jointly by Hidden Inca Tours and Megalithomania answered to all my expectations in every way but one, which it exceeded. I got to see the most important sites for my introduction to ancient megalithic Peru and Bolivia, of which surely Sachsayhuaman and Puma Punku (as part of the Tiahuanaco complex) were personal highlights. The hosts were very informative and also fun to be around. No stuffiness, no boring lecturing and an atmosphere of being among intellectual equals, even though in knowledge and experience our hosts far exceed my level. In general the tour was very well organised and where room for improvement was found and commented on, that input was welcomed and actually implemented expediently. So in all I had a wonderful experience and would recommend this to anyone. Now for the part exceeding my expectations... that was the group dynamics. I admittedly had expected a group of mainly elderly pensionados. Fine for me, a very fit 41 year old, but not thrilling either. But hey, no such thing! The group was actually a wonderfully diverse and blended crew of people from all walks of life, young and older. This made for a truly fun two weeks and lots of conversations on and off topic with views and multifaceted interpretations so diverse as to be almost kaleidoscopic. Open minds. I like! Thank you Irene, Gustavo, Brien, Hugh, Jim, Antonio, Sr. Luis and son, our very skilled bus drivers and of course my fellow Megalithomaniac group. As Arny puts it best: I'll be back! "
- Aaron Karmelk, Holland
"We still can't forget Peru and Bolivia, all the wonderful sites and moments of our great trip. In spite of all the hardships it will remain the most memorable journey of our lives. It was great to meet all of you, to hear your stories and live great moment together. Thanks for sharing your thoughts and experiences with us. Today we would like to wish you all lovely Christmas an much hapiness in the coming year. And of course more fantastic journeys to most mysterious places in the world"
- Hanna and Roland Vandiest, Poland/Belgium
"Hal and I are still missing Peru and especially all the wonderful friends we made along the journey! We're going to have pisco sours instead of egg nog this Christmas and we'll drink a toast to all Megalithomaniacs everywhere. Warmest wishes for a joyous holiday season and looking ahead to more adventures in 2017! "
- Hal and Ro Woodruff, USA
Feedback from 'Ancient Technology Peru & Bolivia' 2015 Tour with guest host Andrew Collins.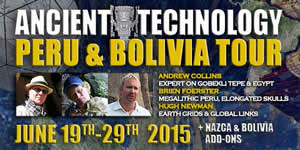 "Let me begin by offering a big thanks to Hugh, Brien, Andrew, Irene, & Gustavo for a very well-planned excursion, many amazing sites and sights, lovely accommodations and good company. I enjoyed all that I was able to experience. This was truly the trip of a lifetime for me.- Julie M, USA
"Thanks to Hugh, Brien, Irene, Gustavo and Andrew for making this a very enjoyable and fascinating tour." - Lasse C, Sweden
"What a phenomenal adventure! I cannot tell you how much I enjoyed the trip, the fascinating people I met along the way and of course the country. Meticulous attention to detail in the planning of each days itinerary and accommodation and of course the local wisdom of Gustavo to top it off. The ability to share in some "off the beaten track" sites was the cherry on the top. A HUGE thank you to Brien, Hugh, Andrew and Gustavo as well as Irene of course for making it such a memorable trip. For anyone considering this tour - stop considering and just do it!!" - Kurt B, USA
Feedback from 'Portals of Ancient Peru & Bolivia' 2014 Tour
with guest host Freddy Silva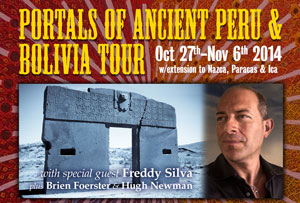 "Just to say a big thank you for the trip, such fun and full of giggles. From years of reading about and seeing pictures of so many of the sites visited on this trip, to finally feeling the incredible energies that surround them, was for me personally an amazing experience. So thank you all for putting together such a memorable tour. Great menu, interesting and fun crowd of fellow travellers. Good places to stay. Great stuff!"
- Lyn de Trense, England
"I want to once again thank Brien, Hugh, Irene, and Gustavo for this great tour. It definitely exceeded my expectations. You get to see many sites that would otherwise be more difficult to get to on other tours or by yourself. The accommodations were excellent and everyone was very friendly. if you like interesting information, exploring ancient sites and good company, this is the tour to go on!"
- Garrett Leo, USA
Feedback from 'The Path of Virococha' 2013 Tour with guest hosts David Hatcher Childress and Glenn Broughton.

"For us the tour was an amazing opportunity and a privilege to explore the earth energies at an incredible number of megalithic sites. We learnt so much and feel truely grateful for what was revealed to us, and to all the organisers, especially Hugh & Brien, for putting together such a memorable and stimulating tour. It was also a joy to be in the company of so many like minded people with a deep curiosity about the ancient ancestors"
- Chris & Marilyn Gulliver, New Zealand
"Your tour exceeded our expectations in nearly every way. We saw, learned and experienced more than we ever would have on any other kind of tour. In addition, we traveled and made new friendships with people from all over the world. This trip is definitely one of the highlights of our life travels! For this we would like to thank you, Hugh, Irene, Cameron and Glen and David and Jennifer from the bottom of our hearts!"
- Ed & Teresa Chipp, USA
"So once more I want to thank you - Brien, David, Hugh, Irene, Cameroon, Glenn - and also all the participants, for the most special journey i've ever had! Hope to have more of those with you and will recommend to the people who are interested."
- Vicki Molliver, Israel
"I loved the tour! Many thanks to all organisers, especially Irene :) I hope you are enjoying a break from questions and demands. Was great to meet you all and being in cusco without you all is not the same. I hope the tour has deepened your interest in the ancient mysteries like it did for me."
- Alex Jupp, UK
"I thought the trip was excellent. I learned so much and from so many people on this trip. Thanks to everyone for making it great."
- Suzan Moore, Canada
"I can safely say that this was one of, if not the best, experience of my life. Thanks Brien, Dave, Hugh, Glenn & Cameron and of course Irene for an amazing adventure. You have my tick of approval ;)."
- Tony Giovani, Australia
"It felt less like a tour group and more like I had flown in to visit friends who were showing me around their turf, and for me, that was fine. I still feel I got more out of this tour than I would have with any other group. I enjoyed myself to the utmost, and was pleasantly surprised by almost everything - especially the kind people with whom I had the privilege of sharing this time."
- Sandy Underwood, USA
Feedback from 'Ancient Peru, Nazca & Easter Island' 2012 Tour with guest host Dr. Robert Schoch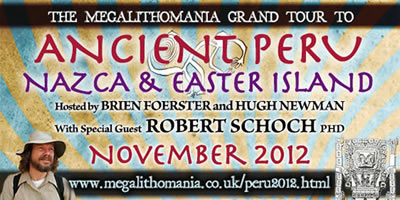 "Still reminiscing about the trip. It was such a wonderful experience made even better by such a great group of people. And thank you all for the amazing photographs"
- Janine Moore, USA
"Great crew, awesome time! Looking forward to sharing some video and photos!!!"
- G. Maestro, USA
"Thanks Hugh! great trip for those that like alternative traveling and the deeper story to humanities history"
- Jennifer Stein, USA
"Hugh, just wanted to thank you once again for all you did to bring our trip together. I learned so much and absorbed so many new ideas to come back and study....a million directions to go, and I'll continue to look to the people and resources of Megalithomania to lead me on. You do important work. Thanks."
- Karla Mahoney, USA
"What an amazing adventure we've had over the last 10 days! Peru is a beautiful diverse country filled with so many incredible sights and mysteries! We have been on a non-stop ride, and this journey we will never forget"
- Jenny Geyser, USA
"I just have to send a big thanks to all the persons on the Megalithomania Peru/Bolivia, It was a pleasure to spend time with all the persons and visit all these special sites. A big thanks to you all!"
- Jonny Ueland, Norway